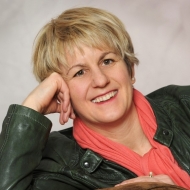 Alexandra Epple CAS, CMT is an Ayurvedic Practitioner, yoga instructor, Yoga Health Coach, bodyworker and Midlife Coach. Her approach to health is super practical and down to earth. She supports mature women through menopause and midlife so they come out the other end feeling better than they ever have; vibrant, joyful and luxuriously healthy. She is the founder of <a href="http://alexandraepple.com/podcasts/"><i>Women Gone Vibrant</i></a>, the podcast to revolutionize the way you think about your body and unapologetically create the next you. <a href="http://alexandraepple.com/menopause/">Download her FREE Better Menopause Video Series</a> to get the scoop on a natural, easeful menopause.
This user account status is Approved
This user has not added any information to their profile yet.
I love supporting women through their menopausal years and beyond. Many women get frustrated when menopause hits: hot flashes, weight gain, mood swings, odd sleeping patterns, sagging body parts, irregular periods...it all seems too much. The only way out, or so it seems, are hormones but then most health conscious women don't want to take those. Let's have a chat to get you on a more positive trajectory in your body. Out of the misery and into the light. I look forward to connecting with you, for real!!!
Being from Germany, I have studied the Eastern healing arts extensively in Thailand, India and the US. For the past 13 years I have supported health conscious women to feel more vibrant and alive in their bodies.
- Certified Ayurvedic Practitioner (Clinical Ayurvedic Specialist)
- Certified Yoga Health Coach
- Thai Massage therapist & teacher
- Seasoned Yoga Instructor (Anusara yoga)
I am currently on the faculty of the California College of Ayurveda, a leading school for Ayurvedic Practitioners in the US.
"I was so uncertain of the vastness of menopause and its permanent and mysterious effects that I had built up a story about what it signified and it was not a positive one. Alexandra's class was so in-depth, so educational, so relieving and warm, with so many resources, I found myself taking a short cut from resentment to a superhighway of lightness! Without her class, I may still be bewildered, but now I feel powerful and wise and ready to pass on information and wellness to my next generation." Valerie Hestand