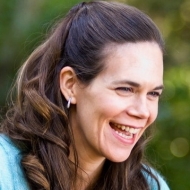 This user account status is Approved
This user has not added any information to their profile yet.
I love to help people lead rich and fulfilling lives, by guiding them to connect with the deepest aspects of themselves. It begins with taking ownership of their daily health habits and strengthens with greater awareness of their dharma (unique purpose).
A traveler at heart, I get excited about guiding my members to explore and evolve together. Individually, Journey to Thrive members return home each time they take action from their soul. They discover through our work together that the destination within is the sweetest exploration one can undertake.
As a Yoga Health Coach, ParaYoga© Level 1 Certified Teacher and Four Desires Trainer, I work online with clients across the globe through my transformational group coaching course, Journey to Thrive.
Using the tools of Ayurveda, ParaYoga©, and The Four Desires I guide individuals to identify which goals are aligned with their unique purpose or dharma, show them how to implement daily habits to support those goals, and train them to shift their mindset toward growth so that they truly thrive.
"When I started Brooke's program, Journey to Thrive, I was second-guessing myself a lot and not trusting my judgment the way I used to.
Now I have more confidence in my decision making again because I feel more clear and mindful. I can trust my intuition.
This course is proof that I know what is best for me and my family. By participating in Journey to Thrive and bringing these habits into my routine gradually, it's clear that I'm taking the positive steps I need to take in life.
I've done a similar course and it wasn't as robust. I definitely think that the weekly tools in Journey to Thrive were almost more than we could have asked for, from the group coaching calls to the videos and worksheets. The combination of accountability tools, the private Facebook group and having an accountability partner were all really helpful.
Brooke's weekly group coaching call was probably the most important to me because I feel like it was a time that you gave yourself that whole hour to really think about everything and really digest it and flush it out. I think that was the most enriching tool.
I definitely feel calmer and more mindful after completing Journey to Thrive. I definitely feel more grounded. Now, I'm trying to bring more of a sense of ease to everything I encounter." Genevieve, business professional and busy mom of two cutie pies