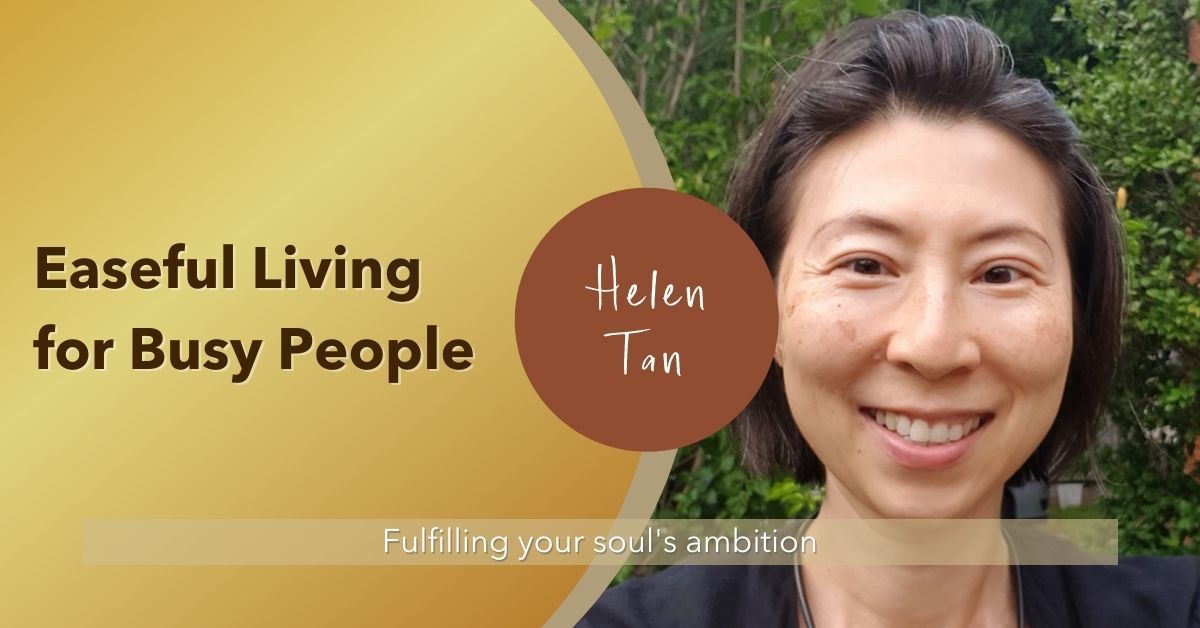 How to Flip the Switch to Easeful Living When You're Busy

Three months ago, I dove into Yogahealer's Yoga Health Coaching program to develop a business that would help many people by doing what I love. I quickly discovered starting a new business feels like scaling a high mountain, with my fingernails, and in flip flops. Since I have a dominant Vata dosha and brittle fingernails, my tendency is to keep climbing even as my fingernails flake off. In other words, I have a tendency to overwork and ignore the signs of fatigue. Every so often, I deplete myself so much so that I need to seek external help. And that's why I visited my acupuncturist recently, for an energy recharge.

There was a period when I was a frequent visitor of my acupuncturists, Ross and Andrew. However, my acupuncture visits have stretched further apart. This has been especially noticeable since I have more fully embodied the 10 Body Thrive habits. On this occasion, Ross was in session and he quickly got down to examining my pulse with rapt attention. When he was done, he opened his eyes and said, "On an energy scale of 1 to 10 with 10 being the highest, how much power do you think we should put behind our efforts to drive our every action?"

As my visits were for recharging my drained adrenals, I admired yet another way Ross had found to deliver his imminent lesson in energy management. I had an urge to say 10 or a cheeky 11, but managed to keep my old identity and propensity for wanting to pack every moment of life with excitement and intensity, in check.

"Between 7 and 8" I replied zenly. "No", Ross said, "it's 6.2 – a very exact number. I found it in an ancient Chinese poem when I was researching for my book. The number is exact because it's intended to highlight the close attention we must pay, to be in the sweet spot for operating our energy system at optimal efficiency".

I looked at him doubtfully. He continued, "It's what I do and have been doing for decades. Before I moved my practice to this area, I ran a much busier clinic. By keeping myself at a 6.2 level of exertion, I never burnt out." As he carried out my pulse reading and placement of needles, I judged by his equanimous air that he was probably operating at a '6.2'.

As I settled into my treatment, I contemplated what brought me here, and why I had been unable to notice and heed the signals of overwork until I had hit the proverbial wall. I had clearly slipped out of alignment with the tenth and overarching habit of Body Thrive, 'Easeful Living'.

My teacher and author of Body Thrive, Cate Stillman, says 'when you notice stress, flip the switch to ease'. I had an aha moment when I realized I had been pegging stress at an energy exertion level of 7 to 8, which is too high to be sustainable. If I pegged stress at a '6.2', I could flip the switch to ease earlier, and carry on at a steadier, more productive pace in the long run.

It doesn't mean that you can't exert yourself occasionally to meet inescapable deadlines. But if you do have a tendency to overwork, look into consciously dialing back your exertion level to a more sustainable one. Consider the metaphor of a battery – if you want your phone, laptop, or another device to be continually working, you wouldn't allow it to drain completely before plugging it into a charger, would you?

You may be thinking – but what if I can't achieve all I want to at an exertion level of 6.2? The solution and path of growth is to build up the size of your metaphorical battery. The way to do this is by cultivating an abundance of "Ojas", which is a Sanskrit term for "vigor" or "vital energies". When your battery gets larger, it follows that you'll deliver a greater impact at your expanded 6.2 exertion level.Best-selling author Seth Godin says, "What you measure usually gets paid attention to, and what you pay attention to, usually gets better. The next time your mind is running ahead of your body which it loves to do, remember to check-in and ask yourself if you're running your energies at a 6.2 out of 10.