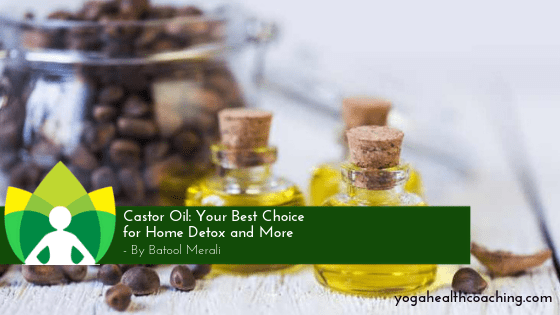 Castor Oil: Your Best Choice for Home Detox and More

Was your grandmother a fan of castor oil? Did she share its virtues for all that ailed you? In Ayurveda School, whenever we asked our teacher for advice on what to use for cramps, skin, constipation, hair, and more the answer was always "castor oil!" This became a joke among the students. Later, as I experimented on myself, I realized the value of this truly great oil- a home remedy wonder.
An Ancient Oil Made Modern
Castor Oil's hand-shaped leaves and reputation for healing have given this ancient oil the nickname "Palm of Christ." Cultures all over the world have used the oil- derived from the seed of the plant- for everything from skincare in the cosmetic industry to digestive care as a laxative. Edgar Cayce popularized the use of castor oil in the 1940's and 50's, especially in the form of castor oil packs. Today, many healthcare practitioners are rediscovering the benefits of using real, therapeutic quality castor oil in ayurveda practice and for holistic medicine. It is truly one of the earth's most versatile healing gifts – both inexpensive and easy to use.
How it Works
Through the lens of Ayurveda and pharmacology, castor oil has a variety of ways that it helps heal. The chemical compounds in castor oil and its Ayurvedic qualities give it the following properties and effects:

Botanical Name: Ricinus Communis
Sanskrit Name: Eranda Tailam
Part Used: Seed
Rasa: Sweet, Pungent, Astringent
Virya: Cooling (externally), Heating (internally)
Vipaka: Sweet
Consistency: Thick, Sticky, Gooey
Color: Clear or amber
Key Actions of Castor Oil
Purgative, anti-fungal, anti-inflammatory, anti-infectious, anti-rheumatic, laxative, immune stimulant, insecticidal, anti-viral, labor-inducing, anti-allergic, anti-parisitic, rejuvenative, anti-aging, germicidal, disinfectant, and analgesic are the remedial attributes of pure castor oil.
Pharmacological and Medicinal Use of Castor Oil
     Cleanses the Colon

     Removes Stagnation and Blockages in the GI tract

     Stimulates Lymphatic Circulation

     Relieves Constipation

     Breaks up Scar Tissue

     Reduces Inflammation in the Joints

     Relieves Pain and Inflammation in the Muscles

     Helps Grow Eyelashes

     Moisturizes and Thickens Hair

     Helps with Menstrual Cramps

     Reduces Bloating & Stomach Cramps

     Helps with Dry Itchy Eyes

     Topical Treatment for Skin Infections/ Sunburn

     Natural Beauty Remedies

      Promotes Restful Sleep

The Top 5 Ways To Use Castor Oil for Home Care
Now that your curiosity is peaked- here are some of the ways I recommend castor oil be used at home.
 Home Detoxification to Decrease Ama
Castor oil is often an essential part of an Ayurvedic home cleanse due to its incomparable purgative properties. This powerful laxative is used specifically to cleanse out the colon, and to flush out excess toxins and Pitta (heat) from the body. It is recommended to use only under the guidance of a knowledgeable health practitioner.
 Skin Care
Castor oil has been used widely in the treatment of many skin disorders including psoriasis, eczema, severely dry skin, ulcers, bug bites, unwanted sun spots, sunburns and wrinkles. Combining castor oil with neem oil is effective for dandruff and dry itchy scalp. Mixing it with coconut or jojoba oil or your favorite mask is a perfect way to apply to skin.
 Joint Pain
Castor oil – a powerful anti-inflammatory agent which can be taken internally or applied externally, also has a strong affinity for the joints. Ricinoleic acid, which is defined as the main fatty acid found in castor oil, has anti-inflammatory properties. Studies show that when castor oil is applied externally to joints, inflammation and pain can be reduced.
Eyebrow, Eyelashes and Hair Thickener
For long beautiful lashes, thick eyebrows and luscious thick hair, apply a little castor oil to your eyebrows, lashes and hair. The proteins and fatty acids in castor oil nourish the hair follicles and promote hair growth. Use 100% organic cold pressed 'hexane-free' sterile castor oil as it works best for all your beauty treatments.
Care of PMS, Stomach Cramps and Bloating
Castor oil can be massaged on the body externally to help ease PMS related pain. Depending on the severity of the pain and discomfort, the most effective results can be achieved by using a castor oil pack. See the "How To" section to learn how to make your own castor oil pack.
Castor Oil- "How To's"
How to Make a Castor Oil Pack
How to Make Castor Oil Cookies for Constipation and Regularity
¼  cup organic castor oil
½ cup raw coconut palm sugar
½ cup water
½ tsp salt
1 tsp.baking soda
1 tsp. freshly grated ginger
2 cups organic wheat or any flour of choice
Mix all ingredients well to make a dough. Spoon onto a cookie sheet and bake in the oven at 375 degrees for 15 – 20 minutes.
Eat 2-3 cookies after dinner to help regulate bowels and help with constipation.
Safe for kids too!
Recipe by Dr. Manisha Kshirsagar.
Castor Oil Cautions
Castor oil is relatively safe, but it can cause side effects in some people.  Consult your medical practitioner first before deciding whether to use this oil.

Do not use if you are pregnant or breastfeeding. Avoid use if you have hypersensitivity, GI obstruction or perforation, severe impaction, symptoms of appendicitis abdominal surgery, ulcerative colitis and rectal fissures.

Only use 100% organic, cold pressed, hexane free castor oil from a reputable source- do not harvest yourself due to its extremely high allergenic qualities.
Reference:  
The Oil That Heals: A Physician's Successes With Castor Oil Treatments