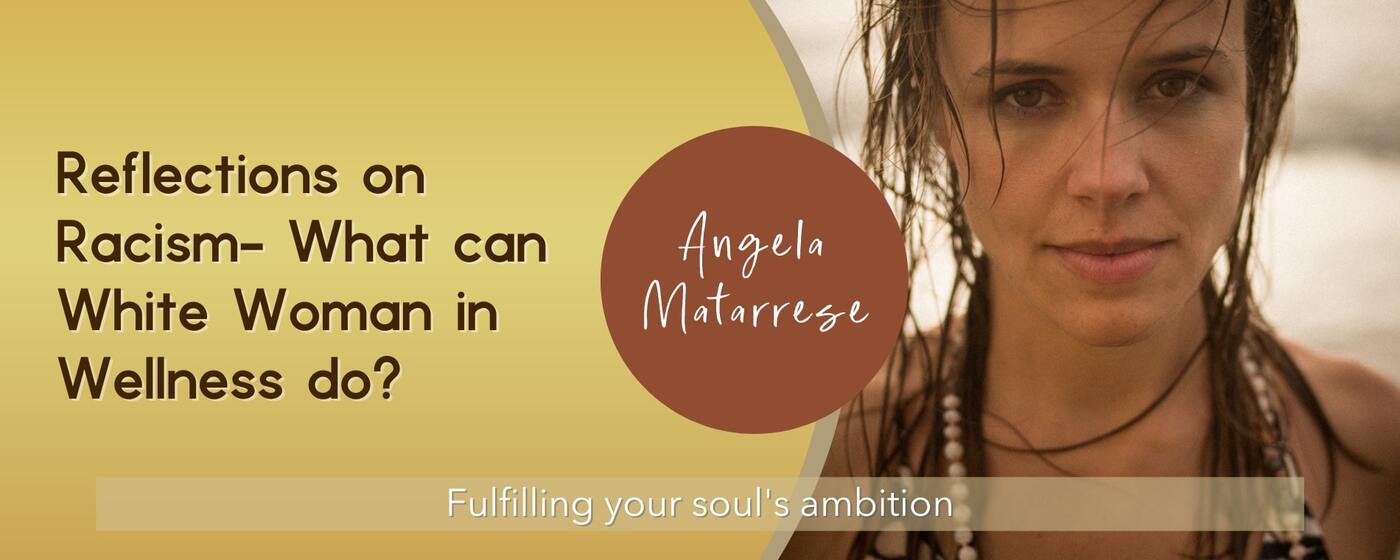 Reflections on Racism – What can White Woman in Wellness do?

I must start this reflection by saying that I started writing it almost a year ago. It was shortly after the horrific murder of George Floyd in Minneapolis, Minnesota. Times were, and still are very sensitive. I wanted to do something to help so badly, but I wasn't sure what to do. I could see three routes that a privileged individual like myself could take: Flee, Fight, or Freeze. I chose to freeze, and I acknowledge that my privilege has allowed me that choice, as many are not born with the freeze route as an option. Freezingmight seem like a way of fleeing, but it can be quite different if we do it with a pure motive and right action. This is such an important topic, and I needed to be sure I was writing in a way that would create more unity and less divide. It just so happens that I am finishing this reflection shortly after the guilty conviction of George Floyd's murderer. So much to celebrate, yet still, so much work to do as a society!

The intention of this writing is to serve as a reflection of the process I have been going through in discovering how I can help with inequality and systemic racism in the world. It is not to tell anyone that they should have the same process, rather serve as a point of discussion on different ways to move forward and be helpful. While there is a lot of information to discover in order to understand what racism is and its history, I haven't found much on how to support real change after that. And while it's super important to do the work to learn about and acknowledge systemic racism, that alone will not move us forward.

Following the murder of George Floyd, my Instagram feed became flooded with the things someone like me should do. Many posts said I needed to speak up, because if I remain silent, then I am part of the problem. Many other posts said I should not talk, because this isn't about me. So, then I thought to reach out to my friends of color and see what they would expect from someone like me to help the situation, until I saw a post instructing me not to reach out to my Black friends during this time because they do not want to hear from me.

My social media algorithm also started shedding light on the Yoga and Wellness industry being white women dominated. As a long-time student and teacher of Yoga, I knew deep in my heart that this was very true. I'm confident that myself and my Yoga and Wellness colleagues want to help the decolonization in Yoga and Wellness and use our knowledge to expand to different communities, but I've found it very confusing to navigate the best way to do that. Especially when I'm told that my whiteness and Yoga body is such a large part of the problem. Does that mean I need to exit this field and way of life I'm so passionate about to give space to other voices, or use it to the advantage of the greater good by exploring ways to expand my knowledge and purpose to be even more helpful?

I really wasn't sure what to do in such a thick situation, so I froze. I knew freezing was the path for me that would cause the least amount of harm. This freeze didn't mean I lied dormant, rather I refrained from putting my thoughts/words about racism in America into the world until I did some deep reflection. The world of Instagram seemed to be telling me I was racist by being me, so I needed to look at that.

Looking at the start of my personal process in hindsight, I see it is aligned with the idea of correcting the microcosm to affect the macrocosm. We are all subtle vibrations on this earth, so the whole of us all feel the collective disharmony of our earthly vibration. How we individually react to the disharmony can either create a greater conflict or more consonance. So rather than getting overwhelmed trying to fix the vibration of the entire planet I have been looking at how my own personal microcosm has been affecting the macrocosm in this order:

This first step of my process has been deeply reflecting on my own Self. What are my beliefs and where did they come from? Are they still true?

During this reflection, I did uncover some helpful information about my beliefs. I remembered a time in my early 20's that shifted the way I lived with Racism. During this time, through volunteer work, I witnessed how systemic racism has kept generations of a family in their situation of poverty and provided little to no education or a way out. When "the system" is how many are taught to live, how do they disconnect and still manage to survive? When I realized this so many years ago, I gave up on trying to help. During that time, I decided that those families wouldn't want to hear ideas or solutions from me and that black leaders needed to step up, inspire, and offer solutions to help families move out of poverty. I have held on to that belief since then, so my next step is to analyze if it is still true.

I am still in this step. Discovering that I had this belief for so long was huge. Now I'm working to figure out if I do have a voice that can help, and how to use it in a way that creates greater consonance. Perhaps the first step is just writing about it as I am here…

This is where the second step comes in, reaching out to my Circle. What are my family and friend's beliefs? Start sharing and listening.

This will look different for many of us depending on our own world experiences. Maybe there are people in your circle who have opinions that aren't in alignment with your own. Since we all have unique life experience that supports our opinions, get curious about where conflicting viewpoints come from, rather than getting defensive to prove why our own opinions are the right ones. Be humble and ask questions when you feel resistance arise.

While learning to share my experiences and listen to others in my circle, I had something powerful pointed out to me by a friend, who happens to be a Black Yoga teacher. She told me to stop taking all the things I'm seeing on Instagram so personally. While I really do know that the important topics and movements surrounding people of color are not about me, the many posts generalizing all whites to be racist are very triggering. With this realization, I'm now aware of when I'm getting triggered and can look into the reasons for why. In going through this process, I've been able to release some of the things that trigger me to move forward in a more balanced and less defensive way.

Reiterating what I said before, be humble and ask questions when you feel resistance arise. We all just want to be heard, and as we continue to be more open to deeply listening to each other, our awareness expands in new ways to create more consonance among our circles.

As these sometimes uncomfortable, but helpful conversations continue for me, they start expanding my awareness of the subject out to my Community: Where does my community fit into this all? City, neighborhood, work environments, social circles.

Expanding our awareness of our communities will also look much different for many of us. While some of us may live in environments that have a lot of diversity, some of us don't, and that is okay. Whatever place you live in, explore the history of how your community came about and the reasons why there is or is not diversity. I live in Milwaukee, Wisconsin, which I've heard is one of the most racially segregated cities in the country. As I've lived here half of my life and visually see the truth of the segregation, I am now acknowledging how ignorant I have been to it. Since I don't see active racism in myself or my circle, I have lived in a way as though it doesn't exist, even though segregation is very apparent as I drive across town. The process of this acknowledgment is the first step to create greater consonance with myself, in my community.

As I look at my diverse home and online community from a Yoga and Wellness perspective, I've discovered black woman-owned, local Yoga studios, as well as many awesome Yoga and Wellness pros online that are people of color. I'm not sure the right action of this discovery is to infiltrate my whiteness into these studios and online communities, but I'm excited to listen and share their beautiful voices. As we look past ourselves and circles, we will find more diverse and unique voices that represent the whole rather than just individuals. This will create more consonance among our Yoga and Wellness communities.

While these discoveries in my Self, my Circle, and my Community are super helpful, I'm now trying to figure out the next steps. What are the actions that can be taken to progress toward greater harmony in the world? What actions can White Wellness leaders take? I'm realizing quickly that there is no order or start to finish in this reflection. It is constant. My steps here are just to open the conversation, let the world know that I want to help and that I'm prepared to step up. We all come from different areas of the world and have completely different life experiences. We are feeling the collective pain of the terrible events that surfaced the darkness of our history. As divided as the world feels now, I'm optimistic that the majority of people in this community share the common sentiments of creating equality, Yoga, and Wellness opportunities for all humans!