06 Dec

Treadmill Desks Build Momentum

I need movement to be my true self and I was struggling with breath/body practice. Days would go by and I was doing very little movement. It was time for some big changes. I've ditched my meds and am now working at my new "desk."  Watch me strut and talk shop on my first ever Yoga Health Coaching Vlog. You will be shocked at how easy it was for me to create me my very own DIY Treadmill Desks

Coming to you today from my treadmill to share with you how amazing this treadmill desk is.

I first heard about treadmill desks from a coach that posted on facebook about how many kilometers she was walking each day and how incredible she felt. It was this really beautiful, well written post and I was really intrigued.

For the past 10 years I've been a financial advisor at a desk job. I tried ball chairs, that didn't work for me because I was still sitting. I have a pitta – kapha constitution and sitting at a desk makes me feel heavy and depressed. I've learned through Body Thrive with Cate  that for my constitution, more than anything I need movement to be my best self, my true self.

Going through Body Thrive I really struggled with Breath Body Practices.  I'm also a yoga teacher and I know how important movement is. I know that I feel my best when I am moving alot; running, playing sports, doing lots of yoga. But still I wasn't always making this happen.

About a week and half ago I started paying attention to Cate on our calls together when she was on her treadmill desk and you can tell she's there, the breath is a little heavier, but she's still able to work and talk if you have the right equipment.
The Right Equipment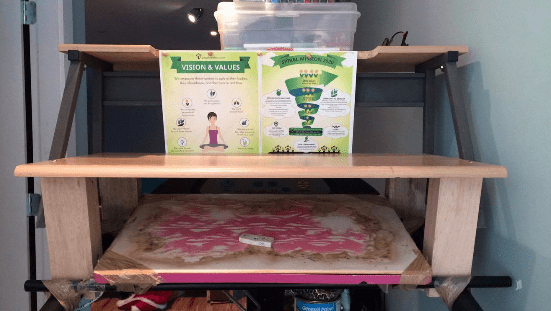 The headset is about $40, all you need is one that is noise cancelling.
I got a new camera for my computer – it was time so that's not a big deal.
I traded someone for the treadmill, so not only did I get a treadmill but also someone in my course.
My table is totally DYI.  It's an old kids craft table, it's been outside, it's warped and discoloured. There are two closet rods across the handle bars and the table is duct taped to the rods. And best yet – there is  a child's eraser that keeps my computer in place.
I've asked for an upgrade – I've earned it. I'm on it each day for about an hour and half.  It's absolutely incredible what's it's done for my productivity and my self confidence.
Treadmill Desks are Gateway Drugs
I went to Tae Kwon Do for the first time last night. I'm 33, I haven't done anything new for years!. It was so much fun to punch stuff and kick stuff and really get my heart rate up and I slept so well. I woke up feeling really awesome. I never would have gone without the momentum of the treadmill.
Treadmill Desks Build Momentum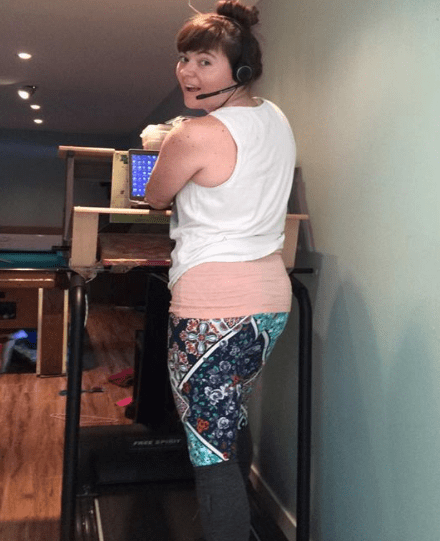 An object at rest stays at rest and an object in motion really stays in motion.
I started really slow using the Kaizen approach. Slow incremental change over time…
I started really slow at 15 minutes and now I'm up to 4 hours.
I started slow, I'm going about 1.2 – 1.7 mph  (2.0 – 2.7 km/h) right now as I talk. I'm feeling what my body needs, knowing when I need to take a break, take a sip of water.
I have the tendency to overdue things – so I'm reminding myself that this is a big change.
I am able to type. I am able to coach – I tell my group on the call that I'm on my treadmill desk. I'm not crazy out of breath but you can still hear it in my voice that I'm moving. I'm not snacking as much. I get off to have lunch, my appetite has been great.  My Kapha imbalance slows my digestion, so it's nice be be hungry and enjoy food.
Surviving the Flood with Ahimsa
My mood is better. I'm laughing more and more excited. I'm nicer to be around. Even though we had a flood – ok I caused a flood – but I was able to deal with it and not get excited about it. I was able to watch it happen as an observer. I practised ahimsa, I didn't get mean to myself or start blaming myself, accidents happen. I year ago I would have been a fiery ball of anger – I likely would have made it worse by punching a hole in the wall.
Cumulative, Compound Changes
Looking back a year – the changes that I have seen are tremendous.
I'm working on a treadmill desk.
I'm not napping during the day.
I'm not on any depression medication.
I'm working from home – I would have said a year ago that I'm not the type of person that can work from home.
The cumulative effects of the small changes over time and how they add up to something significant. How the 1% change every day has made a huge impact on my life
I am so grateful to Cate for encouraging me on this path. I'm so grateful for the treadmill desk. It's not that hard, you can do it yourself, it's not that complicated.
Talk to someone – tell them you what you want to get that support to make it happen.
I read the articles that were negative about them and how crazy they were and how sore they got. I realized that they did too much. Of course you were sore – you didn't start small.
I've caught myself in my tendencies of thinking I need to do more, I should be running, I should be doing this faster. And slowing myself down. It's like the saying;
"Even if you are going really slow you are lapping everyone on the couch."
I am lapping coach Grace today, I am lapping napping Grace today.
I just need to be doing a little bit more than yesterday.
I'm not ashamed to tell you where I was because I'm not there any more.
Give the Background Noise a Job
This was my first VLOG but once again the treadmill desk helped me keep that background, loud annoying Grace in the background so that even making this video was easier.  It's like giving that base brain of yours a job, like giving a dog a job to keep them happy.
I used to try and multitask – really it's not multi-tasking, we are switching from one thing to another.
The walking keeps the background voice a job so you stay more focused on the one thing you are doing.
I hope this was helpful – give it a try!