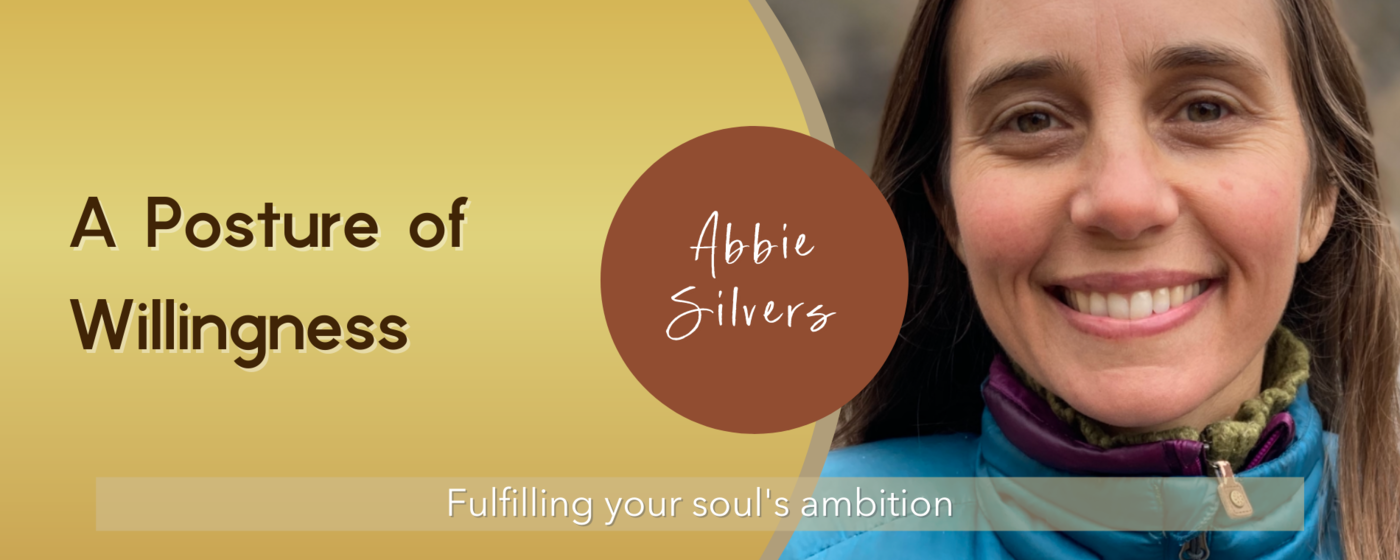 A Posture of Willingness

This summer I made a commitment to read the book "Meditation for the Love of It" by meditation teacher Sally Kempton. I also set the intention to practice a new habit of consistently meditating for 5 minutes every morning.

In her book, Kempton writes about meditation posture and some important elements being:
a tall spine
an open chest
relaxed breathing
a comfortable body.
A posture like this can seem like a far reach. I know it often has seemed so for me.
As I read these meditation posture suggestions, I began to think about posture in general and how it can be a metaphor for our mindset. I started to consider what posture I carry, not only for meditation, but when approaching many situations in life that invite me to grow and change.
Physical activities like stretching, breathing, strengthening exercises, bodywork, and even diet and hydration can certainly support a tall, open-hearted, relaxed body position. But how can one's state of mind, emotions, and spirit also play a role in naturally arriving at such a posture?
The qualities of the physical posture Kempton recommends seem to be expressing a disposition of willingness. It's as if the body is saying, "I am showing up. I am fully here. I am willing to meditate. I am choosing this experience." In other words, it is a posture of willingness.
When I look back at my life so far, I see that it is a relatively new experience for me to feel genuinely willing to grow, change, and evolve. However, I am happy to say that this is becoming more and more of a familiar embodiment for me.
So I'm asking myself…how did I get here? I feel compelled to share about my own journey of finding the resources and developing the skills that have led me to embody willingness, namely by attending to my mind, emotions, and spirit. Maybe my story can offer some insights for others.
For many years, the dominating emotions I carried were fear and hesitation. In addition, there was an overpowering "should" voice in my mind. This voice had a forceful presence that pushed me forward even when I felt reluctant. My default stance was what I would call a "pushing through posture". Imagine a contracted chest, shoulders caving in, head turned sideways as if to brace for danger, and body moving forward in protective mode for a seemingly treacherous passageway ahead.
Rather than "I am willing", my body was saying, "I am conflicted. I might want to take these steps forward, but I don't trust the journey. I'll do it, but only forcibly."
I had developed a pattern early on of feeling fearful, and yet pushing through anyway, gritting my teeth. This wasn't a very satisfying approach to the opportunities for growth and development that inevitably were being presented to me in life. So I spent many years feeling unhappy, stuck in fear, with a sense that my life wasn't moving forward on my terms with ease and joy.
I wanted to be happy. I wanted to grow. I wanted to be brave enough to try new things and enjoy the experience, yet it felt so often like a struggle that I rarely was satisfied with my progress. Instead, I felt exhausted and unfulfilled.
It wasn't until I was introduced to habit evolution strategies (which stem from human behavioral science), that I could start to shift my posture. I needed these resources to create a whole new approach to the way I live my life, one that is making my path of personal evolution much more joyful and gratifying.
Over the past 8 years, I have been learning about and practicing habit evolution strategies, thanks to the Yogahealer community, a group of growth-oriented individuals, both self-healers and wellness professionals, who hold a collective posture of possibility and willingness to evolve.
In her book Body Thrive, my mentor, Cate Stillman writes about habit evolution and applies it to the study and practice of Ayurvedic health habits. She writes that there are two preconditions for progress when adopting a new habit:
"(1) You have to want to do it
(2) You have to perceive it as doable."
I believe these two preconditions are hugely instrumental in developing a posture of willingness.
Consider "a new habit" to mean anything in life that invites us to evolve and grow. If I look at the old patterns I had, neither of the preconditions Cate names were fully in place for me to whole-heartedly progress in my life.
You have to want to do it.
In my case, I hadn't yet developed a relationship of listening deeply to my intuitive self, the inner voice that speaks truth about my heart's desires from unconditionally loving clarity. What's more, even if I was hearing my desires, I wasn't necessarily trusting that inner, wise messenger.
What I have learned is that when I am listening to, honoring, and trusting my inner truth, I feel in alignment with myself, such that I am working with rather than against myself. My connection to my intuitive wisdom helps me clarify what I want. Doubt may arise, but my devotion to my truth is stronger.
It takes a deep trust in my desires and then a surrender to follow them.
If knowing what you want feels elusive for you, I suggest starting a regular practice of connecting with your inner wisdom. This might look like:
Sitting in silence and listening to what arises with curiosity.
Placing your hand on your heart.
Lighting a candle that represents the light within you.
Asking the question, "What is the most loving thing I can do for myself right now?".
You can first experiment with asking yourself that question in the moment, rather than considering big life circumstances. Maybe you will discover that right now you simply need to take a few deep breaths. Maybe you will get a message that you simply need to eat a nourishing meal. Maybe it will become clear that what's most loving is to tuck yourself in for a good night's sleep.
Once you start strengthening the muscle of being able to hear and trust the unconditional loving guidance from within for small, in-the-moment scenarios, you can then expand to asking yourself about your desires on a larger scale. For example, "What do I desire for the next phase of my life?".
But knowing what we want and that it could involve adopting a new habit or making a change is only one precondition, right? Sometimes in my life, I really DID know and trust what I wanted, but I could not make sustainable change because the second precondition was not in place.
You have to perceive it as doable.
In my case, I had an inaccurate, deep-seated belief that I couldn't really get where I wanted to go (happiness, fulfillment, strength, good health). This belief was based on another subset of outdated beliefs. I held the notions that a growth process must be approached:
on my own
with force
without room for failure.
Ugh. That sounds so bleak! No wonder things didn't seem doable! What a blessing that I could bring these limiting beliefs into the light so that I could update them with a more empowering landscape.
I have come to realize that I was missing the awareness and skills to:
ask for and receive support from others along the way
be gentle, patient, and forgiving in my growth process
aim for a B instead of an A+.
In contrast to my previous approach, I now:
understand how essential support is. I receive support from my peers, mentors, family, nature, divine presence (or anything else that feels like a supportive resource). I am continually learning how to ask for support with humility, receptivity and courage.
understand that force never works for me. I have to yield to the process and be compassionate and realistic with myself as I navigate the peaks and valleys of my personal evolution. Taking small steps and celebrating each win is key.
practice reminding myself that perfection is futile. The middle way feels so much more true to the human experience.
To summarize about the tools I've learned: support, self-kindness, and moderation allow me to now perceive adopting a new habit (any growth opportunity in life), as doable.
Are these tools you have in your "personal growth toolkit"?
One of the main reasons I am working as a holistic health coach for women is to provide my clients with these tools. I want others to experience for themselves what it's like to have a community of support when stepping courageously into personal growth efforts. I want others to experience how remarkably effective it is to be patient, compassionate, and realistic when approaching desired change.
In my own experience, if I combine the two preconditions; my clarity about what I want + the tools that allow me to perceive my desires as doable, then I genuinely feel like I can move forward.
Enter …a genuine posture of willingness. And oh what a good feeling it is to arrive here!
It is an ongoing learning process for me with these preconditions. I regularly work on connecting with my inner voice to make sure that I am staying in alignment with my true desires. When I discover something that I know I want, I make conscious choices to incorporate support, self-kindness, and moderation. Then, the path ahead does not seem so daunting. I know I can trust the journey.
I'm curious, what postures have you carried throughout your life? Is a posture of willingness something that feels familiar or foreign to you?
Do you currently have clarity about something you want to do, whether it's a small shift like adding more greens to your diet or a big leap like making a career change? And just as importantly, do you perceive the path as doable? If so, what resources allow you to have this perspective?I believe that with the preconditions I've shared, it is possible to arrive naturally at a posture of willingness. May your body, mind, and spirit together reach an authentic point of saying, "Yes, I am willing." And from this seat, may your growth journey be more easeful and enjoyable.