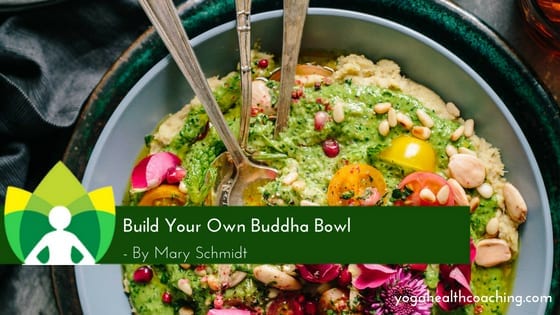 Build Your Own Buddha Bowl

As the summer harvest is upon us, now is the time to treat yourself and your family to Buddha Bowls.  What is a Buddha Bowl?  A Buddha Bowl is summer salad made of a combination of veggies, greens and grains, often presented in a round bowl.  The bowl is often filled over the rim (forming a belly), hence Buddha.

Buddha bowls are rich in macronutrients. Macronutrients are a variety of carbohydrates, proteins and fats that your body can use and digest to produce energy. These carbs, proteins and fats are found in vegetables, grains, legumes, and seeds/nuts. In bowl preparation, there is no ratio as to veggies, grains, and greens. Some chefs recommend ½ veggies to ¼ gains and greens. Top with seeds/nuts and/or condiment of your choice (lemon juice/pesto/sprinkle of cheese) and bon appetit!

My favorite Buddha Bowl is Quinoa, Beet and Arugula from allrecipes.com


Ingredients:
½ pound beets, peeled and sliced                    1 clove garlic crushed
1 cup quinoa                                                     ¼ teaspoon black pepper
2 cups water                                                      2 green onions sliced
½ cup olive oil                                                    3 ounces arugula chopped
½ cup red wine vinegar                                      Crumbled goat cheese on top


Directions:
Steam beets for 7-10 minutes or until tender.
Bring quinoa and 2 cups water to a boil, reduce heat and simmer until the quinoa is tender and the liquid has been absorbed, about 15 minutes.
Wisk olive oil, red wine vinegar, garlic and black pepper together.
Remove quinoa from heat and add ½ the vinegar dressing while fluffing the quinoa with a fork; reserve remaining dressing. Cover and refrigerate quinoa until cool.
Stir green onions, arugula, goat cheese, beets, and remaining dressing into cooled quinoa mixture. Toss lightly before serving.

You can also choose to build your own for your dosha :

Pitta's Favorite:
Grain: Barley, White basmati rice, barley, and quinoa
Vegetables: Alfa Sprouts, artichoke, asparagus, broccoli, cabbage, cauliflower, kale and leafy greens
Beans: Black lentils, chickpeas, and mung beans
Nuts and Seeds: Sunflower and pumpkin

Vata's Favorite:
Grain: Cooked oats, quinoa, and bulgar wheat
Vegetables: Avocado, beets, carrots, yellow squash, green peas and spinach
Beans: Mung beans
Nuts and Seeds: Almonds

Kapha's Favorite:
Grain: Basmati rice, buckwheat, barley and quinoa
Vegetables: Alfalfa sprouts, artichoke, green beans, broccoli, brussel sprouts, cauliflower, carrots, kale, lettuce and other leafy greens
Beans: Mung beans, red lentils
Nuts and Seeds: Pumpkin and sunflower seeds
*Quinoa and Basmati Rice can be used for all doshas
Buddha bowls are delicious. Have fun building!
References: