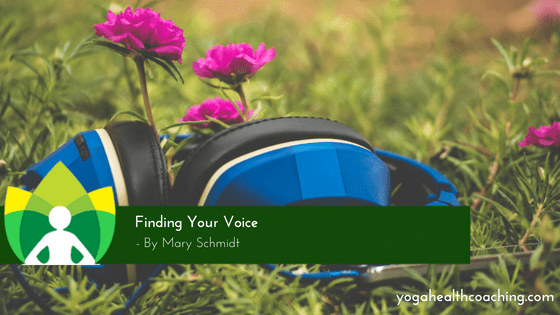 Finding Your Voice

The inspiration for this blog came from the March 24, 2018, March for Our Lives Rally.  The young people in our country, used their voices, spoke their truth and asked the world for support to help alleviate gun violence in their schools. These children, some as young as 11 years old, told their stories with the hope and belief of transformation.   I was definitely not articulate at 11 and was spellbound as I listened to their individual stories about how gun violence has affected their lives, the core of relationships in their families, with friends and community. These children found their voice. Their message was articulated with clarity.  They tapped into the root of the gun violence problem in America.  They acknowledged mental health, racial profiling, political corruption and the social/ economical challenges of communities as areas which need transformation. The rally was peaceful with no obscenities. Yes, at times, the children spoke with emotion, but is was controlled, and they stayed on point.   

How do we know when we have lost our voice?
Finding your voice, your moxie, your sparkle – is it all one?  I think so.  There is an energetic connection to everything that is you.  Finding your voice can be manifested in many ways. It may be through verbal communication,  dance, music, art, writing, cooking or any other endeavor that is uniquely you. We are all born with a "voice" but dealt different cards in life. Life events can shift how we speak and how we show up in the world.  So, how do we know when we have lost our voice?  Some people shut down when there is controversy or when challenged. Some of us may have been emotionally or physically wounded which made it hard to speak up. Others still may be raised with the belief that we are not to bring attention to ourselves.  For me, it is a combination of the above. I grew up in a house where we didn't talk about daily events.  My dad died when I was 9. My earliest memories of him are of looking at the stars together and helping him in and out of his wheelchair.  My mom worked as a registered nurse. In the 1960's nurses worked shifts; 7-3, 3-11, and 11-7. Not very conducive for sleep or overall health.  When my dad died my mother's migraine headaches got worse and she went into a depression. As kids we did not talk about our day as often she was at work or in her room with the door closed. My sister and I grew up "figuring it out", whether it be what to eat for dinner or preparing for school in the morning.  There wasn't much conversation between me and my mom, so my opinions and concerns were not acknowledged. I don't remember often having conversations with adults, just others kids on the block, or me in my head, attempting to navigate life. Sometimes this was okay. Other times not so good. 
As an adult, I found that I housed some of these old beliefs and residue from my early childhood, which made for poor communication.   I am not naturally good at engaging in and maintaining long conversations, especially when there is an emotional charge. In the past, if there was an emotional charge to a conversation, I gave my opinion and left. A drive by conversationalist.  For me it was the belief that I had to rely on myself.  I had done this for so long, it was my normal. When faced with a problem, I will try to figure it out myself rather that ask for help and support.  Asking for support still feels foreign. I am working on my verbal confidence, which to me means having the ability to articulate and own my thoughts and feelings; to understand that feedback does not mean failure. 
Developing your voice can be a challenging task.  It begins with acknowledging beliefs and behavioral patterns and stepping up to challenge them.  I have found self-reflection and enduring my own limitations to be excruciating but I understand now, you don't have to live there.  You can't change the deck but you can reshuffle it.
"Chip away at parts of your self to find the amazing.  The process of learning involves failure. Discomfort is the price of admission for anything worthwhile" 

Zack Woods

Voice your needs
If you listen to a Yogahealer podcasts, you may notice that while the topics dive in multiple directions, the speaker's tend to provoke thought.  Cate recently chatted with Alexandra Epple. The topic was voicing your needs and how to ask for support. This really hit home for me. Alexandra and Cate discussed what happens when you are not heard or when you do not ask for support.  If we do not ask for support and keep our emotions inside, we are at risk for developing a breeding ground for anger and resentment.  The first step is to get clear on what you are asking for.  What is it that you need?   If there is an emotion attached to the need, explore the emotion and get clear on what the charge is about. Then, with clarity, find a time which works for both parties to discuss the issue.
We all need guidance, space, and time in order to change and become the next level of ourselves. In asking for help, we are humbled. We admit that we are interdependent, not isolated, and that we affect each other. 

Cate Stillman
You may have already noticed that your health habits do not exist in a vacuum. We are both affected by the habits of those around us and the habits of those around us affect us. If we want to maintain both our personal health habits and our relationships, we need to have good communication skills and be able to ask for support when we need it.   One way to do this is setting a time for weekly family meetings and keeping to it. Family meetings can be a platform to discuss the upcoming week, or events/issues members may need others support on. It can also be a great place to check in with your kids on how they are feeling at school, and ways to keep your family or household happy, healthy and safe. The more you develop your voice, the easier it is to act as an advocate for your child or community.  It takes a village.