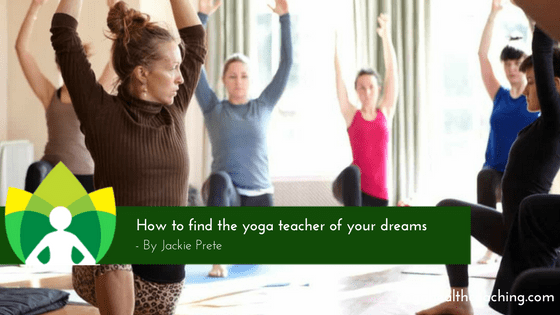 How to find the yoga teacher of your dreams

How do you to find a great yoga teacher who helps you awaken to your highest potential… the teacher of your dreams? The challenge is to find teachers who will help you grow as a human being. I suggest that you find teachers who will inspire you to take risks in your life, to become more self confident, to feel better about yourself, and to challenge your need to look good or be perfect. Many yoga teachers are skilled at creating a nice environment but don't challenge their students to grow or have a bigger worldview.
My Best Teacher
I was at an Anusara Yoga gathering recently in Tepoztlan, Mexico with teachers from all over the world. The workshop that really challenged me was with Carlos Pomeda. He was teaching Tantric Yoga philosophy of Kashmir Shaivism.  He asked us to think beyond the ordinary mind to connect with our essential Self. It was mind-blowing. In order to really understand the heart of nondual philosophy, you have to give up how you look at yourself and your life and embrace that you are a part of something greater than your own ego. If you can wrap your awareness around this it is like doing advanced asana on steroids!! Afterwards, he led us into a meditation focusing us on our awareness of our awareness.  Carlos challenges us to look beyond ordinary mind to seeing ourselves pulsating as a part of this vast limitless universe. A teacher like Carlos cares deeply about his students and how the philosophy of yoga can help free them from limited thinking. They can begin to see their potential. Carlos is here to serve his student's transformation not share his own.
Walk the walk…
In order to resonate with a teacher, they need to walk the walk not just talk the talk. Look at how they conduct their business, their skills at a relationship, their humility and ability to honor their teachers. When you compliment them and tell them what a great teacher they are, do they get all puffed up or let you know that they are completely in service to their own teacher within. Begin to look for teachers who provide instruction without being didactic or insisting you do a pose that is beyond your skills i.e headstand!!  Listen to your own intuitive nature. If you feel better about yourself after class then this is the teacher for you. If you feel belittled, hazed, made fun of, run, do not walk and do not go back. Life is too short to take abuse from a yoga teacher. Make sure the teacher is obeying good professional boundaries.
Red Flag – Who is the Teacher?
When you see students with annoying or disruptive behavior in a class, it is a reflection that the teacher has not set proper boundaries. They are guiding asana but not stepping into the seat of authority. I would have trouble trusting a teacher whose students had this behavior: First of all, when you take your first class with a new teacher, notice the behavior of their students. If your teacher gives way the Seat of the Teacher, the students will start to take over the class energetically. You will see them assisting other students, having side conversations while the teacher is talking, trying to steal the attention through their behavior (showing off advanced forms of poses that were not demonstrated).
Questionable Student Behavior
The student keeps their phones next to them during class and checks for texts arriving throughout a class.

They take phone calls that come in and walk outside talking really loudly outside the room.

They do neck rolls during meditation and hip openers during savasana.

They leave the class before savasana.

They have their eyes open during meditation and savasana or check their emails.

They are constantly modifying the practice to " show off" their more advanced postures.

Constantly checking the time to see when they can escape!

There is a competitive atmosphere in class and students try to compete with each other.
Questionable Teacher Behavior
I remember taking a class with a very prominent teacher. I personally like this teacher yet something was always off for me when I took her class. Many students flock to her classes so she obviously speaks to many students. Each time I attended her class, her theme or message didn't resonate with me, Why are her classes are totally packed? My curiosity was asking what can I learn from this teacher? She shares her inner process with her students. Her process is interesting but has nothing to do with me. During the class I become a part of the audience witnessing her inner exploration. She is very articulate and curious. She studies with some interesting people but there is no unified message. She is a seeker who hasn't really landed.  A great teacher described students who try lots of teachers like a gardener who digs lots of holes in the backyard but never goes deep enough to find the answers she seeks. It is better to go deeply into one path than dig around in many different holes trying to find the right one. I resonate with teachers who make the class all about their students. They tailor the class to my needs and their themes speak right to my heart.
Signs the teacher is not doing their own internal work…
Teacher spends more time on their playlist then the sequence.

Teacher insists on students doing poses even if they are not ready (i.e. Full Wheel)

Teacher runs in 2 minutes before class.

Sequence does not feel good and makes no sense.

The teacher says inhale exhale but does not breathe with students so the pacing is off (usually way too fast!)

The warm up is not related to the peak pose (hardest pose of the class)

Sequence is the same from week to week, month to month

Teachers do the entire sequence with the class and does not walk around to see if everyone is doing the same pose or needs help.

Teachers do not modify poses for different levels.  

Teachers do not teach who shows up in the classroom and just goes through their rehearsed sequence.

Sequence is not appropriate for the level of student in the class.

Teacher is not connected to the people in the room. If the only person doing the hardest pose in the class is the teacher then the class level needs to be adjusted.

Teacher is always experimenting with different styles of yoga and cannot seem to land on one style.The classes are technically confusing as they are constantly incorporating little teachings from this class or that teacher.  

Contemplation What Qualities Do You Value in a Teacher?
I see many styles of yoga in the world that support a student's physical journey but leave the psychological/spiritual side of their development alone. Focusing on the physical and ignoring the spiritual is like having a ripe mango and chewing on the skin!  There is so much juiciness inside. Why not crack that baby open? Start to notice and write down the qualities you are seeking in a teacher. Here is my list but I recommend you write your own.
17 Attributes of a Great Yoga Teacher
Teacher shifts the poses and sequence to accommodate the folks who showed up today i.e wrist injury showed up and there are openers and strengtheners for wrists. Pregnant gal shows up and the sequence accommodates her. A person with back injury shows up and the sequence of hip openers and hamstring stretches on your back indicates the teacher is on it.

The level of class matches the skills of the students. It challenges them but is not beyond their skill level or too easy.

There is space for silence in the class. My teacher, Ross Rayburn, said that there should be a couple of moments in the class where you are really steeped in stillness.

There is ample time for savasana and meditation.

You don't feel rushed.

There is plenty of time for cool down poses before savasana.

Your body was properly warmed up for the challenging poses and cooled down.

At the end of class, you feel a deep connection to your own essence. You feel energized, mentally alert, and your physical body feels supple, strong and awake.  

You feel alive after class and not depleted in need of a nap.

Your nervous system is cooled down.

Your digestion is enhanced and you are hungry after class.

Your mood is elevated and you have no desire to go out for drinks or take recreational drugs after class. You are naturally in an elevated space and booze and drugs would feel toxic to your system.

Your mind is quiet.

The teacher is tuned into your body and makes the class feel like a private designed for you.

The teacher is skilled at weaving yoga teachings and tales into the asana portion of class so that you have something to chew on the rest of the day as you take your yoga off the mat. (A teaching, a poem,  or a sutra that will help you focus your attention.)

You feel more positive and uplifted and ready to face whatever life's obstacles are coming your way.

The people that gather around that class feel connected to each other and honored whether they are a teacher, a beginner or have injuries and limitations.
Jackie Recommends
It brings me such joy when I see students connect to their own wisdom body by realizing the true purpose of yoga.The purpose of yoga, according to Anusara yoga, is to recognize our own boundless divine nature (Chit). Through this recognition, we learn to celebrate the mystery of life (Ananda) including its dance of both the shadow and light. Students may still experience obstacles and challenges. These events no longer stop them in their tracks or derail their health and well being. In fact, they begin to cultivate an attitude of " bring it on"  by meeting life's challenges with humor and grace instead of dread and fear.
Check and see if there is an Anusara teacher near you who can challenge you in ways beyond just the physical.
Bonus Yoga Teacher / Health Coach
It is a great bonus to find a yoga teacher who is also a Yoga Health Coach. They can help you attune your habits to nature, the rhythm  of the seasons and the times of the day. They can also find out which practice fits your constitution or Dosha.
Yoga for your Dosha
If you have a lot of fire in your constitution( Pitta), hot power yoga is not a good choice for you.You are better off with a slower paced class like Anusara, Iyengar or restorative yoga. For an earthy Kapha a practice that moves your energy is a great fit like a slow flow or vinyasa class. Breezy, scattered  Vata yogis do will in a good slow flow, Anusara, or Iyengar class. Take a Dosha quiz to see what your constitution (Prakruti) is. There is yoga for the season and yoga for different stages of your life. Find a Yoga Health Coach to help you find out what practice will help you manage your hot flashes, soothe migraines, decrease inflammation in your joints, give you energy or deplete you. What kind of practice helps you focus your mind, spark your creativity, calm down or heal from depression?  What do you do when you cannot do physical asana practice but need to connect to the higher self? I would be delighted to answer these questions and more. Here is a list of Yoga Health Coaches / Yoga Teachers near you.
Finding Your Best Teacher
Take this list with you when you explore new teachers. Ask yourself these questions at the end of class:
Do I feel uplifted?

Do I feel better about myself?

Did the teacher take any time at all to introduce themselves to me and find out if I had any special needs today?

Do the people who regularly take this class seem connected, and treat each other with loving kindness and respect?
All of this is a reflection on the teacher. When I see the teacher there early and staying afterward to interact with their students I know this teacher is really connected to his or her students. Are they socializing with their students or deeply touching them and really honoring the teacher/student boundary. One of my favorite teachers, Paul Muller Ortega, said that the teacher shows up on the inside first. Maybe in our dreams?  Afterward their physical manifestation shows up and we recognize that we have known them from a deeper place all along. If you have this experience then you have found your teacher!
Good luck with finding your teacher. Keep looking for the fit is just right. A good yoga teacher is worth their weight in gold…Let me know how the journey goes for you. As Luke Skywalker says "May the Force Be With You"  Om Namah Shivaya!