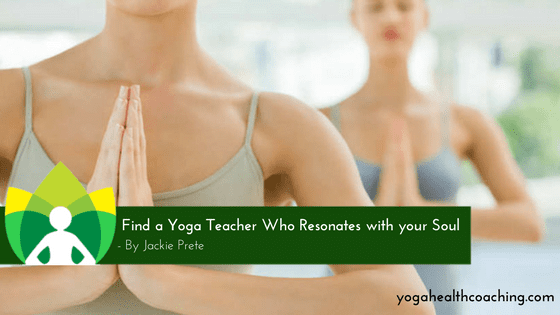 Find a Yoga Teacher Who Resonates with your Soul

For those in search of a yoga teacher, your search might be over! Start your search by looking inside. One of my teachers, Paul Muller Ortega, says the teacher shows up on the inside before the physical manifestation shows up in your life. Once the teacher appears, there is a feeling of deep recognition. It's as if you have known this person for many life times.

I searched for many years before finding the right yoga teacher. After trial and error, I found a great fit in the Anusara Yoga Community. Although John Friend, the founder, left in 2012, the Anusara School of Hatha Yoga continues to grow and thrive with 900 licensed well trained teachers still carrying on the amazing tradition of this yoga path all over the world.

This year as I celebrate my 27th anniversary of teaching yoga, I notice my teaching has shifted dramatically over the years. What I understood to be the gold standard for a successful yoga teacher in 1991 is radically different from how I see it now.

I was a former power yoga vinyasa teacher, who taught a very athletic form of hatha yoga in NYC gyms in the early 90's. My teaching felt like an extension of my former career as an aerobics instructor. Students wanted a sweaty strong class, yet the class had no contemplation, meditation or opportunity to go inside. My classes had an external focus because I wasn't meditating yet, hadn't studied yoga philosophy or met my main teacher. My interest was in creating an atmosphere with movement, music and a lightness of spirit. I had not yet learned the value of deep inner work of self inquiry.
Each Class Takes us on a Journey
 Now life is so different. I have been invited to teach and train Anusara yoga teachers internationally in NYC, China, Europe, Mexico, Costa Rica and Japan.  The yoga sages say that when you go inside, you discover life's true purpose, or Swadharma. This inner work and exploration taught in Anusara Yoga has added a new dimension to my instruction and a depth to my classes. I always bring my self -inquiry into the classroom. I teach what I need to learn that day. Now each class I teach is a journey within to discover why we are here.

Stay in Alignment
Anusara yoga teachers help us focus on healthy inner and outer alignment. We align our intention and the physical body. There is an emphasis on experiencing a pulsation between engaging muscles and expanding energetically, that brings balance and ease into the pose. We are neither over or under efforting. The knowledge and application of good alignment and the weaving of yoga teachings throughout the class turns the experience of yoga from a fitness regime to an uplifting journey to your own sweet essential Self. This inner journey is transformative and life changing. I am beyond grateful for the amazing gift of Anusara Yoga to me and for my students all over the world.
It's All Fun and Games Until the Chit hits the Fan!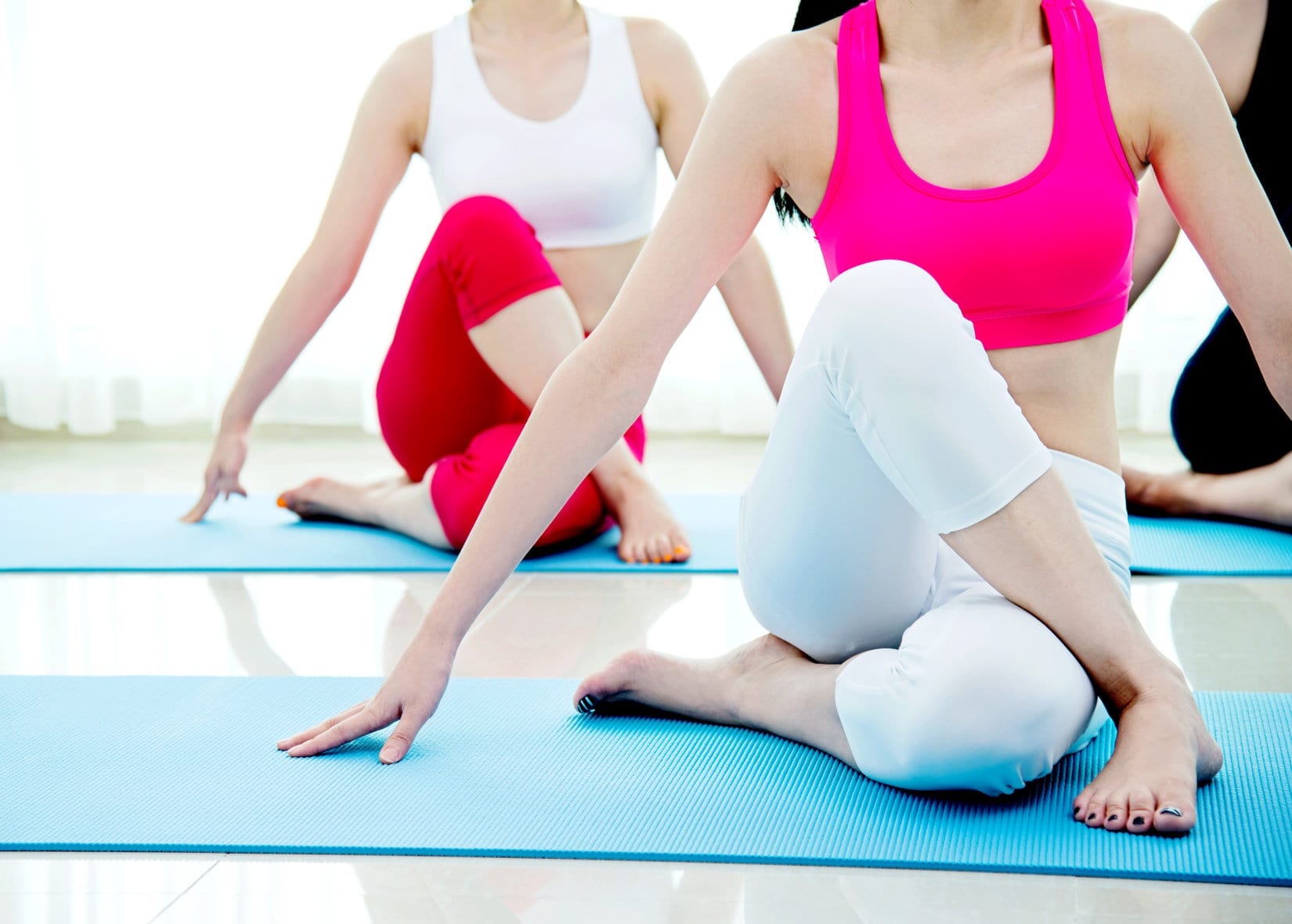 When you connect to your very own wisdom body by realizing the purpose of yoga, you relax into life and let go of the struggle. The purpose of yoga according to the non-dual philosophy at the heart of Anusara yoga is to recognize your own infinite/divine nature.
(Chit)  By recognizing your own essence as a part of everything in the universe, you begin to understand that the totality of who you are includes the  dance and celebration ( Ananda) of both the dark and light aspects of life. There is a freedom in knowing everything is here to awaken us.
You may still experience great obstacles and challenges, yet even these no longer stop you in your tracks or derail your health and well being.  In fact you begin to cultivate an attitude of "bring it on!" Anusara Yoga seems to help people develop a way of meeting life's challenges with humor and grace instead of dread and and fear. This inner work prepares you for life's real challenges (health issues, illnesses, injuries, job loss, transitions, divorce, death..) A fun vinyasa class is a good sweaty workout but will not be of great support when the  @##$% hits the fan!
Look around to see what popular yoga teachers are doing these days. Do you notice many are power vinyasa yoga instructors? There is nothing wrong with this style of yoga, but it seems to appeal to the athlete/yogi who is not interested in going inside. It is possible to experience a flow practice and also to do the self inquiry work that leads to inner transformation. By aligning your intention, every class with your highest ideals,  Anusara yoga helps the student find their Swadharma (their true path).
There are stages of a yogi's development. When a yoga student is new at the practice they tend to focus on the physical. The spiritual aspects seem intimidating, foreign, weird or affected. After practicing for a while the student begins to simmer and cook in the "Shakti" or energy of the practice and naturally starts to explore the more subtle realms like Pranayama, Chanting, meditation, karma yoga, or Seva (selfless service).  So wherever you are right now is perfect! I will never forget the friend who brought me to my first class. I hated the chanting but loved the way I felt in Savasana!! That was Bliss ( Ananda). And there were no drugs involved!! I couldn't wait to get back and try it again!
Glass of Wine Yoga Has its Shortcomings
Yoga can easily turn into a palliative healing modality that makes you feel good till the next yoga class. That kind of yoga is like a nice glass of wine. It takes the edge off of a stressful day. I am interested in going much deeper. By incorporating the yoga teachings in classes we are able to take yoga off the mat and into our lives. The contemplation like for instance, Saucha, (purification of the body and mind and our environment) can result in your life becoming more efficient more organized. You will clear up misunderstandings in relationships, and clean up your diet.  All these shifts leads to more vibrant and clear energy.
Let me tell you about Lucy, a retired nurse in her early 70s who took my Anusara yoga class at World Yoga Center. Her IBS(Irritable Bowel Syndrome) ruled her life. She was exhausted, depressed, irritable and isolated. One of the ways I help people off the mat is through my Yoga Health Coaching course, The Body Evolves which Lucy signed up for. Lucy's IBS went into remission after taking the course. I was thrilled at the way she transformed in the program. She changed the way she digests food. Not only that her personality changed, she became more positive and outgoing. She began to feel more uplifted and lighter. She was so grateful to have discovered this healing path.  She took small steps. She quit snacking between meals and ate her last meal of the day around 6:00 pm. This calmed down her digestive system allowing it to rest between meals. She ate miso soup for breakfast. Fermented food really helped her gut health.
Lucy now spends time in nature every day filled with gratitude for this life. I am so grateful I  doing a daily practice of Anusara yoga. I was able to guide her and I wonder, had I not evolved as a teacher, could I have helped Lucy get to where she is today?
Take Yoga off the Mat and Integrate Yoga Teachings into Your Life and Your Relationships.
Taking yoga off the mat and into every aspect of your life has been my passion since meeting my teacher, Cate Stillman. Cate is  an Ayurvedic practitioner and a trained Anusara Yoga Teacher. Her course, Body Thrive, based on the teachings of Ayurveda has given yoga a whole new perspective for me and many others. By seeing yoga on the mat as a place to focus your attention on what you want to create off the mat brings yoga into every aspect of your life. ( how you think, how you relate to other people in your life, how you feed yourself, how much rest you get, how you nourish your spirit )
An Example of Healing Off the Mat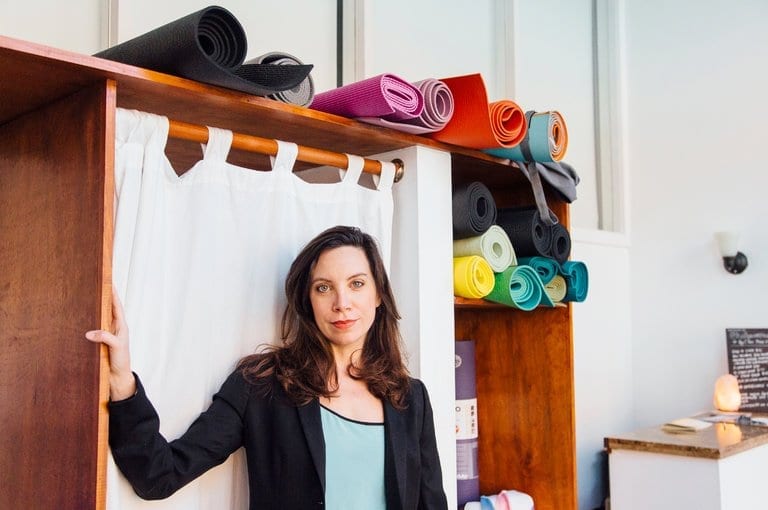 An example of yoga off the mat happened when I injured my leg in September, 2016 in a horrible bike accident. I had to use the subtle practices of pranayama, meditation and chanting. I couldn't do asana for 4 months while I was in the initial phases of my healing. I used the 10 habits I learned from Cate Stillman in her Body Thrive course to heal my body. I connected to my community who reached out with food, love and prayer. I was constantly cared for by body workers,students and friends. I put myself on the Dinacharya ( daily rhythm)  of regular meal times, bed times and waking times. Little by little my bones knitted back together and I recovered my ability to walk, ride my bike and do asana again. It was nothing short of a miracle. My yoga became my healing journey. Everything in my day was yoga. My meals, my bath, getting dressed, walking to the bathroom with my walker and brace. It was a living breathing mindfulness practice. I have never practiced so diligently without doing asana! I discovered that yoga off the mat was life changing for me and for everyone who showed up to do selfless service by cooking,  shopping, cleaning or helping me take a bath. It was an amazing way to see how to incorporate yoga into every aspect of your life.
By incorporating the teachings of Ayurveda and the yoga scriptures in yoga classes, workshops and teacher trainings, I and many yoga teacher/health coaches in Cate's Community are able to train teachers and yoga students into bringing yoga into every aspect of their lives. This means how they relate with more compassion and sensitivity  to their own bodies and to others in their lives.
Many of us wait for the weekends or vacation to really enjoy and celebrate life. There is so much hidden potential in each of us lying dormant. Yoga that connects you to your essence empowers you to grow into your fullest potential and bring yoga even into your workplace as an opportunity to practice the teachings.
When teachers use groovy music, essential oils, fast paced vinyasa practice, serenade their students in savasana, they are providing entertainment for their students instead of an internal experience.  The dharma of teaching yoga is for the teacher to get out of the way and allow the practices of asana , meditation and pranayama to lead the students into an internal experience.
BTW There is nothing wrong with needing to escape stressful situations in your life  by taking a hot bath, a yoga class, a dance class, go for a run, see a movie that makes you LOL!!
What I am proposing is that the real juice of yoga is experienced through the deep self exploration, inner work that is done on the yoga mat and in meditation. You get to see your mind as  wonderful and interesting companion on your path. It is a part of who you are. Your mind can drive you crazy, can comfort you, can solve many problems, can create a symphony, a book a play, a ballet. It can also bring you into a deep dark place that feels like a prison.
Do the Inner Work
The inner work frees you from the prison of your own mind into the vast boundless presence at the core of your being. This inner state is called Ananda. It means Bliss!! There is nothing better than bliss.  Why settle for fun when you could have Bliss?
I became a health coach in Cate's community 3 years ago leading my signature course, The Body Evolves, based on Cate's course Body Thrive and have worked with over 60 people integrating the 10 healthy habits into my life and into the lives of my students. Miracles are happening.
Find an Anusara yoga class in your area by going to this link.
If you are looking for yoga teacher/health coach go to this link.