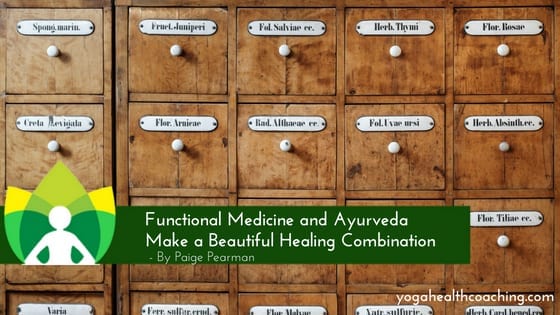 Functional Medicine and Ayurveda Make a Beautiful Healing Combination

I have learned a great deal from functional medicine and Ayurveda – the combination of the two is very powerful. My functional doctor once said to me, you can become dependent on supplements just like you can become dependent on pharmaceutical drugs.

As a healer, I don't want to become dependent on any kind of pill! The point he was making is that you must heal your gut to absorb the nutrients from food, so that you don't have to be so dependent on supplements. But then how do we get all the nutrients from our food then when even organic isn't organic anymore! GMO crops are spreading like wildfire into organic farm land.
Why We Need Supplements
Roundup and pesticides used on GMO crops leaks into the soil of organic crops. Even as consumers, we may think we are buying organic with the best intentions. After Amazon bought Whole Foods, the leading producer of organic produce, Whole Foods withdrew their promise to mark GMO foods ( Mercola July 2018). Who are we to trust unless we know the farmer down the street, visited his/her land, and witnessed organic food being grown first hand?
Fruits and vegetables contain fewer minerals than the fruits and vegetables grown in the 1980's. We are dirt poor with estimates that nutrients and minerals in our soil have dropped 20 to 30 percent or more from the late 1970's to today with modern day farming techniques, use of Roundup, and GMO food production. For this reason, I believe supplementation is necessary. However, food is still the ultimate medicine.

The Best of Both Worlds

I have come to the conclusion that Functional Medicine and Ayurveda make a beautiful combination. Ayurveda can help us identify our imbalances, and functional medicine can provide the biological testing that identifies how deep our deficiencies go, as well as our genetic predispositions to certain conditions and diseases. The tests of Functional Medicine are excellent tools for people to live in alignment.
Through tests prescribed by my Functional Medicine Doctor, I learned I possessed some interesting genetic traits.  I wouldn't have known about these genetic traits through Ayurveda alone. I found out I don't detoxify very well. I have the MTHFR gene and the MTRR gene, two different genes, that have to do with methylation and the bodies ability to detoxify. MTHFR is tied to reductions in folate, whereas MTRR is associated with Vitamin B12 deficiency. People with these gene mutation cannot have synthetic Folic Acid.
My functional doctor also found that I had gut dysbiosis, meaning I had a lack of beneficial bacteria in my gastrointestinal tract. Also, meaning that even if I was eating foods with B12, I probably wasn't getting proper absorption of it and thus the reason for my anemia.
Address the Agni
From an Ayurvedic approach, a person who has anemia has malabsorption and gut dysbiosis.
In comparing my functional tests and B12 (folic acid) deficiency with Ayurveda, my symptoms are in line with the recommendations that Ayurveda makes for those with anemia. In Ayurveda, someone with anemia would have a low digestive fire or weak digestion. In Ayurveda, the treatment of anemia or B12 deficiency would be to address the agni (digestive fire) to support proper digestion, absorption, and metabolism of B12 when eaten with foods high in B12. Thus, Ayurveda taught me to deal with my weak digestion in order to get the benefits of proper supplementation.
Pass the Salt Please!
From my functional testing, I learned I have type O blood, and most of my ancestors came from Ireland, Scotland, and the Mediterranean who before modern time lived on fish, marine life, seaweed, sea kelp, plant life and thus had high levels of Omega 3's, which in a modern world I have to supplement to get my levels where they need to be. My body thrives on Celtic Sea Salt, Sea Kelp, and I can eat a high salt diet, and my body craves it and does very well because naturally I would have received this salt in my diet. I am iodine deficient for a lack of eating what my body would have eaten hundreds of years ago. I have been supplementing to get my iodine levels up to where they should be.
You are Unique just like everybody else.
Interestingly, my functional medicine tests pair up with what Ayurveda teaches. Functional Medicine understands biodiversity. Each of us is unique, and there is no one size fits all approach in healing and medicine. Ayurveda, understood this 5,000 years ago that each of us are born with a unique body constitution or dosha. There are three body types Vata, Pitta and Kapha. In my case, I am predominately a Vata Dosha. Just as iodine and Celtic Sea Salt and Sea Kelp are good for me from a functional vantage point, my dosha (constitution) is balanced with the tastes sweet, sour and "SALTY." While a Kapha body type would need to AVOID salt because they would retain water, they are prone to high blood pressure, a Vata Dosha can be depleted without it. Learning this information from functional medicine and then pairing it with Ayurveda is similar to putting all the puzzle pieces together and seeing the puzzle complete.
Thank you Functional Medicine
I am grateful for Functional Medicine because of all the nuances that it has taught me about my body. Functional medicine has taught me so much about my own body, what it needs to function, and how it ticks. But what Functional Medicine hasn't taught me is how to optimize my energy day in and day out.
Thank you Ayurveda
I am grateful for Ayurveda, because it has taught me the lifestyle habits I need to be healthy. Ayurveda picks up where Functional Medicine departs. Functional Medicine gives us access to the information of our unique biochemistry, and Ayurveda gives us the ability to take that information and transform our lifestyle to suit our bodies.

I can have all the testing done in the world, but if I have really bad habits and supplement I may not be healthy. My father was a perfect example of this. He tried to beat the system. He had diabetes, and he thought that he could supplement his way to health. Over a 15-year period, he had a massive stroke and died. Sadly, you can have all the data in the world from Functional Medicine, but if you aren't eating in alignment with your body type, honoring your circadian rhythms, learning to de-stress, and have a higher purpose in life – then all the supplementation and dieting for your body type won't bring about health.


Supplements are a Billion Dollar Business
One of the fastest growing industries in the world is the nutritional supplement industry. In Forbes in April of 2018, it was reported to be a $32 billion industry. By 2021, it is projected to double to $60 billion. Supplements are a cash cow, and I believe that people are still searching for a quick fix similar to pharmaceutical drugs. But what if supplements aren't a quick fix in of themselves? What if we have to ask ourselves the question that we have to also do the work to heal internally? This is where Ayurveda is the key to true health.
Ayurveda teaches us that we have to have a strong digestive fire, a healthy gut microbiome, and that we have to eat in alignment with our own biochemistry or our own constitution, our own biodiversity if you will. And above all us, we have to give our body the support it needs through our lifestyle habits. Ayurveda is a mind, body and spirit approach to health.
The perfect diet will not save you
We, the general population, seem to think that we have the answers for the perfect diet whether it be Veganism, Paleo, etc. I used to think that healing my digestion would also be the answer to perfect health. Then one of my close friends said Paige, you cannot just eat your way to health. If you are highly stressed and unhappy with aspects of your life, then you will still suffer. The lightbulb went off, Ayurveda had taught me that healing my gut wasn't the only solution. Ayurveda taught me that I had a lot of deep work to do through meditation and my spiritual practices to find happiness.
Baby Step by Baby Step
Ayurveda and the 10 Body Thrive habits have taught me habit automation and that change happens slowly. When I went to my functional doctor and received all the testing results to heal my nutritional deficiencies, there were no recommendations on how to change my habits, how to go about changing them, and that it would take months if not years to automate these habits. All I received were a list of supplements, and I was told to stay away from aggravating foods.
Most people fall into this camp when they see a doctor, recommendations are made, but there is no further help to create the transformational journey that needs to happen to heal and make the changes necessary. One of my Ayurveda teachers said that she wouldn't give herbal remedies to her patients until they made the lifestyle changes first. She said the lifestyle changes had a greater impact, and that the herbs assisted, but 80 to 90 percent of the healing occurred through lifestyle.
We live in one of the best times in human history. We have amazing testing that can help us understand our genetic makeup and what makes us tick. Ayurveda teaches us how to live!
Feel Amazing!
Ayurveda teaches you how to Thrive so that you feel amazing! When I say Thrive, I mean that you feel vitality running through your veins and you don't need external pharmaceutical drugs to feel deeply alive, pulsating, and energetic. It puts you in touch with the beauty of the planet, and it gives you a much bigger Dharma because when you know at your core that the light in me shines in you then it would behoove all of us to live in harmony with our own bodies and planet. Maybe we wouldn't need Functional Medicine as much, if we had rich soil and whole foods from that soil, clean oceans, and water. We need to have some reverence for the earth and for our own bodies – the two are interconnected. Our ancestors didn't have a need for Functional Medicine the way we do today because the earth was less polluted. By being stewards of our bodies, we are stewards of this planet healing both simultaneously.