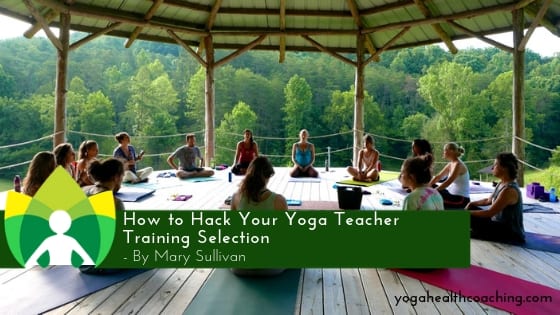 How to Hack Your Yoga Teacher Training Selection

How are you going to choose your yoga teacher training?

Me? I fell into yoga teaching as a way to deal with being downsized from a career as an engineering manager. Yoga helped me to transition and heal. While my training worked out really well, I didn't consider all the factors that I would, if choosing again today. Now that I have taught and know more about teaching yoga as a career, I have a better sense of what types of questions to ask.

Are you thinking about deepening your relationship to Yoga with training or by teaching?  I invite you to consider what you really want from your "YTT" (yoga teacher training) and the commitment you are willing to make.
Choose With Care
Selecting a training program is a big decision, like choosing a college or major.

Blessed to be steeped in the healing traditions of Ayurveda and yoga I have a profound appreciation for the training I have received. It is the secondary education for my heart and soul.  Over the course of my love affair with Ayurveda and yoga, I have gone from taking yoga teacher trainings to teaching in them. I still train to engage and learn.
Now that there are so many yoga teacher trainings to pick from, making the choice can be overwhelming. YTTs (yoga teacher trainings) include a range of certification levels, styles of yoga, and training in everything from fitness-based yoga to the science of yoga for spiritual evolution. Yoga teacher training is a significant investment in energy, time, money and the direction of your life. Here are some guideposts to help figure out what you want, choose a program to support your growth, and get the best return on investment.
Sorting Through Many Choices
Do you really plan to teach yoga?
This is an important question to ask.  Do you plan to teach, or is this a deep desire to learn more about yoga?  Both are super reasons to take a YTT, but the reality of public class teaching should be a game changer as you sort through your options.
I wanted to teach, so I chose programs that would both deepen my study AND help prepare me to teach.  Some YTT's add class observation and analysis requirements on top of the class time practice and homework.  Mine did. I sat in the back of yoga classes observing experienced certified teachers.  I journaled my observations- how the teacher introduced the theme, the choice of asana sequences, and other insights.
My program also required me to connect with an experienced teacher who could oversee and critique my teaching.  This was time incredibly well spent- the mentoring process elevated and refined my delivery in the classroom.  When making your choice it is worth asking how much coverage there is on the art and business of teaching.
Month Long Intensive Program or Weekends and Immersions
Yoga teacher training programs are offered as month-long intensives, weekend based programs, and everything in between. Your choice of program will depend on your lifestyle, your learning style, and your fitness level.
A live-away intensive program steeps you in the tradition of yoga, but your stamina, day job, and kids may not allow for 30 days away. You may not be ready for this intensive learning style. Two or three 10-day segments away, or 13 long-weekends may work much better.  I liken it to the difference between an intense summer course at college where you have 3 -5 weeks to cover the same material your would in a 12 week semester. Think this through before you pull the trigger.
Commuting, Travelling, and At-Home Programs
If you want to commute to a nearby program, remember that training can be rigorous.  Try to keep your drive time to 30 minutes or less. No commute at all?  Perfect!! A local program may be just the right fit for your work and life.
Again I liken the experience to commuting from home versus living on campus. When you stay at an ashram or retreat center for your training, your experience expands in ways beyond yoga. Friendships deepen and you are more likely to try new things.
If you are off to a destination, this can be a great adventure. There are wonderful programs all over the world.  Want some travel adventure as part of your training? Pick a teacher you know who heads off to an exotic destination to lead their teacher training.
Gotta Love Working With Your Teacher
Take at least one short workshop with the main teacher before signing on the dotted line for a YTT. You want to know you can connect to and learn from this person before you make a major energetic investment. I love teachers who make me strive, think and laugh. How about you?
Specialization Who are you called to help, to teach?
Often you will need to take a 200-hour YTT before you specialize, but some programs slant towards understanding the needs of a specific population. If you are drawn to help teens it makes sense to take a training that gives you insights on how to help them. Otherwise, follow up your YTT with specialized training. Sub-specialties include:
Restorative Yoga
Trauma recovery
Elder Population
Kids or Teens
Therapeutics
Certification/Registration & Level
Programs can range form 200 to 300 hours or more. I am not a fan of less than 200 hours for YTT training if you want to teach.  It's important to take a weekend workshop or even a few before you   on a  YTT to measure your interest and commitment. 200 hours creates a container to learn in. You need time and space to open to transformation.
One exception to less than 200 hours of training is programs segmented in parts that add to 200 hours.  Anusara trainings separate the program into 100 hours of study and immersion followed by a segment on teaching as part of a two hundred hour YTT.
Certification or Monitoring bodies.
YA (Yoga Alliance) and the CYA(Canadian Yoga Alliance) are two of the big organizations that set standards for yoga teacher trainings in North America.  Choose a 200 hour + program that lists the topics explored and meet standards set by the school of yoga or a certifying body.  Make sure you understand what will be covered.
Swaroopa, Anusara, Svivanada, Power Yoga, Iyengar and more all have program standards for 200 YTT. When you go to a specific style of yoga school and complete the requirements you are certified, make sure you can also register with YA or CYA at the 200 hour level.

4 Programs That Have The Goods For A Great Training
The Himalayan Institute (HI)  offers 200 RYT and advanced teacher training in yoga and Ayurveda as well as slew of specialty classes.  Their teacher trainings have the Yoga Alliance  stamp of approval.  The programs are taught in 10 day segments and you stay at the ashram(spiritual community). Open to all styles of yoga, HI teaches yoga and deepens your spiritual connection to the practice while they prepare you to teach.
HI has the energy and clarity of a community holding and sustaining a 10,000 year living tradition of yoga.  Rather than a specific style you are invited to connect to the essence of yoga and apply the tools of yoga for your own growth while you learn to teach others. You feel the power and support of this tradition all through your training and beyond.
HI is an ashram and offers immersion programs. You go to learn yoga and learn to teach. An added benefit is you are immersed in a spiritual community.  When you leave the training you have active support and community to lean into and continue to learn from.
The Sivananda Ashram Yoga Farm is a spiritual community and working farm that offers a YA approved 200 Hour program as well as advanced teacher trainings, and specialty courses and immersions. The programs are offered in California at the farm, in Vietnam, and at other travel destinations.
Teachers travel to the ashram specifically for the teacher training. The spiritual essence of Yoga is taught through a combination of practice and inspirational lessons. A teaching certificate from the International SYVC (Sivananda Yoga Vendenta Center) is awarded upon successful completion of the course.
This school offers 200 hour and advanced Iyengar yoga teacher training as well as specialty courses. Down Under is a Yoga Alliance approved school. The advanced Iyengar programs require that applicants meet specific requirements. All trainings are weekend based programs which allow you to stay locally or to commute.
Down Under opens its 200 hour YTT to everyone, but the focus is on Iyengar and Ashtanga styles.  The teachers have a deep, deep base in Iyengar, Ashtanga as well as Slow Flow yoga. Down Under is a yoga school as well as a studio.  Based in the Boston area, this is a great destination to enjoy while training in a weekend format.
Noah Maze and his wife founded YogaMaze school. It offers a 200 hour and advanced teacher training, as well as specialty courses.The programs teach yoga and teaching yoga at a high level of excellence and completeness. These programs are for commuters and working people. They are weekend based training programs.
The school offers training programs in multiple locations including, California,St Paul Minnesota and Berlin,Germany. The teachers travel to teach in the different locations.Theory and practice of Yoga, Yoga philosophy and the art of teaching are the focal points of YogaMaze programs.
Choose Engage Learn Grow
The right YTT is an amazing journey of growth and a changemaker for your life.  Most push you to expand your boundaries.  You find a deeper experience of yoga, new ideas, beliefs, community and long term friendships. Find the program that is right for you and take the plunge.