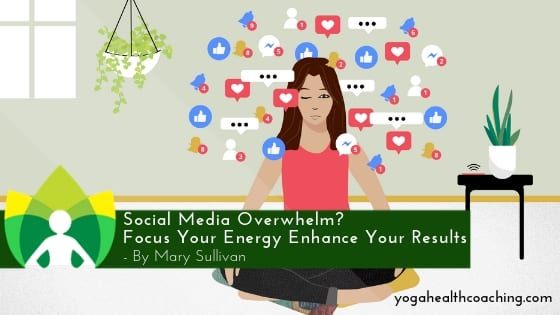 Social Media Overwhelm? Focus Your Energy Enhance Your Results

Are you overwhelmed by social media choices? I know the feeling! My recommendation? Dig in and get organized!

As an engineer- not a natural marketer- I knew that research was my best option for learning how to develop my social media strategy.  I wanted to use planning and organization to help me identify the most effective outlets to grow my business.

There are many options to choose from, and while social media marketing may be inexpensive in terms of cash, it can cost in time and effort. As a one-person business I want to invest my time well and see results. So I decided to dig in.
Get Organized Around Social Media Marketing
My first step to getting organized? I started to read and follow business sites that share social media marketing strategy. Every article I read had ample advice on how to make social media work for you, instead of you working for it.
There were 3 main ideas that stuck with me: avoid overwhelm, understand your target audience, and schedule purposefully. Let's take a look at each of these strategies.
Spend Time Wisely Avoid Overwhelm
The first concept to consider? How much time do you want to spend on social media versus other marketing?
For an online business, social media reaches a wide audience and can be time well spent. Although Facebook has taken some recent popularity hits, 72 % of American adults still look at Facebook on a regular basis. This is a lot of people.
One strategy you can use to help you get a decent return on your time investment is using data to target your peeps and make sure you are engaging on the right social media platforms. Supporting 6 to 10 social media platforms can take a lot of time, even be a full-time job. If it is critical to your business to be present on all these platforms, make sure that you are getting help. Farm your social media activities out to social media scheduling software, a virtual assistant, or a social media support company to help lighten the load.
However many platforms your business is on, find a way to be consistent, insightful and on target for one, two, three or even 4 channels rather than a vague presence on six or more different social media outlets. Connect to your target audience and build your reputation as a trustworthy expert. You want your community to look forward to your posts, read them, and share them widely.
Identify Your Target Audience
Who is your target audience? Choose platforms based on the people you want to reach. Start by checking in with your community. Survey your email list and your facebook group.  Look into the most popular social media channels and determine which will work best for your community.
It can also be helpful to look to your competitors. Are they using Snapchat or Instagram? Are they getting engagement? Focus in on what you are trying to do and who you are trying to reach as you navigate your decision tree.
For instance, an avatar or target client for my community might be a mature suburban woman aged 45 -70  who has had issues with weight.  She wants to age with grace and come into healthy relationships with food and life. For this target group,  Facebook, You Tube, and Pintrest work well. Snapchat and Vine are not channels this type of client frequents. So even though I like their logos, I won't be spending much time on their platforms.
Schedule Purposely To Grow Your Business
Many people use a spreadsheet or external support to align posts with business activity. They plan social media activity by the month quarter or year. By posting different types of content at different times, you can  improve reach to your  community, and optimize posts for each platform.
One option you can use to make scheduling simpler is a  Scheduling Tool.  A scheduler is software that allows you to implement automatic posting to your social media platforms. You load the content and schedule the time of the post and the software takes care of the rest. Sprout, Buffer, Hootsuite, Comum.it, and Tweetdeck are all scheduling tools for managing social media posting.  Some of these have free versions with basic functionality to help you get started. Others are paid.
If you are primarily posting from your website or blog, website plugins that share to multiple channels can be helpful. One downside is that most of them share to all sites at the time you publish. Easy Social Share, Social Warfare and Jet Pack are low or no cost and help automate sharing your website generated content and blog posts.
Platform Examples
Here are some examples of today's most frequently used platforms.
Facebook
Facebook has a number of features that you can use to promote your work. Groups are fantastic for creating community and managing information exposure. You can join groups to see what works, then create your own group to share specialized information, build authority and engender trust.
High-quality visual content (aka pictures and videos) promote higher levels of engagement.
Make posts shareable- it shocks me how many people don't- and encourage your community to share your offerings for more exposure and traction. Create, post and publicize events to build attendance. Place paid ads when it makes sense. Live video streaming is a super easy way to share info updates with your followers. Answer questions once a month in a "Facebook Live" of streaming video to help build your following.
Most importantly- keep your personal page separate from your business.  You may not want clients to see a post from your college friend about memories of all-night parties.
Pintrest
In Pintrest you create boards that are used to save posts, blogs and video content. You can then promote and share your boards. Set up a board for each course, or topic-specific boards.  I have one for each of my websites. Think of it as a bookmarking site for ebooks, tip guides, blog posts and recipes you want to share with your community.
YouTube
Videos on YouTube are a way to share personality and expertise as you connect to your community. Video content has a high engagement rate and return on investment.  Look at videos that are successful to help plan the design of yours. Always include useful eye-catching content, your web address, images, tags, and a good title. This is a growing edge for me, so I am spending time watching YouTube videos instead of television.  Share your videos across your other platforms.
More than 93 percent of marketers are actively using video content, and more than 50 percent believe it has the best ROI among all types of content.  – Jawad Kahn
Focus Nets The Most Benefit
Before deciding which social media channels to be active on and what support you need, work out a clear plan and implementation schedule. Define your goals and be consistent. Social media takes time and an investment of your energy in order to build community and create leads to grow your business. Dig in, get organized, and reap the benefits.