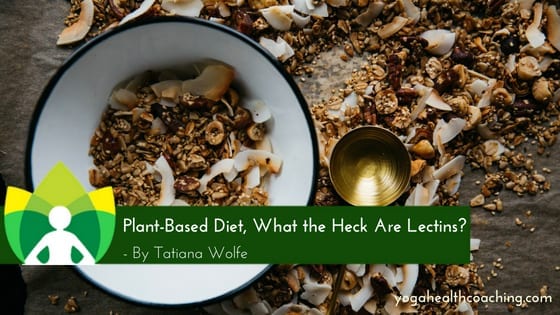 Part 2: Plant-Based Diet, What the Heck Are Lectins?

In my last blog, I told you about how I became a vegetarian and how it did not improve my diet. I continually refined my plant-based diet until it worked for me. I have low agni or difficulty digesting so I have learned a lot along my journey.
Lower Your Lectin Intake
Not all plant foods are created equally. Some plants contain LECTINS. A single or group of proteins that act as the plants defense mechanism against predators, ie. hungry mammals that want to eat the plants. Lectins act as anti-nutrients in the human body preventing us from absorbing other essential nutrients from the foods we are consuming. In other cases, these proteins can really harm us, this depends on how sensitive you are to lectins and which specific lectin is at play.
You Can Still Eat Lectins, Just Follow my Tips!
Some of the foods that contain lectins are: beans, legumes, most nuts, tomatoes, seeded vegetables (which are actually fruits), and grains.  Whole grains contain higher levels of lectins, becauselectins are found in greater concentration in the outer bran.
It doesn't mean we can't eat these foods ever again. If you know how to lower the load of lectins that you give your body, you will be way ahead of the game. You will avoid damage to your body and you will be able to properly digest and absorb the nutrients in foods containing lectins. Read on for a few ways to reduce lectin toxicity and increase the digestibility and nutrition absorption of lectin containing plant foods.
SOAKING: Reduce lectins in grains, beans and nuts by soaking them overnight preferably in baking soda water, rinsing them out a couple of times prior to cooking them.
PRESSURE COOKING: For further elimination or reduction of lectins, cook these foods in a pressure cooker. Modern electric pressure cookers are a better and less scary option than the old fashion manual pressure cookers.
FERMENTING: I love fermenting foods! This method has so many benefits, apart from helping us attain or maintain a healthy gut biome and digestion. The bacteria in the foods being fermented, pre-digests the food, doing the hard work for your digestive system while using those foods to feed themselves, this process significantly reduces the lectin content. It's a win win!
PEEL AND SEED: According to Dr. Steven Gundry(Read his great book on lectins,) the most harmful part of plant foods high in lectins, such as eggplant, squash, cucumbers and tomatoes is the peel. So remove the peel as well as the seeds which also contain lectins before you eat these foods.
Proper Cooking
Along with reducing lectins, proper cooking of foods is essential for optimum digestibility and assimilation of nutrients. Many people, like me, have a weak digestive fire, aka Agni, in Ayurvedic terminology. There are many reasons for weak agni, one of them being one's constitution. When someone has a weak agni, it is somewhat difficult to properly digest the food we eat, especially when cold and raw foods are thrown into the mix.
Digestion is a process that requires lots of energy from our bodies, so we must strive to make the very exhausting task of digestion as easy as possible.
For the longest time I noticed that my belly would get very bloated after eating certain foods. One day, I noticed that this would happen especially when I consumed raw and cold foods like cold smoothies, acai bowls and raw salads. Since then, I've been lightly cooking my vegetables and even steaming the veggies I put in my smoothies. This has really helped me prevent getting bloated.


Lubricate Your Plant Foods
Now, after eating a carefully constructed plant based diet, I'm able to handle some raw vegetables every now and then, but I absolutely make sure I add plenty of olive oil or avocado oil and mix it in with my salad really well about 10 min before I eat it. I "marinate" my veggies because the oil breaks down the cell walls the longer it sits in on the vegetables.
One other reason to add plenty of good fats to our veggies is enhanced bioavailability of nutrient absorption, since many of the vitamins and minerals contained in vegetables require fat to be optimally absorbed and utilized.
Ayurveda very accurately suggests – we are what we digest– if we don't make sure that our bodies properly digest and assimilate what we eat, it doesn't matter if we are eating the purest of the foods, we won't be able to completely reap the benefits of the foods we are ingesting.
Food Diversity
With so much availability and diversity of plant foods within our reach, it's very surprising to me how little variety of plants make it into our diet. Diversity is very important! When we eat the same foods over and over, we run the risk of becoming nutrient deficient and developing food sensitivities. It is to our benefit to begin experimenting and start trying out new foods. Next time you go grocery shopping, buy a new vegetable that you've never tried before.
Last week when I went grocery shopping, I picked up a few sunchokes, a new one for me (by the way, at the end of the article I'll attach a simple recipe for sunchokes). I'm so happy about these because they actually contain prebiotic fiber which is my gut microbes favorite food. Yay!
Fruits
Fruits have so many amazing nutrients and benefits for your health, but most of them are loaded with sugar. You might say, but it's from fruits and they're natural. Well, you can say what you want but, sugar is sugar and there is no way around it. As you may already know, consuming a diet high in sugar negatively affects your health. Sugar causes inflammation, weight gain, and other issues. You must consider the amount of sugar you consume daily. Don't completely avoid fruit for the rest of your life. You just need to choose wisely and eat responsibly. Some of the fruits with the highest sugar content are: mangos, ripe bananas, grapes, pomegranates and all dried fruits, especially raisins. Berries on the other hand, are ones that contain significantly lower amounts of sugar and hold high amounts of antioxidants, so, start eating more berries! When in season of course.
A final factor to consider when adopting a plant based diet. Keep it simple and follow your internal GPS, aka your intuition, it knows how to best care for your body. Intuition + information, basic knowledge and common sense will help you fully reap the benefits of eating a great variety of plant foods provided by the mighty and abundant MOTHER NATURE.
You will feel supported, full of energy, more alive, lighter and more joyful adopting this way of eating and applying some if not all of the tips I've given you.
To your health, cheers!
My Favorite Recipe for Tandori Sunchokes
Crispy Rosemary And Tandoori Sunchokes (Aka Jerusalem Artichokes)
strong>Ingredients
2 tbsp ghee (or as much as you want)
1 tsp tandoori powder
½ tbsp dried rosemary or 3 sprigs fresh rosemary
¼ cup bone broth
Salt + pepper to taste
Preparation
Heat ghee in a large skillet, over medium-high heat. Add the quartered sunchokes and the remaining ingredients. Season with salt and pepper. Cover and cook, stirring occasionally until sunchokes are tender (to test, stab with a fork), about 8-10 min.
Uncover skillet and cook until broth is evaporated and sunchokes begin to look crispy, about 5-7 min longer. Remove from skillet, serve and top off with a bit more ghee.