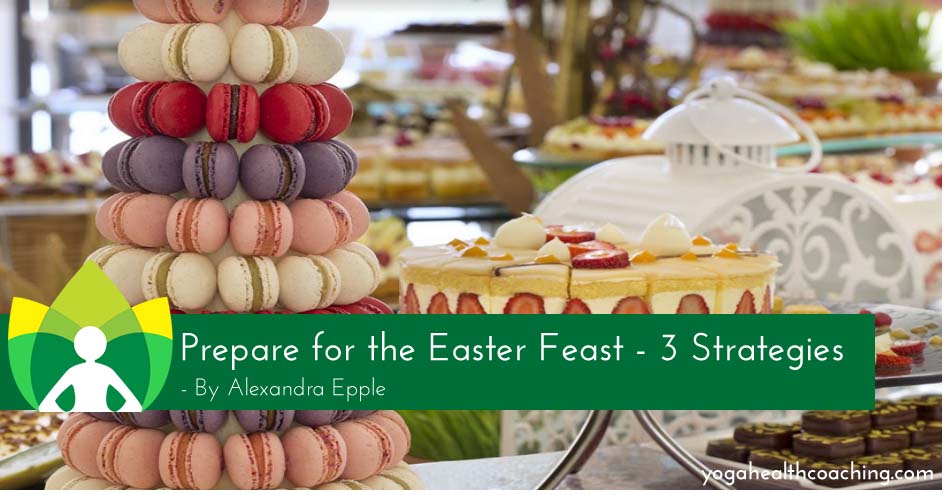 Prepare for the Easter Feast – 3 Strategies

The body loves simplicity, the soul loves celebrating.

It is about to be Easter, a jovial spring time celebration honoring the resurrection of Jesus and the miracle of life. Celebrations are amazing in that they feed our soul. There is a feeling of connection, joy and gratitude in the air that our souls thrive on.

Thinking back to my childhood when I was embedded in a society dictated by Christian holidays (Germany if you are curious) Easter was one of those occasions, where my extended family got together. It would look something like this: Visit church in the morning, followed by an elaborate feast at lunch, easter egg hunt and afternoon coffee and desserts. Yummy!  My Mom would cook a luxurious meal, and a couple of cakes, just in case we run out. Auntie Sue would bring her legendary apple pie, and grandma would match that with her version of a dessert. All was thoughtful and lovely. And like with any other feast, there was always the danger of stuffing yourself.


Time to Prepare
Once upon a time, Lent preceded Easter. Well, actually, it still does. It's just that hardly anyone follows this ritual anymore. Lent is the time period 40 days before Easter. It is a time of fasting, repentance and preparation for the coming celebration. It is a time of self-examination, reflection and going without.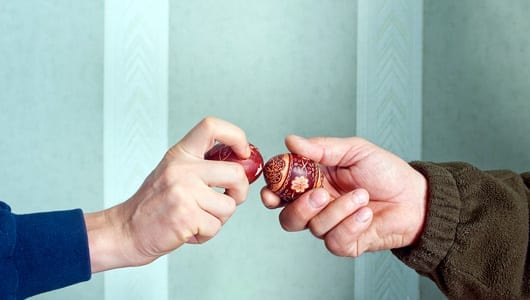 Today Easter seems to be a standalone celebration for most of us. A time of abundance is followed by more time of abundance. The body doesn't like that. The body thrives on the principle of 'less is more' NOT more is better. Undereating, in fact, is a way to stay younger longer. Simplicity allows the body to rejuvenate and rest. It allows the digestive fire to burn strong and your energy to be high. Living daily life simply allows us to enjoy celebrations more deeply.
Both simplicity and celebration play an important role in our health. Celebration feeds the soul, simplicity honors the body. We need both, ideally in pulsation.
The question then arises how can you feast and honor your body at the same time?
Ideally, we would honor Lent and go without or at least with little for 40 days. That way we prep our body for the big meal to come.
Dang, you might think, I  missed it this year. Not to worry, it's not too late yet. You still got a few days to prep yourself. Here are three simple strategies how you can get ready in the remaining days:
3 Strategies to Prepare for the Easter Feast
Strategy 1: Simplify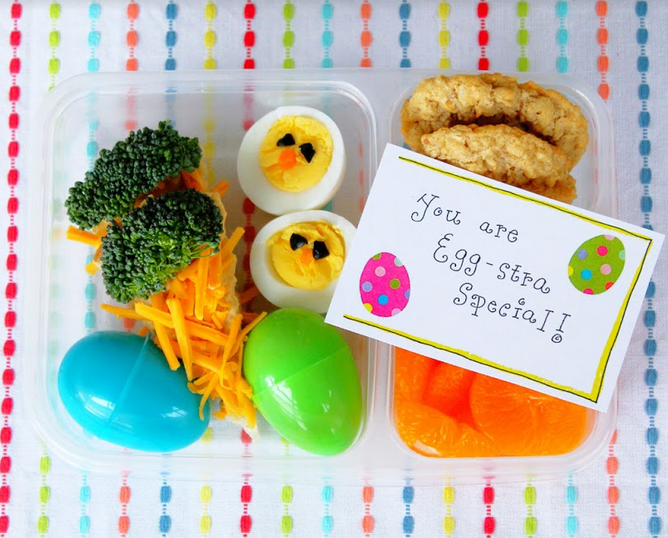 Turn towards a mega simplified meal plan to give your body and digestive system a rest.
Eat the same for lunch and dinner.
Make one pots meals like soups or kitchari.
Simplify your food combinations. Ditch the carb-protein-veggie obsession and eat either carb + veggie, or protein+veggie.
Reduce the quantity you eat.
All those are strategies to make it easier on your digestive system and allow your agni (digestive fire) to come to full bloom. We want that when we are celebrating as it helps us to digest a big Easter meal, enjoy Aunt Mary's homemade pie and still leave room for Aunt Sue's cake.
Big meal + weak digestive fire = digestive issues and sad face
Big meal + strong digestive fire = happy face
Strategy 2: Intermittent fasting
For the remaining days till Easter, or at least the day before, practice intermittent fasting. This may be a little more of a hardcore approach but very rewarding.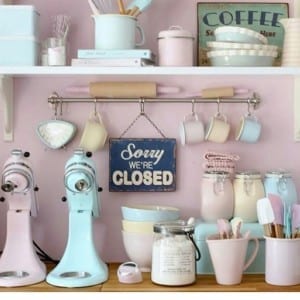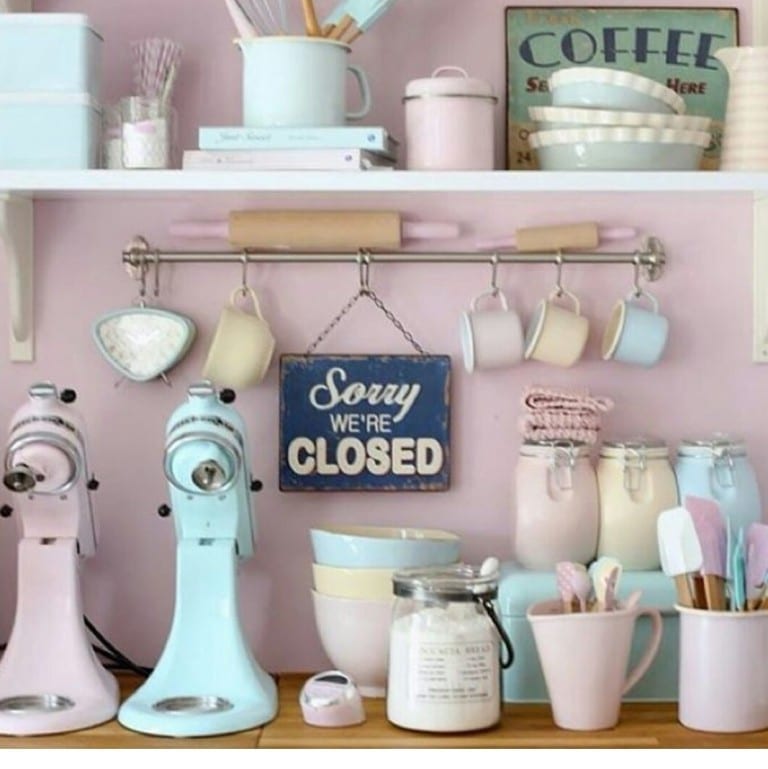 Intermittent fasting refers to an eating pattern where you refrain from taking solid food for at least 16 hours. Either have dinner early, skip dinner altogether or switch to a two meals/day approach.
For example:
If you eat dinner at 5 pm, kitchen closed after that, and have nothing else but water until 9 am, that is a 16 hour gap. So you could have meals at 9 am, 1 pm and 5pm.

If you have strong constitution,  you could have meals at 9 am and 1 pm and skip dinner. That gives you a gap of 20 hours.

Alternatively you could also have two meals per day say at 10 am and 4 pm.
The effect of intermittent fasting is similar to strategy 1 but more profound.  Your energy levels will be higher, you will feel lighter and more clear. Also if you struggle with weight, and celebrations are contributing to your weight gain, intermittent fasting is the way to go. Less is more.
Strategy 3: Poop like a champ

On the day of Easter drink a ton of hot water upon arising. Start with 8-16 oz. Stay relaxed but drink it in a short time frame, say 3-5 min. The water will digest within 15 min and move into your intestines where it will apply pressure against the intestinal walls. This will jumpstart peristalsis and make you poop. If 16 oz wasn't enough, drink more hot water.
Getting a full 18 inch bowel movement will make you feel so good. It feels like emptying the overflowing trash can in your kitchen. An empty body has more room for the goodies your family and friends have prepared.
Plan Ahead for Next Year
Oh and before I let you enjoy this year's celebration, one last thing…..let's prep for next year: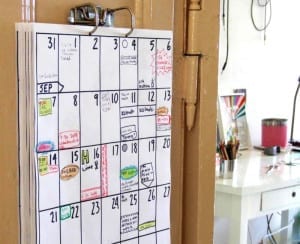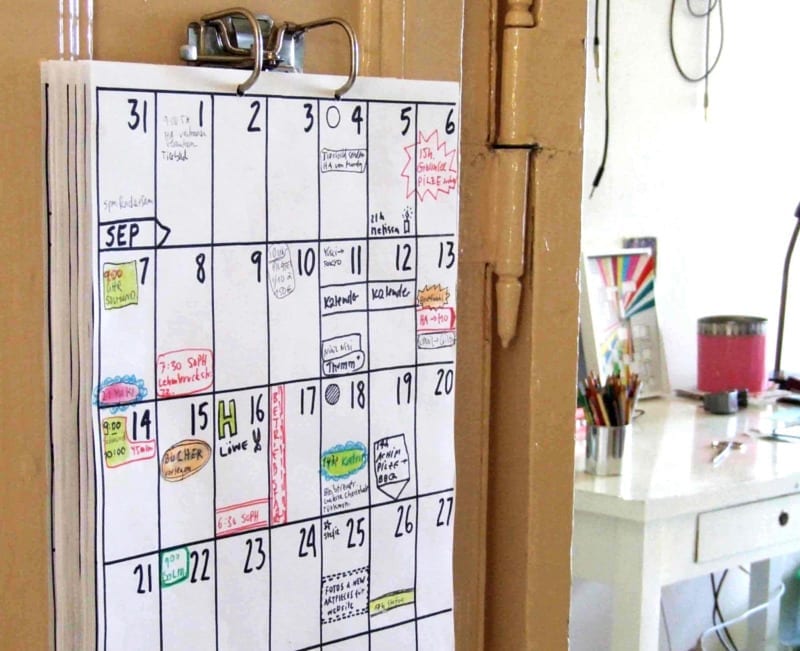 Pull out your calendar. Yep that's right. Stop reading and pull out your calendar.
Add Easter to your calendar: April 1, 2018
Add Ash Wednesday: February 14, 2018
The time between Ash Wednesday and Easter is Lent and your time to go without. Plan for it today so you can be successful tomorrow.
Now you are ready for a Happy Easter, not only in soul but body too.
Happy celebrating! Happy Easter egg hunting!