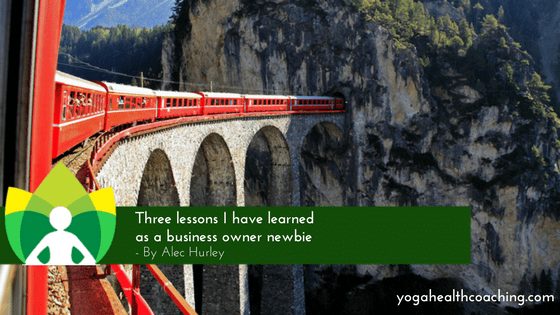 Three lessons I have learned as a business owner newbie

Do you feel a deep desire to align to your beliefs with direct action to help your community and larger tribe? Tune in for a few tips I have gathered on my path to being a pro-healer. As a newbie myself to the health and wellness industry, I was starting from scratch. I was searching for something, yet I couldn't quite see it yet. But what was it I was searching for?  Could it be as simple as what I needed was a few simple lessons on how to show up as my own boss? For about eighteen months I was over-analyzing everything in my world. I was searching for some sort of nutritional training and certification because I thought that was what I needed to buy and then sell as a business model. I would need a completely new knowledge base and a different set of skills, but I trusted in my heart that I was able and ready to learn.
Drop the perfection and show up
Just do it, a friend kept telling me when it came to writing on my blog. I told him I waited for my inspiration to come. And they would come. But they would also go. This made my posting inconsistent – not a good strategy if I was looking to build my tribe. Consistency is key. So I listened to my friends' advice: show up consistently and write about a topic that interests me. So simple, I thought. Developing a regular writing practice has helped tremendously with showing up and staying present. When I showed up consistently, I worried less about creating a masterpiece and more about creating momentum. I no longer rely on inspiration to trigger my writing, rather I find inspiration through reflection and meditation. Practice and repetition creates momentum. While my writing will never be perfect, it is more authentic and more me.
Schedule integrity and project management
What is schedule integrity? I wondered when I first heard the term. I had an idea of what it means but had never adopted it in practice. To me it is the practice of creating a clearly defined schedule and blocking time to complete it. It begins with identifying my priorities. My personal practice is to complete my priorities first. If you are anything like me, you may find the practice of owning your actions and holding yourself accountable rather uncomfortable. It was, and still is, a challenge for me and a working progress. But I couldn't imagine my life without it.  Now I know exactly what I will be doing when I show up to work in the morning. This creates greater clarity and ease in my mind.


The power of aligned actions
Actions head in a direction and carry a momentum, so I began with identifying my vision, my purpose and the deeper reasons for why I am starting a business. Are you a business newbie? What drives you? What inspires you? What drives me is my desire to help my community connect. This was my BIG WHY.  Then I connected my BIG WHY with my daily actions and create a support system for that to happen. By aligning my actions I can choose how I support myself, how I am able to show up for my community and how well I will do as a business newbie. Community interaction inspires me to continue showing up as a facilitator and pro-healer and my choices affect how deep I will impact my tribe. Are you looking to shift how you show up in your work and as your own boss? I am still learning but it is much easier now to align my actions with my clearly identified values. Dig deeper and ask the questions and find what is driving you to do what you do. Do you feel a deep desire to align to your beliefs with direct action to impact your community and build your tribe? How will your actions support you on this journey and how will you show up? The impact these simple practices have had on my work is huge and I invite you to challenge how you show up as your own boss.