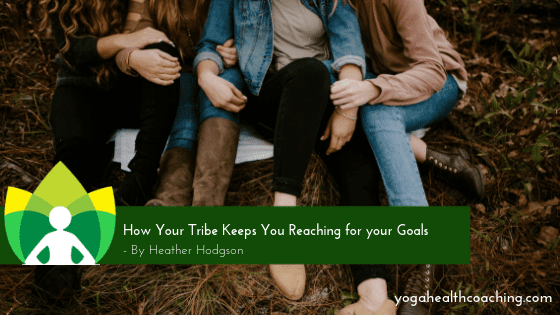 How Your Tribe Keeps You Reaching for your Goals

How often have you felt deeply empowered and motivated to make a big change in your life?

And how often have you actually followed through on making that change? Did that effort last?

Or did you fall short of your goal and feel like giving up?

If you are anything like me you might be able to relate. I have had all kinds of moments when I decided that it was time for a shift….Times where I passionately embarked on a new routine or habit (usually on my own). And set out on my new adventure like it was the next big thing in my life only to find the momentum waning after a few short weeks.  Eventually, I slid back into my old routines. A few months later, I would be in the same boat — wanting to change a habit but lacking the of motivation or follow-through. How frustrating.

Stick-to-it-ness is a tough skill. Especially if we work on things on our own.

Enter the Power of the Group! Your Tribe. A supportive group of peers. Those who are working toward the same or similar goals as you are.  

Have you ever heard the cheesy saying, "Team work makes the Dream work"? Well turns out it's true! When we work on the same or similar goals with others we are more likely to achieve that goal AND we achieve what we want faster than if we had plugged away at the goal on our own.

Let's face it reaching goals and changing new habits can be hard work. It takes effort and intention to get there. However, we increase our odds of achieving those goals when we feel accountable to others. When we make a commitment and state our goals and desires out loud to a friend or group of like-minded individuals we feel more accountable to those goals.

I experienced this first hand working with my Yoga Health Coaching program members.

I noticed that over the summer months my group members were not as consistent with keeping up with their goals. Or during times when they did not feel accountable to the group – holidays, over the summer months, Christmas or Spring breaks. There was a direct relationship between their group attendance and participation and their results.

Thank goodness for our Peeps
Now I'm not saying that it's a totally bad thing. In fact, sometimes noticing how indulgent we can behave when left to our own devices is actually a good reminder that we need support. It shows us how easily we can fall off the wagon when we aren't feeling accountable. When we come back to those support systems – our Tribe – we are more likely to appreciate them. Thank goodness for our Peeps! They can remind us of our deeper desire for positive change. They can help keep us remain accountable and focused on our goals. They remind us of who we are becoming.
Some of you may want to be part of a group, but can't seem to find one. Perhaps you live in a small town (as I do) with a tiny population. Or the opposite – you could feel overwhelmed by too many people in a large city. Or maybe you are not a social person at all and prefer the comfort of your own space. Whatever your reasons for feeling as though you can't connect with a group, you can find ways around this.
If you want to meet in-person, look for groups around your neighborhood. Check your local library, municipal office, or bulletin board for postings. There may be local programs in your area. Reach out to them. Plan to meet up and ask some questions to see if they have a group that is a good fit for you. Or write up an ad and create your own support group.
If in-person is not your thang, look for an online group that fits your desires. There are numerous platforms available. You can search social media forums (like Facebook). With some careful weeding out you can find the right group for you.
Finding an accountability partner or a support team is one of those steps that takes working toward and achieving your goals to a whole new level. It's an up-level in your strategies that can help make all the difference. Take your plan a step further and find a Yoga Health Coach who is trained to guide and educate you in the Daily Habits of Ayurveda & Yoga. A Health Coach helps you, and the group, make shifts in your daily health and wellness habits by offering tips and strategies that will accelerate your progress. They are there to support and guide you toward your goals. Being able to lean in for guidance, encouragement and support takes a lot of the pressure off.  It helps you to recognize that you are not alone. And brings in a fresh perspective.
Many reputable Yoga Health Coaches are now running online programs which offer safe and supportive group environments to help you meet your wellness goals. You can go here for a list of current certified Yoga Health Coaches who are available.
When it comes to reaching your goals why not follow proven strategies? Align yourself with a group for accountability and watch how you reach your targets more quickly.
Feel free to reach out and connect with me for a free wellness strategy. I would love to hear from you. You can place your comments below or connect with me through my website. I'd love to chat!