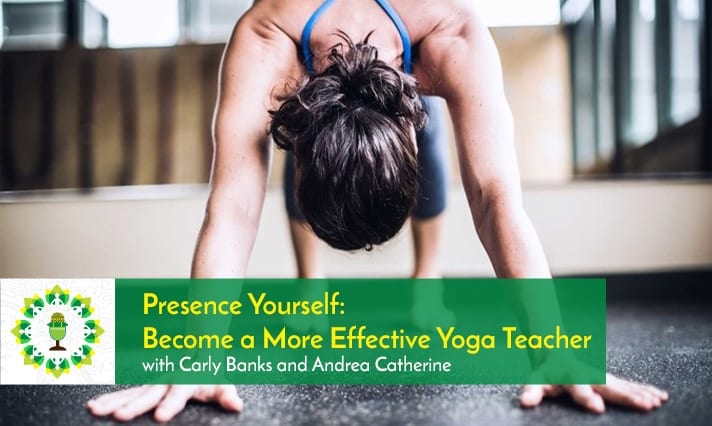 08 Dec

Presence Yourself: Become a More Effective Yoga Teacher

Hello Changemakers! Carly Banks is here today with Andrea Catherine. Andrea is a fellow Yoga Health Coach who just wrote an awesome blog on the Yoga Health Coaching website. It's called "The 7 Habits of Highly Ineffective Yoga Teachers," which is maybe the best title I've ever heard. And it's got huge traction: it's in the top ten most read blog posts on the Yoga Health Coaching website!

So tune in to here about Andrea's journey as a Yoga Health Coach, her newest blog post and its inspiration, and how she found her voice through blogging, storytelling, and podcasting.
What you'll get out of tuning in:
How Yoga Health Coaching provides tried and true business structure
What to do (and what not to do!) to be a more effective Yoga Teacher
How to find your voice through blogging with YHC
Links:

Show Highlights:
3:15 – While many wellness coaches have experimented with different program structures, Yoga Health Coaching provides the structure that seems to work the best for most coaches and their clients.
4:45 – To be a more effective yoga teacher, limit the amount of time you have with your back to your students by inviting them to watch you if you need to demonstrate something. When your students are practicing poses, make sure you have your eyes on them to make sure they are practicing safely.
5:50 – As a yoga teacher, connecting with your students is one of the most important aspects of the practice, so it is essential to create an environment of calm, peace, and ease.
6:10 – Showing up to the mat having already done your practice will help you be present in your body and present for your students.
12:00 – Practicing the habits of Ayurveda are a way to practice self-love, no matter where we are on our journey.
Favorite Quotes:
"I always start class by asking the students how I can meet them where they are." – Andrea Catherine
"When I go to a class, and I leave wowed, these are the things the teacher did to make the experience so much more powerful." – Andrea Catherine
"We connect with story. It's powerful." – Andrea Catherine
"We can love ourselves where we are, even if we're not in that place we want to be." – Andrea Catherine
"We make the decision to do these things for our health from a place of self-love." – Carly Banks