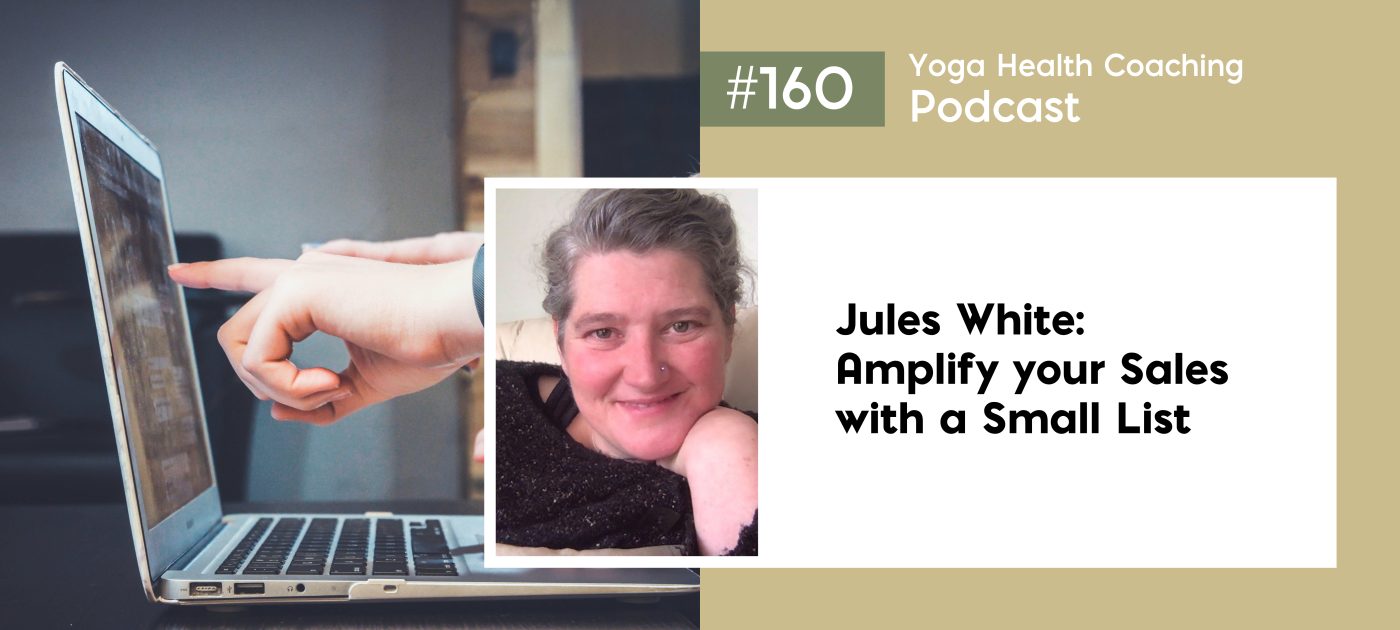 Grow Sales with a Small List (Cate Stillman with Jules White)

Cate interviews Jules White, from down under, a former environmental consultant to help her find her edge to enroll more people into her group.

Jules finds new focus and motivation to push through the uncomfortable feeling of sales and closing the deal. She embraces her new role to relax more, while also taking massive action to agitate her people into making the changes she knows they crave.

Cate guides Jules get clear on the results her people want and how soon they want them to occur. Feeling as though enrolling can be "hard and messy", Jules assumes the role of "agitator" and dives in.

Acknowledging there will be good days and bad days, Cate guides Jules to find where the evidence of success with her people lies. Cate imparts her wisdom of going from problem to solution too quickly, and how to set up for a new flow of leads using her current members. Jules is given the task of having 25 conversations this month to agitate people into making a change to get them on the "yes" train.
What you'll get out of tuning in:
How to find your people and connect with your heart
How to turn no's and turn into yes's.
How to agitate people to get specific with what they want and when they want it.
Show Highlights:
Look to the people that know, like and trust you!
I'm helping people thrive in their bodies and lives.
Whenever I wonder why I do this, I think about my members' results.
Timestamps:
5:38-6:52 Difference between strategy and coaching session
7:47-8:31 Helping people know what they want, a truth conversation
9:09 -10:06 Knowing how to close the deal
14:07-14:34 How to agitate people by asking questions
16:25-17:15 Asking for referrals and testimonials
17:24-18:32 How broaden your list for new leads
Quotes:
Jules: "Why are sales so hard and messy… and does it ever get better?
Jules: "My new role is the "agitator".
Cate: "The key is to relax and take massive action."

Cate Stillman founded Yogahealer.com in 2001 to guide Yoga people into Ayurveda and Ayurveda people into yoga. Built on the value of both personal and planetary thrive and a deep connect to one's ecosystem, community and body, Yogahealer grew into a team, 2 podcasts a week, regular blogging, an arsenal of courses to guide people into their potential, an a professional community + certification program Yoga Health Coaching. Cate wrote and self-published Body Thrive: Uplevel Your Body and Your Life with 10 Habits from Ayurveda and Yoga, an Amazon #1 Bestseller in Ayurveda, which helps people who dig yoga take a giant leap forward in their wellness trajectory with Ayurveda.