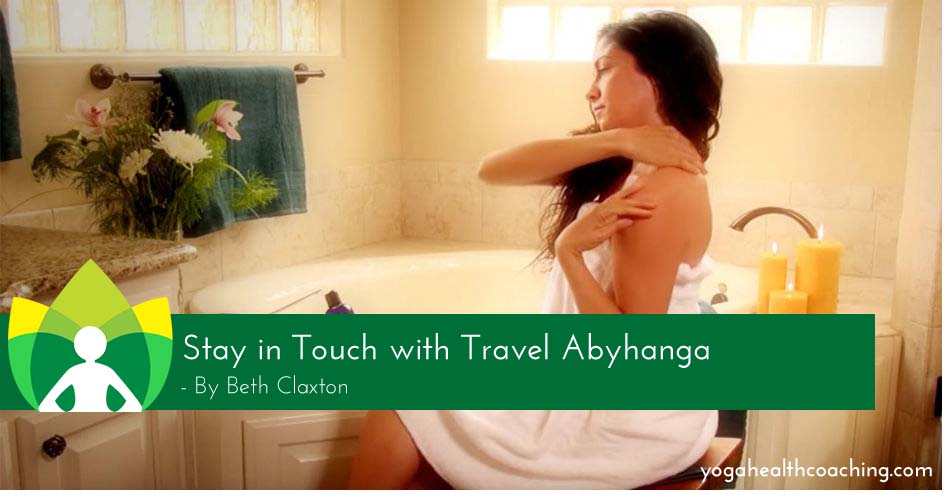 Stay in Touch with Travel Abyhanga

Abhyanga, the practice of self-massage, has become a daily treat  since first I learned about it through my study of Ayurveda.  I still laugh at the thought of putting oil on my face after years of avoiding oily things on my skin. I was afraid the oil would give me pimples. 

Now one of my most decadent self-care gestures, Abyhanga has become something I have the possibility of doing daily… and I do it every day, even when I am traveling! I am a busy MD who loves to travel for work and play. I have a routine for doing my Abyhanga at home and one that I take on the road.

Here's my routine when I am home, I dry brush my skin with dry brush shower gloves to slough off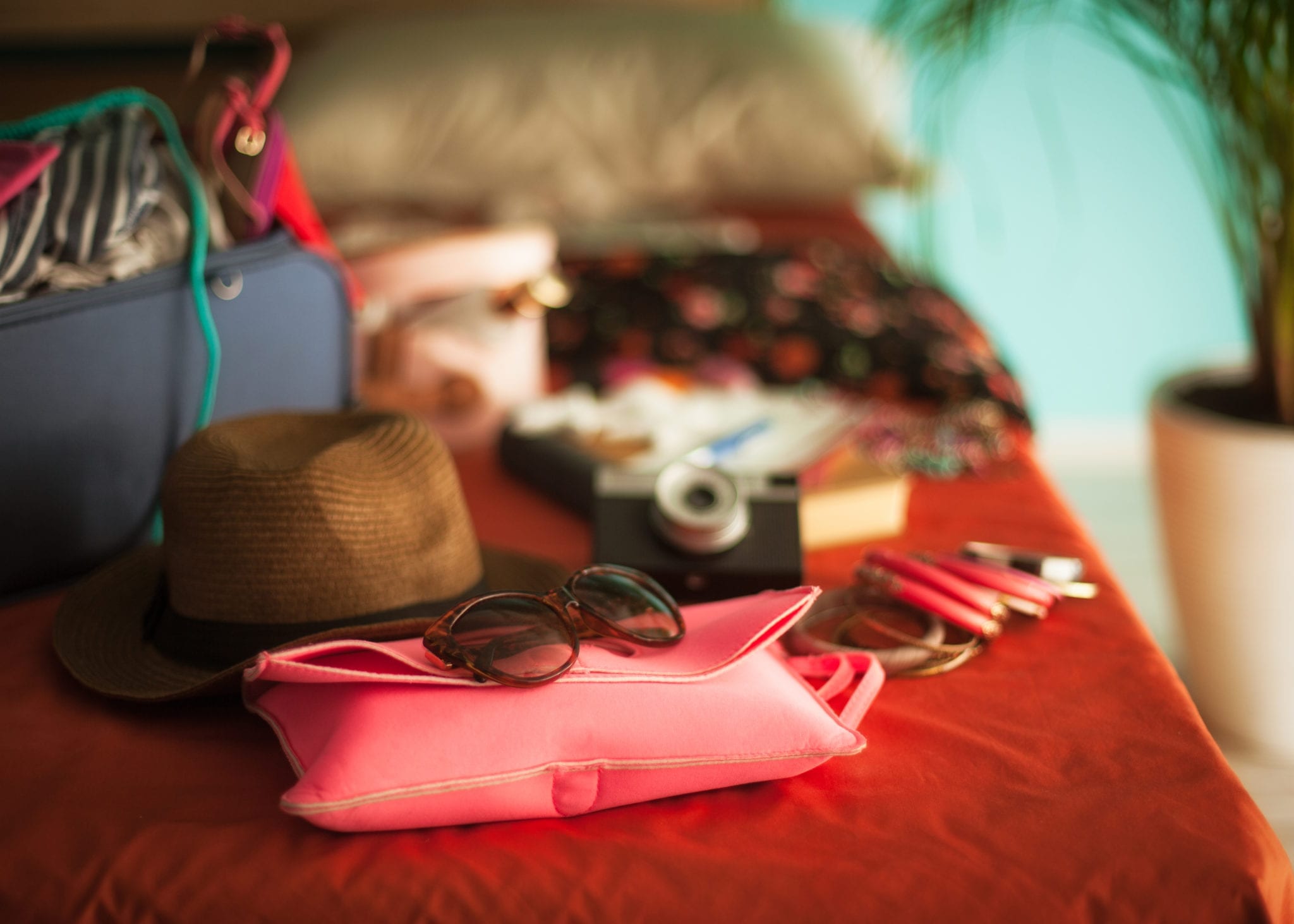 old skin cells, and awaken my body's largest organ. Then I put a squirt bottle of oil into a cup of hot water to make it warm to the touch. Then I head to the shower. If time allows, I massage the oil into my skin and let it absorb for 20 minutes before stepping under the water. This habit has become as automatic as brushing my teeth. On days when I have less time, I skip the dry brushing and take the oil into the shower with me and rub it on under the water stream. The warm water helps it soak in.
What are the results of daily self-massage with oil?
I have experienced a deep nurturing that beckons me to stay inside my body physically, mentally, and emotionally. My body knows it is deeply cared for as a result of this practice. I cherish my body's presence and I respect its opinion. I have learned to listen. I have grown to admire and love my body for it's unique traits and shortcomings.
For many years, since my teens, I could only view my body with critique. Through daily Abhyanga, the relationship has changed.  As I have become the caretaker of myself by rubbing oil on my skin and caressing my tissues, I can embrace imperfections as parts of me and judgment falls away. I deeply appreciate everything my body does and I apologize for my lapses in mindfulness that occasionally lead to a bruised knee or poor food choices that make my belly feel uncomfortable.  I bolster all of the above with a daily check-in involving self-touch: a hand to my belly, a hand to my chest, a scalp massage, taking the time to work out some knots. Inner calm, presence and self-respect have evolved from this simple daily practice.

And yet, sometimes I forget, or get stressed, and my practice slips. Things come up. Stuff gets in the way. I prioritize others over self. I've noticed this to be especially true when traveling. It's called life.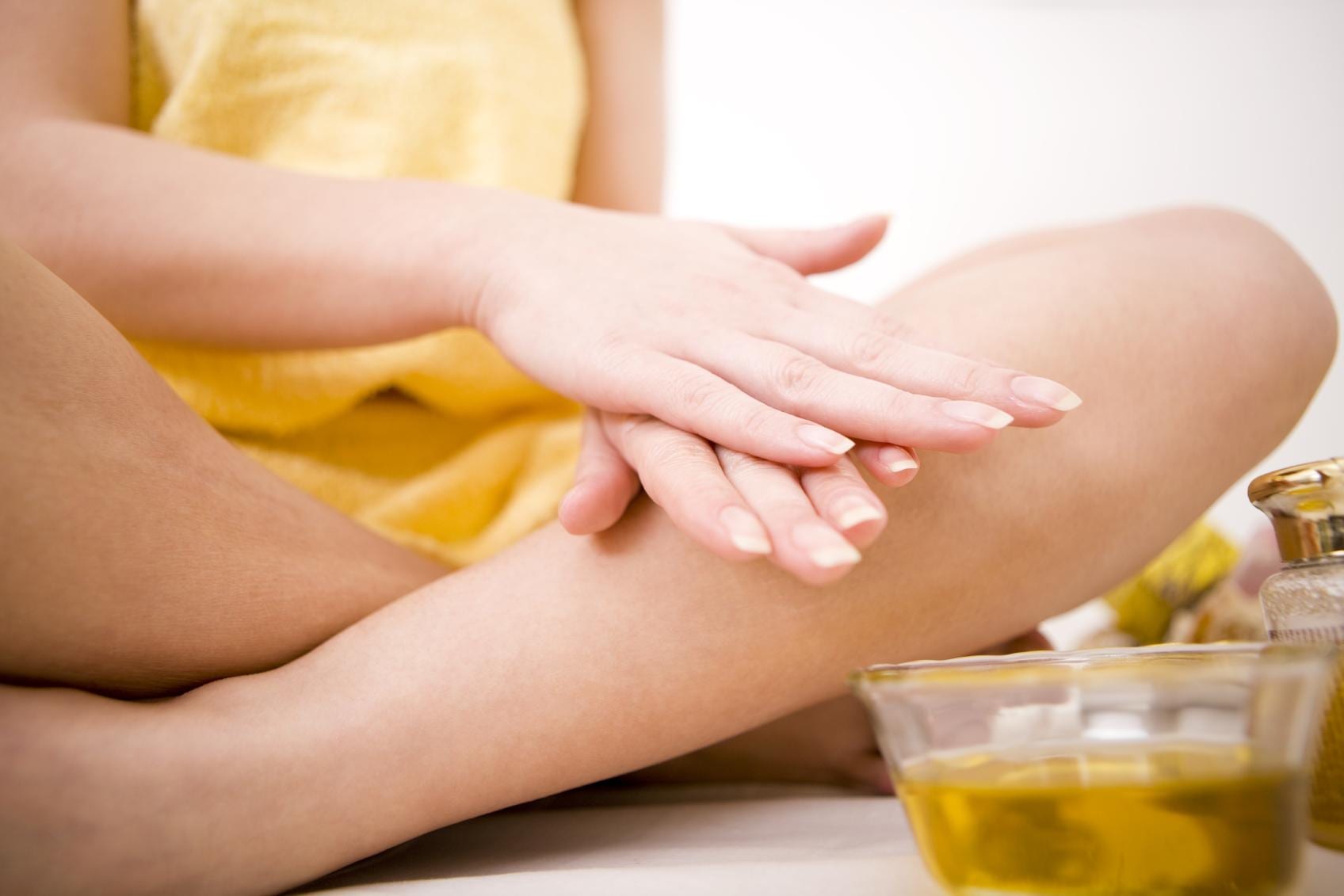 What I've learned the hard way is that by maintaining my practice, even when it's difficult to do so, and especially when it's hard to do so, is when it benefits me most! By treating my body, skin, and mind to an oil massage while traveling, I show up in my new surroundings very grounded and present. When traveling this translates into being more calm in unusual surroundings, more wise and making more mindful food choices. I also find myself getting better sleep in a strange place as a result of my traveling Abyhanga practice.  I feel that I am more present to myself no matter where travel. I take in more of the experience of a new and different place when I am deeply nurtured.
Last summer I traveled to Seattle for a continuing medical education course.  Although the content was dry, rote and boring, it was something I needed to learn.  Every morning I practiced Abhyanga in my hotel room and I think because I did this, I was able to find more calm while sitting in the 8 hours of dull lectures every day.  Because of the care I gave myself, it was easy to resist the tempting snacks in the afternoon and sleep more deeply at night.  When I did get outside, I enjoyed the sights and offerings of the big city by being fully present inside myself.
In certain travel scenarios, oil massage just isn't possible. In this case, I bring shower gloves in my suitcase for a technique called dry brushing. I bought these exfoliating gloves at Target and of course they are also available online. In lieu of oil massage, dry brushing can be a great back up when oil can't be used for whatever reason.  Before getting in the shower, I simply put on my gloves and massage the dry skin with mild friction in the same way I would massage oil on my skin.  This invigorates the skin, improves surface circulation and lymph flow, and offers exfoliation as well. Dry brushing can be done before Abhyanga or in lieu of it to maintain a connection with my body. When there isn't time for a shower, quarters are cramped, or oil is unavailable, dry brushing keeps me in touch with my skin, my largest and most absorptive organ.
Here's how I do Abhyanga while traveling:
I throw a small 2-3 oz. squirt bottle in my carry on luggage. It easily fits inside a walking shoe. I seal it in two zip lock plastic bags and voila, no extra space is taken up by my oil. 
Upon arriving, I buy a bottle of oil. I purchase sesame oil or a jar of coconut oil, depending on my destination. Sesame oil is warming for cooler climates, and coconut is cooling for warm climates. (Note: I don't use a squirt bottle with coconut oil unless it's warm enough for it to be in a liquid state.)
I take a larger bottle of oil. When I go to a place where finding or going to a 'store' to buy oils is impossible or it just adds too much stress to my  itinerary,  I take more than the carry on approved 3.4 ounces of liquid. In this situation, I am forced to check my luggage. I fill a larger squirt bottle, with a little bit of space for expansion while at flying altitude, wrap it in a paper towel, and seal it in 2 zip lock bags.  With this protocol, I've never had it leak onto my clothes.
I pack dry brush gloves to use as part of my daily Abyhanga routine or as back up for any unexpected situations that interfere with my typical practice. I stow my shower gloves in a zip-lock bag and use as needed.
When staying in a hotel, I  take advantage of the amenities…the shower gets cleaned every day and an oily towel gets sent to the laundry. When I stay in  private homes or at an Air BnB I adapt different strategies to keep my hosts happy. Sometimes I bring an extra towel for oily situations. Often I offer to clean the shower. It always helps to explain yourself as Abyhanga is not a common practice. Most people will be happy you took the time to explain what you are doing and how you will take responsibility for cleaning up after yourself.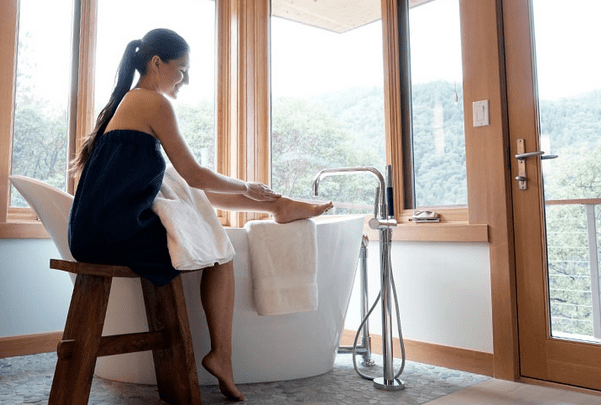 Next time you say Bon Voyage, don't forget Abyhanga is one of the way to literally stay 'in touch' with yourself.  Have a great trip!