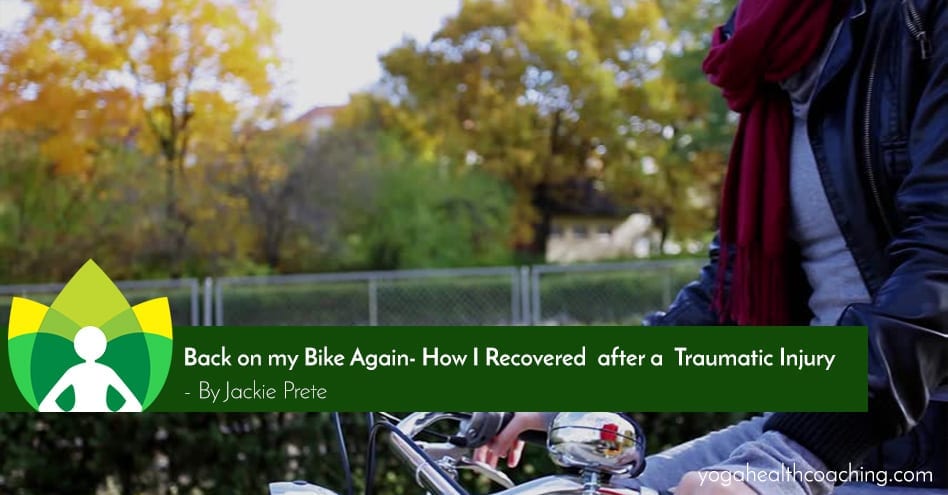 Back on my Bike Again- How I Recovered after a Traumatic Injury

I am sharing my story of my recovery from a horrible bike accident last year because it demonstrates how the 10 habits of Body Thrive can help you heal from serious injury. My doctor, my Physical Therapist, and my students are blown away by my body's ability to heal. I credit my amazing recovery on my ability to follow the Ayurveda based habits from the book Body Thrive. I am back on my bike riding through Riverside Park and the streets of New York. I am now walking up 6 flights of steps to my apartment. I am in better shape than I was before the accident and have learned first hand how you can empower the body to heal itself.
How Did this Happen to Me?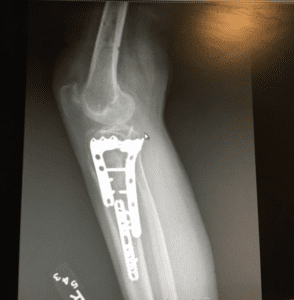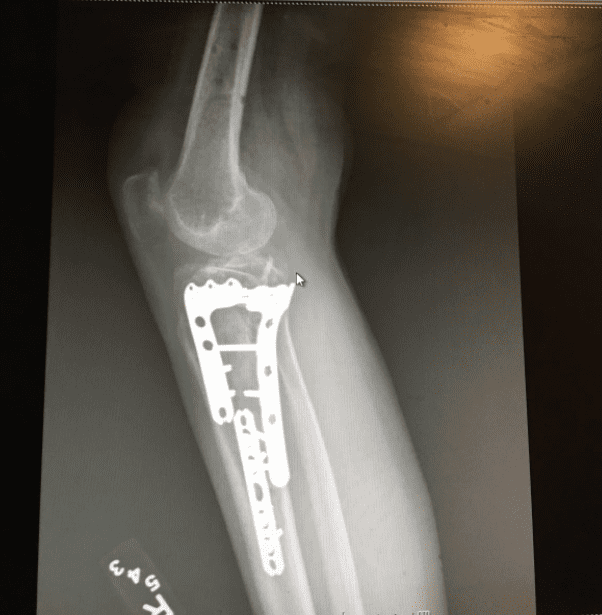 On September 13, 2016, I jumped on my bike at 9:45am racing to my 10:00am yoga class having left my house clearly 15 minutes late. I was barreling down the street on my red folding bike I affectionately call Rocket, when my sweet bike hit a pothole. I went flying through the air landing on the pavement hitting my shin with the force of my momentum as well as my body weight. As a result of the accident, I shattered the top of my tibia, tore my ACL and PCL and split my tibia down the middle. Ouch! Here I was lying on the ground on my own street a half a block from my house. I had done the same bike ride thousands of times before. This time my life was totally turned upside down.
I had a lot to 'learn'
My livelihood depends on my body to be healthy, flexible and strong. I am an Anusara Yoga teacher, yoga teacher trainer, Certified Yoga Health Coach and a massage therapist. I depend on my body! I had no idea how I would be able to work again  after this serious injury, but the pain I was feeling in my leg was like nothing I had experienced before. Having studied yoga for 25 years,  I know that every obstacle given to us is for our growth. Unfortunately, I was learning this lesson in spades!!
Ouch I Hurt!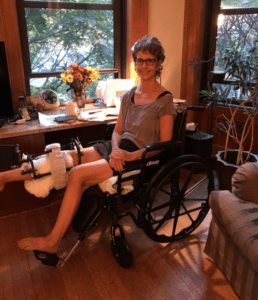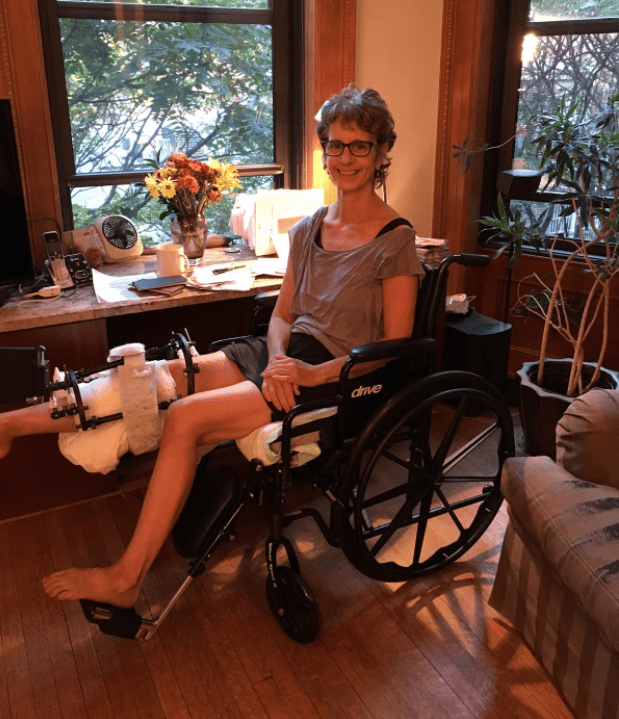 The first picture you see is one month into my recovery, in October of 2016. I still have the external fixator device on keeping my right knee from bending. My bones, at this point, needed to knit back together. I have three plates in my leg and nine screws to hold the tibia in place as the bones heal. I was devastated and completely uncertain of my future in terms of my ability to heal and return to work. I can get around with a wheel chair and a walker. I have very little endurance but my spirits are high. Even though I felt the most pain I have ever experienced in my life and  my prognosis for my healing process is undetermined I am so grateful to be alive!

At the time of the accident, my doctor cautioned me that my prognosis for a full recovery was not great. He was afraid that I would be disfigured or permanently disabled by this accident. He felt  confident that I would improve, but so much depended on my nutrition, my body's ability to heal and my own self care. For these reasons, I took on the project of healing myself after this accident with my whole being.
Baby Steps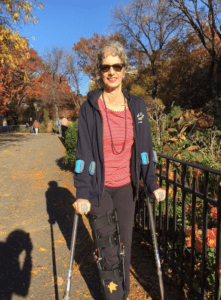 I started very simply taking small steps. Every morning I chanted with my teacher as I managed the pain in my leg and body. I built back the strength and mobility of my joints through daily exercise, stretching, yogic breathing practices, abdominal strengthening and lifting small weights. With the support of so many friends, students and yoga community members I healed more quickly and fully than anyone expected.

My attitude from the start was "I am going to get back on that bike again." I was determined to heal as best I could from this accident and use it as a tool to open my heart to others who have gone through serious trauma and recovery. This injury and accident has been one of my greatest teachers.

I got the external fixator removed at the end of October 2016, but couldn't bear any weight on my leg. I discovered that a key aspect of my healing was Community Support. If you are going through loss or trauma, you must reach out to your friends and neighbors. Let them help you! It is not only great for you but is a great contribution to them!
All Aboard the Meal Train
One of my students organized a Meal Train. This organization helps folks sign up to deliver meals to your home. I was signed up for three times a week and had plenty of food for lunch and dinner for the whole week. You can specify what kind of foods you need. I asked for mostly plant based meals like soups, stews and fresh salads and homemade salad dressings. I also requested lots of cooked veggies and grains.  
Late Fall last year I was out in the wheelchair practicing on my crutches. How could I have done this without all that support? I cannot even imagine. It brings tears to my eyes.

Early to Bed, Early to Rise
As grace would have it, I became a certified Yoga Health Coach a couple of years ago.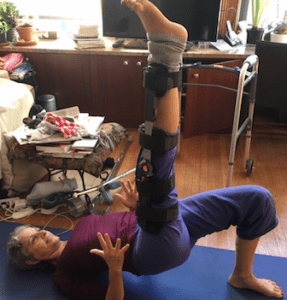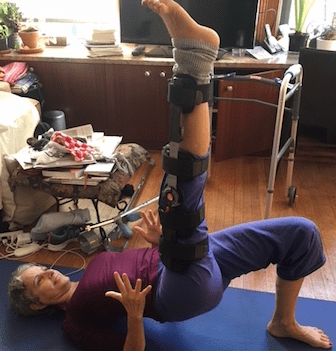 By practicing the 10 habits from the Ayurveda based course, Body Thrive, I was able to put myself on strict schedule of consistent bedtimes, waking time and meal times. I have learned to set up a regular schedule by studying the science of habit change I have learned as a Yoga Health Coach. My daily schedule for healing: Wake up at dawn, go to bed around 9:00pm every night. I consistently ate breakfast around 8:00am, lunch at noon and a light dinner at 6:00pm My body and immune system started regulating itself and as a result, my healing has been nothing short of miraculous.

I started exercising as soon as it was possible, doing restorative yoga and strengthening my supporting leg, my arms and my shoulders. I started doing some simple yoga postures. Oh My God it felt so good to be able to do my yoga!!. 
Give Thanks!
On January 1, 2017 I returned to the World Yoga Center to teach my first class. 
The students and I  were greeted with by the sound of three fire engines and told to evacuate. It was luckily a false alarm.  The possible gas leak turned out to be fresh paint! What a dramatic homecoming! Thank God there was no fire. My class was filled with students from World Yoga Center and Equinox. That day when class resumed after the interruption, we gave thanks for the miracle of having a body!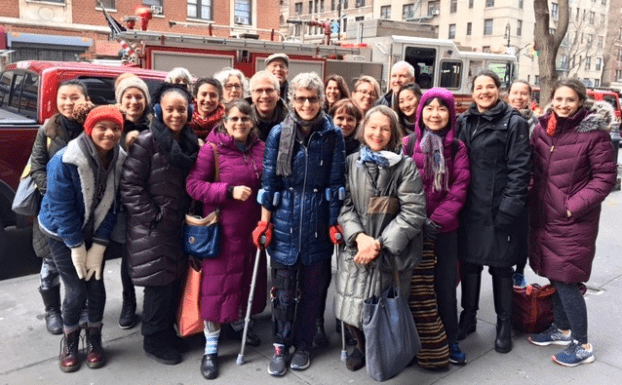 Practice, Practice, Practice

Fast Forward to Spring 2016. By staying consistent with my healing process, the 10 Body Thrive habits, and going to Physical Therapy three times a week, I was able to travel to Italy to teach at the Anusara® yoga festival in Morano, Italy in June. It was so delightful to teach and connect with the Anusara community in Europe and to share with them my healing process. Because so many of the yoga teachers in my Anusara community from Europe were sending their support throughout the year, it was powerful to be able to show up in person after my accident and teach at this festival. It was challenging to navigate going from the hotel to the venue. I walked a half a mile each way every day. My slow walk to and from the venue every day helped me get stronger and gain more confidence. I was able to take my first public class at the festival. I was up in handstand and headstand for the first time since the accident. Amazing!

More Surgery
When I came home I was scheduled for arthroscopic surgery on my knee. My surgeon, Dr. Lon Weiner, cleaned out scar tissue and bent my knee while I was under anesthesia.  My knee bent to 130 degrees. I woke up with one really sore leg!!
I kept to the 10 habits of Body Thrive, including  daily meditation, physical exercise, morning hydration, earlier lighter dinners and more full nutritious lunches.  My exercise included three sessions of Physical Therapy per week as well as yoga, stretching and strengthening on my own.
The structure of the 10 habits and the support of my amazing  PT, Beth Delman helped me accomplish more strength, stamina and flexibility. She is blown away by my progress. Beth has never had a client be able to bend their knee beyond what the surgeon accomplished during surgery. I am at 140 degrees and still going! I know these 10 habits have helped my body to heal and allowed me to go further than expected. The sky's the limit!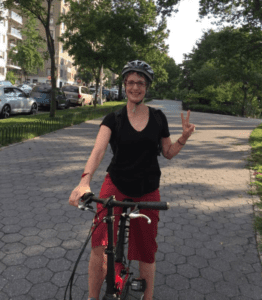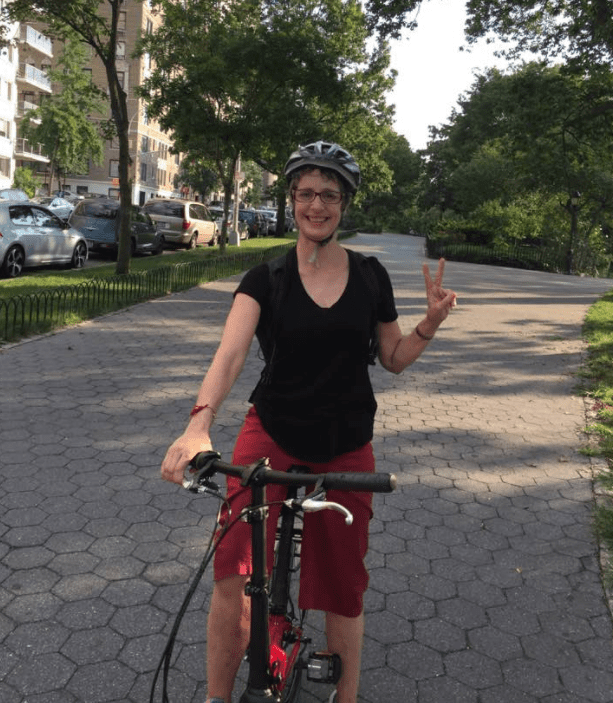 I have learned more about how the body heals, how important community  support is for folks going through trauma and injury, how much a positive attitude impacts your healing, and how a regular regimen and good daily health habits impact your ability to recover.
Here I am back on my bike again after 11 months, a lot of clean eating, lots of exercise and good rest, tons of encouragement from my sweet students. They came bearing gifts, flowers, food and their company. I had folks visit me, drop off supplies, pick up groceries and cook for me. They brought their love and support. What a gift these students are to my life!


Slow Down

My wish for my students is that you do not have a traumatic injury like this. The accident was a huge wake up call for me,  I was over-scheduled running from one appointment to the next. Since the accident, I have slowed down considerably. It has also impacted my teaching. I am more interested in bringing people into their hearts, than accomplishing advanced poses.
Many of us have been traumatized by what is going on in the world. We can learn to heal ourselves and actually thrive in an environment that is challenging us to grow and expand. Hurricanes and political storms surround us. How can we find the stillness to move forward, to expand and grow? This accident has taught me patience, faith and diligence. By committing myself to regular practices of meditation, asana, exercise, breathing practices and a healthy diet, I experienced a profound healing of my body and my spirit.
Daily Gratitude and Appreciation
The trauma of losing everything and slowly bit by bit recovering my life has made me appreciate every day. I am so grateful. I say a chant before I get on the bike. I am very present when I ride the bike and walk the streets of New York. I am walking a bit more slowly these days. My right leg is still weaker than the left.

I got rid of the chair in front of my yoga classes. I can sit on the floor now. My students are amazed at my progress. I am profoundly grateful to my own spirit for not giving up, to all my teachers, to my students, friends and family who supported me. To the yoga community who came together to support me through this trauma and recovery. Every day I remember that a year ago I couldn't walk. A year ago, I was using a walker to get to the bathroom and back and was sleeping on my sofa. A year ago I did not know that I would be here today. A year ago I had faith that I would heal.  


The Body Evolves
If you or a loved one is going through trauma or has had a serious injury, the way out is the 10 habits. They will make all the difference. In order to find out more about my 10 week habit changing course, The Body Evolves, based on Cate's class Body Thrive, go to this link to schedule a one on one Coaching session with me. These 10 habits literally saved my life and got me back on my bike and into my life again.