Coach of The Month: Krista Strayer and Elise Collins

IT TAKES TWO…TO COACH!

Cate Stillman talks to November Coaches of the Month, Krista Strayer and Elise Collins. In this audio blog, Krista and Elise reflect on how to get the Yoga Health Coaching message out into the world, as well as how to direct coaches to fulfill their potential in writing for their business. If you are looking for ways to communicate about the work that you do as a coach, listen to this audio.

Krista and Elise have collaborated in leadership to help launch and found the Yoga Health Coaching blog. They have picked up entrepreneurial skills and increased their writing proficiency along the way. Listen in to hear what has helped them write, create sound bytes, as well as inspire and guide YHC bloggers to their fullest potential as writers. Krista and Elise share their coaching and blogging experience and adopt an intuitive frame of reference on the benefits of recording and sharing. Stay tuned to the global conversation, "haiku" your tweets and scribe your way to the top! Beware, listening to this audio may cause the following symptoms: fell inspired to start your own blog, to reach out to guest blog for a high traffic sight or apply to write for the YHC blog.
Tune in and learn how to:
Blog storm and get the beat of the tribe!
Co-operate and grow into different writing perspectives
Mentor, pass the message and open to the world.
Scribe your way to the top!.
In this episode I rap with Krista and Elise about:
The keystone habits of the "dynamic duo".
Useful advice to new bloggers on how to give community a voice.
Show Highlights:
Stay tuned to the conversation together that's happening globally 4.37' – 4.40'
Give the community a voice that's multi-faceted 4.50'
Record and share 5.02'
Take a little sound byte and find the title 8.27'
Step out of the comfort zone 10.28'
Keystone habits 15.21'
Favorite Quotes from the Conversation
Take off the masks, take out of  your comfort zone and think about writing differently.
Learn, grow and curve.
"Haiku" your tweets.
Step into leadership and become part of each other's future.
BIO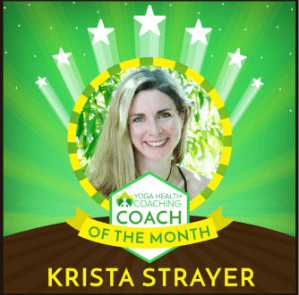 Krista Strayer is the founder of Flourish Schools, providing teacher wellness support along with yoga and mindfulness resources for Elementary School Teachers. Inspired on a coaching call with Cate by the philosophy of Nourishing the Mother so the Child will thrive as the missing piece to support teachers. Sharing yoga and mindfulness resources only goes so far when the teachers are overwhelmed and exhausted. Krista has since been bringing the Yoga Health Coaching message into schools to Nourish the Teacher and the Students will Thrive.
Krista is a "recovering" Engineer, perfectionist and workaholic turned essential oil addict.  She loves sunshine, skiing and being a "Dance Mom". Connect with Krista's tribe of teachers on Facebook and Pinterest.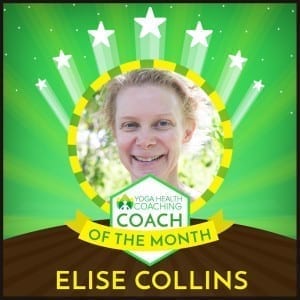 A former nightclub DJ turned yoga teacher, Elise Collins stayed up way too late for many years. Although she embraced a healthy lifestyle, she had difficulty sleeping and staying focused while she taught yoga, raised her son Krishna, filmed live music and wrote two books on holistic health, Chakra Tonics and An A-Z Guide to Healing Foods.
Longing for sustainable systems that would allow her the energy and ability to follow her passions, she found Yoga Health Coaching, a system she now shares with students and clients. Her specialty is helping people to listen to their bodies to create foundational health habits that enable them to live like rock stars who get to bed 'early' most nights.
Connect with Elise on her website, Facebook, or Twitter.

Cate Stillman founded Yogahealer.com in 2001 to guide Yoga people into Ayurveda and Ayurveda people into yoga. Built on the value of both personal and planetary thrive and a deep connect to one's ecosystem, community and body, Yogahealer grew into a team, 2 podcasts a week, regular blogging, an arsenal of courses to guide people into their potential, an a professional community + certification program Yoga Health Coaching. Cate wrote and self-published Body Thrive: Uplevel Your Body and Your Life with 10 Habits from Ayurveda and Yoga, an Amazon #1 Bestseller in Ayurveda, which helps people who dig yoga take a giant leap forward in their wellness trajectory with Ayurveda.