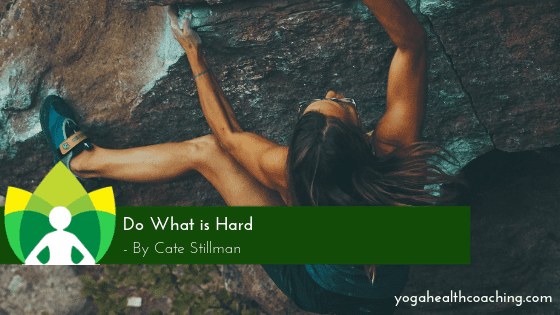 Do What is Hard

Many of you know I've been in a "CEO Grow Your Business + Team from $1 million to $10 million" group for a few years.

I've wanted to pull out more than a few times. Jump ship. Try something else.

But I stuck with it. I worked their systems.

It's been hard. Obviously.

My investment- with travel- is around $18 thousand per year. It's a business investment – paid for by the business. I used to think of it as a personal investment. I was wrong. It's an investment I make to create the momentum to grow, to help my people to grow, to help myself to grow.



Questioning the Value
Last year at exactly this time I talked about giving up on the bigger goal. I had 3 bad hires in a row. I lost faith in my ability to do this. I was serious about not growing – just staying put.
But in the end, I was more curious about what it took. Why some people made it past the rocky terrain of $1 million to $3 million. Why others, like me, did not. I couldn't see why I didn't have what it took. In fact, I couldn't see, with all my "west meets east meets west" wisdom background, how I wasn't actually at an advantage.
I kept trying. I made a good hire. Then another bad hire. Then another good hire.

Mapping New Habits with Consistent Action
And now I see clearly how by consistently choosing what is hard in the moment- like my daily cold plunges– I have also paved the way for growth for others.  
This week we hired three new team members at Yogahealer. I'm sure they are all good hires. The hiring process was arduous. I wasn't nervous about the added investment in people. I can see how I'm on the other side of some old shadow issues that held me back as a CEO.
Coming out the Other Side
The hiring I'm doing will free up my time in 2019 immensely, letting me focus on tribe growth strategy, networking, writing, speaking, coaching, and new smaller courses- all within my "zone of genius." In 2019 I'm leveraging all my strengths, and the strengths of all the Yogahealer individual members, not just some of them. In 2019 I'll have even more free time, though my calendar is already dialed in with big open blocks and focus blocks.
I'm starting to see the light. To witness the cumulative changes in my thinking, strategy, leadership abilities, team growth.
The reason I write this is: there are hard actions we need to take every day. There are lessons to learn. Weaknesses to alchemize into strengths.
And it's hard.
It's not personal, though it feels personal.
And it works.
Stay the path. Growth is real