Walking in Your Own Footsteps: Finding Strength in Finding Your Dharma

In this Changemaker Challenge interview, Carly Banks chats with Yoga Health Coach Carolyn Pask about how her personal health evolution path led her to her bigger dharma. Following in her father's footsteps, working at the family bike shop, Carolyn was just going through the motions. Her life was lacking passion, and she didn't feel like she was living her true potential. Facing epilepsy since her teens presented additional struggle, and she had to be very careful with how she treated her body, which brought her to the habits of Body Thrive. The habits gifted Carolyn with immense control over her body and its functions and provided clarity on what is possible for her in this life. She signed up for YHC and became a Kundalini Yoga instructor. In trusting in herself, and the universe, she has found strength and growth that just wasn't achievable by living her father's reality instead of her own. Since joining YHC, Carolyn has made huge shifts in her personal health. A sufferer of epilepsy, Carolyn has successfully reduced the occurrence of her seizures by two-thirds using only the habits of Body Thrive. The clarity and strength provided through this have helped her realize that her path need not lie in the shadow of her family's business.
What you'll get out of tuning in:
How stepping out of your comfort zone can help you live (and work) in alignment with your passion.
How our personal health evolution stories become our credentials for health coaching.
How the habits of Body Thrive can make a big impact on even complicated diseases such as epilepsy.
Links Mentioned Episode:


Show Highlights:
1:00 – We sometimes find ourselves stuck in patterns that we have no idea how to break. Those patterns can look like our "comfort zone," but what happens when the zone isn't very comfortable? Quite often, in order to realize our full potential, we need to step outside our comfort zone.
2:00 – Carolyn Pask's comfort zone was the family business. While she's proud of what her parents have built, and while she enjoys being able to work with her family and bring her daughter to work with her, there came a time when she had to admit that she didn't have a passion for the business.
5:00 – Carolyn began experiencing petit mal seizures. The frequency of the seizures was affected by stress and by hormonal shifts, so she has always had to practice good self care. At 30, after the birth of her daughter, Carolyn became curious about whether she could manage her seizures without medication. She found Yogidetox and Body Thrive and was amazed at how her health and her seizures improved through the natural health habits she learned to practice.
8:45 – After Body Thrive, Carolyn enrolled in Yoga Health Coaching and became a Kundalini yoga teacher. She knew she had something to share that could help other people. She learned to listen to the universe and step into her strength. She sees the habits of Body Thrive and Kundalini yoga as complementary practices because they can be practiced by anyone.
12:05 – Carolyn's keystone habit is start the day right. Before Yogidetox and Body Thrive, didn't realize that she was chronically constipated. She was relieved to find that she didn't have to live in discomfort.
Favorite Quotes:
"Your comfort zone isn't necessarily a place that's comfortable. It's just a place that's recognizable to you." — Carly Banks
"In sharing our experiences, we become a lesson for other people." — Carly Banks
Guest BIO: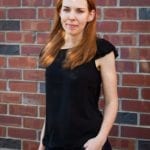 Carolyn Pask is a yoga health coach and Kundalini yoga teacher. She is the founder of True to You Yoga and Wellness. She came to Yoga Health Coaching through Yogidetox and Body Thrive, which taught her natural ways to care for her body and manage her health. While Carolyn was lucky to have a thriving family business, her lack of passion for the work led her to step out of her comfort zone to find her bigger dharma. Connect with Carolyn on her FB page and get more info on Carolyn's website.

The Body Thrive path led Carly to a new and exciting world where all can be accomplished with ease. Adding YHC certification training to work and parenting is proving to be easy, with the right tools. Carly's shattering old patterns and false beliefs about herself, to become the person that she and her family deserve.  Connecting? Connect and hear more about how Carly juggles life as a busy mom at Nourished living.