Hitting Enrollment Targets with Health Coaching: Cate Coaching Deanna Norelli
Podcast Intro:
Yoga Health Coach, Deanna Norelli, is succeeding in one of the most important parts of her faith-based coaching- She is putting herself out there, taking her group through a deep dharma dive, and they are healthier, happier, and getting results! Now it's time to get into the nitty-gritty of hitting her enrollment goals so that more people can get these life-transforming results.
Listen in as Cate walks Deanna through how to leverage her gains to hit enrollment goals. Critical issues are discovered in the structure and motivation is cultivated in tracking the huge gains! This process leads to a deeper reflection on the depth of our own individual dharmas in the world.
What you'll get out of tuning in:
How to score more Strategy Sessions
How to plan and schedule more live/virtual events
How to find critical issues in your structure
How to showcase your unique skills in your marketing process
How to find networking partners
Links/CTA:
Highlights:
Deanna shares the transformative live events she's been putting on.
Cate emphasizes why it's so exciting to find critical issues.
Cate highlights how to market our dharma to lead others to their dharma.
Timestamps:
1:27- Mapping out gaps and gains
6:05- Leveraging gains to hit enrollment goals
7:35- Finding core/critical issues
8:03- Gains as a reflection of dharma
12:38- Stages of leading the customer journey
13:45- Empathy mapping through critical issues discovery
15:15- Ideas for live and virtual events
20:15- Building your message into your marketing
25:05- Creating Strategy Session goals for sales pipeline
28:45- Annual marketing planning
29:41- Finding natural networking partners
32:20- Using video testimonials and stories from members
Quotes:
"You have a vision of the future and then you make it real, and the process of making it real grows up your next identity evolution.  That's just how it works."
"When I find a critical issue I get really freaking excited."
"It's the commitment to the process of it.  You just keep asking yourself, 'What do my prospects need to believe?  What do they need to experience? What do they need to witness?' in each of these stages."
"Your people know people.  They are already connected."
"The more you're clear on the target, then all of your energy and effort just goes toward that target."
Guest Bio: Deanna Norelli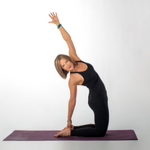 Deanna Norelli has decades of experience in the Wellness industry. Deanna is passionate about yoga, Ayurveda, digestive health, and an anti-inflammatory lifestyle. She encourages everyone to be a better steward of their God-given temple.

Cate Stillman founded Yogahealer.com in 2001 to guide Yoga people into Ayurveda and Ayurveda people into yoga. Built on the value of both personal and planetary thrive and a deep connect to one's ecosystem, community and body, Yogahealer grew into a team, 2 podcasts a week, regular blogging, an arsenal of courses to guide people into their potential, an a professional community + certification program Yoga Health Coaching. Cate wrote and self-published Body Thrive: Uplevel Your Body and Your Life with 10 Habits from Ayurveda and Yoga, an Amazon #1 Bestseller in Ayurveda, which helps people who dig yoga take a giant leap forward in their wellness trajectory with Ayurveda.