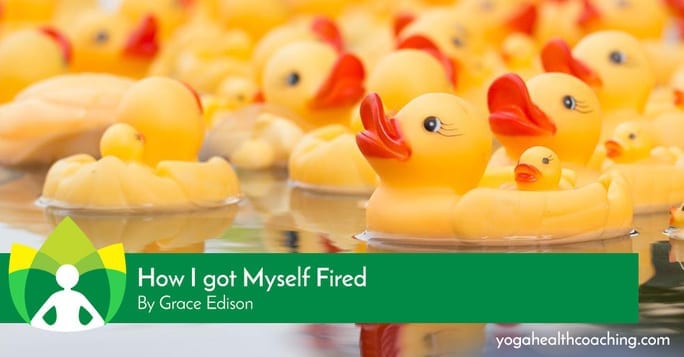 How I got myself Fired!

When I was 16 years old and in grade 10, I got a card from a friend with a small rubber duck on the front that said;
"I hope life is soon ducky… cause right now it's really sucky".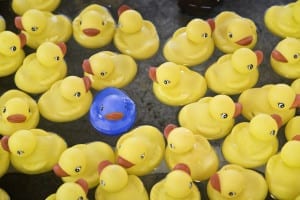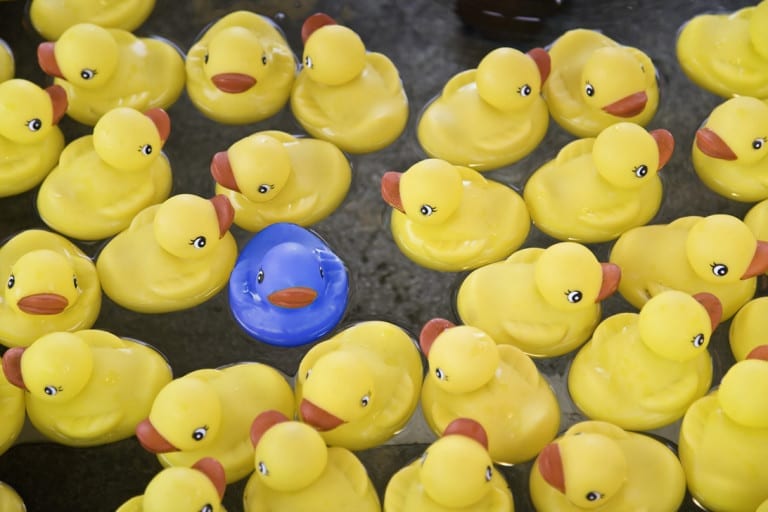 In  weak moment of judgement I had called in a bomb scare to my high school with some other girls to get the day off school. I was caught and suspended from school. My friend who was also in trouble and grounded at the time, had her mom bring the card by and I loved it. It was the best card. It wasn't a sympathy card it was a calling-it-like-it-is card. I'll always remember that card. In that short sentence I just felt like it got me.
Life was sucky, I had fucked up.
Well fast forward 17 years later – I fucked up in a very similar way. And right now life is feeling "sucky".
Some background info: For the last 10 years, I've been a financial adviser. After my dad died two years ago, I started to reflect a lot on my life and I realized that I was unhappy in many areas – my job being one of them. It was a "good job" but I realized the corporate office environment wasn't for me.
This past December I was hired by Cate (Yogahealer.com) for a part time position in admissions, talking to people who were applying for her courses. I fell deeply in love with Ayurveda, everything she teaches and the job itself. I get to talk to people all from over the world that I have SO much in common with. I get to be part of the process of people taking steps to change their life for the better in an enormous-never-be-the-same kind of way. AND the biggest perk of the job is that I am celebrated for being myself – something I've been searching for my entire life.
At the same time I started working in admissions I started the Yoga Health Coaching certification  course to really step into the realm of creating my wellness career helping people heal and step into their true purpose. Finally!
Although the contrast started to become very apparent and I knew not only what I needed to do, but what I wanted to do – I was scared shitless.
Leaving a "good job" – one that is stable and reputable and has great income potential is not an easy thing to do. A lot of my identity was wrapped up in it. My parents were so proud of me. I was proud that I got my poop in a group and had a big girl job!
It's not an easy leap (as many of you know) to leave something that on paper seems to make sense. I remember telling some people (people very close to me who loved me and knew my dreams and how unhappy I was) and they looked at me like I had 5 heads.
"Why would you do that? You are good at it. You make good money, it's a good job!" they said.
Yeah I get it guys… but my heart was breaking and my health was dwindling.
So it had two checked boxes – good job and good money but it was missing a HUGE one: providing me the freedom of happiness. You know happiness? That thing we are all chasing after that we often look for in all the wrong places? Yeah that.
So in the winter I started to entertain the idea of leaving my job. I had no idea how this was going to happen but Cate and Alex supported me in creating a plan and wrapping my very socially conditioned head around an exit strategy. I highly recommend a support team because there are some bold faced lies our ego will try to feed us and keep us stuck and scared. At first it seemed to go well…(foreshadowing).
I put my notice in as a full time employee but I asked them if I could stay on contractually, making my own hours and seeing clients here and there. I thought it would be good to hang on to it – you know, just in case things didn't go well with my dreams, right?
After about 6 months of working with Cate and participating in YHC I was really excited when she asked me to be on the podcast. No. I was STOKED beyond belief. I mean little old me? On Cate's podcast? YES PLEASE.
For those of you who don't know me, I love to perform and I love to be front and center. I have done some amateur standup comedy and it was the most thrilling experience for me. I feel this is important to mention before I go on.
Cate and I did the podcast and she asked me about how I was feeling in my job. In true performer Grace style I answered "Oh my god, I wanted to burn the building down, with everyone in it, alive!"
Serious face.
I said that shit. On a podcast. On the internet. You know that place where anyone can find anything and nothing is private or sacred?
The next thing I did was stupidly hope that my employer would never hear it and if they did, they wouldn't take it personally.
Errr….right.
I didn't actually mean it and I didn't mean to hurt or offend anyone
I was expressing my deep frustration with how out of integrity it was for me to be staying there.
It wasn't about them at all – no one was holding me hostage. I was trying to draw a picture with my words about how awful I was feeling. Instead my words were out of integrity because I didn't think about who they would hurt. I am actually a very kind loving person. Months after the podcast launched, I stopped by the office to deal with one of the last clients I'd been dealing with in my transitioning-out-plan. My (former) boss came in and shuts the door and told me that she heard the podcast.
Heart stops. She heard it and she quoted me, straight to my blood red face. I was suddenly 16 again, transported back to the day my principal showed up at my door to ask me if I had anything to tell him? Something about a day off school we had because of a bomb threat?
Fuck.
Yeah. I did that. I said I wanted to burn the building down, with everyone in it, alive.
She asked me to hand in my keys.
What I have learned is that I did not do what I needed to do when I needed to do it.
I took action but it wasn't clean. I did not cut the ties and take the leap fully and so my big old mouth and the good ol' universe did it for me.
I needed to leave that job long ago. It was stale and out-dated but I didn't because I was scared.
I didn't trust myself to do the damn thing. I was scared to invest in myself.
I hear Cate talk about this all the time. All.The.Time. "Are you the kind of person who invests in yourself".
And I get it now.
I also hear so many people who apply for her courses say that although they are quite certain Cate's program is amazeballs, and it's so worth it – they just don't think they could do it. They don't doubt Cate, they are willing to invest in her – but they are not willing to invest in themselves.
I get it. I was clearly there, as you can see.
I was scared to let go of my "good job" to invest in myself because I didn't trust that I could do it.
This makes me very sad. It makes me sad because it's so common. I can see now that so many of us stay and stick around jobs that no longer suit us. What I see is that it's because we feel less fear working for someone else and we think it's more secure than putting our eggs into our own basket. We are scared we will turn those eggs into a shit omelette.
So let me tell ya. I am feeling so many feelings. This has been a roller-coaster from hell. I'm ashamed and embarrassed and at the exact same time I am so incredibly grateful and proud of myself. I'm learning about these paradoxes in life, I think it's called "Cognitive dissonance" (the state of having inconsistent thoughts, beliefs, or attitudes, especially as relating to behavioral decisions and attitude change.) Two very opposite things co-existing at the same time.To feel so ashamed of what I said and also to feel so grateful for the whole damn experience.
We are not taught about these areas of "grey". We are taught to see life in black and white – good or bad but not both.
I might not have done this in a clean way. I let my frustration build. People did get hurt.
I am sure some people will judge me for it, just like they did when I called in that bomb scare. I lost a lot of friends then, and the whole town was disappointed in me. But I learned so much and my life set off in a completely different direction because of it.
But the thing is, even though leaving my job wasn't a clean cut, I did take the leap and my big old mouth made sure that my ass followed up by coming back around behind me and sealing the damn deal.
I am doing it. I have invested in myself and I am on my way to becoming a certified Yoga Health Coach. I will continue to invest in ME because now I see the true value. I know that with the right training and support – we all can achieve what we believe is just a dream. When we take action, and invest in ourselves it stops being a dream and becomes a plan.
I was terrified, hell I still am. But nothing was going to change if I continued to stay stuck, doubting myself by holding on to my job.