The Sound Sleep Episode

Do you struggle to get enough deep, nourishing sleep? You're so not alone. We make our days longer by making their nights shorter so we can get more done. Or maybe we try to get to bed, but feel betrayed when our bodies don't cooperate.

Yoga Health Coach Brodie Welch talks with fellow formerly sleep-deprived coaches Carly Banks and Kari Zabel about how they were able to radically transform their relationship with sleep. You'll hear how Carly was able to overcome her sleep debt even while caring for a newborn, and how Kari overcame the lifelong insomnia she was previously resigned to dealing with. Learn how an identity shift coupled with simple tweaks in daily routine unlocked the secret to sound sleep for these formerly Hot Mess Health Coaches.
What you'll get out of tuning in
Learn the one small shift that resulted in better sleep for Carly within 3 days
How you can get your "me time" and your sleep, even as a new parent
How Facebook might be sabotaging your sleep
Links
Show Highlights
3:45 Carly finally realized that she wasn't sentenced to sleep deprivation just because she had a newborn baby, and saw why she was inadvertently contributing to her own suffering
5:30 Get both "me time" and rest, even with a newborn!

Digest, then rest
Turn off the tech
Listen to your body
Create your own bedtime routine
Trade in sharing space for a genuine connection

12:35 Kari confronts the belief that it's her lot in life to sleep poorly because insomnia runs in her family
16:10 The enemies of good sleep: caffeine, alcohol, and that blue light we love so much
22:30 Reframing mindsets around insomnia can help overcome resistance and develop consistently sound sleep.
Favorite Quotes
"We're still living in a culture that prizes productivity, and if you're not chronically busy and tired all the time, you somehow must not be doing enough. If being busy gives you bragging rights, being sleep-deprived and exhausted shows just how hard you must be working." – Brodie Welch
"Resentment tends to increase in proportion to our lack of self-care." – Brodie Welch
"[As a new mom], I was still externalizing all my problems…, not considering that there were things I could do for myself." -Carly Banks
"We need to recognize… that our bodies have gone through this massive job of producing a child and birthing it, and to say that we need 6 months to a year or more of time to rest and restore, I think that's pretty fair." – Carly Banks
"I had this story that I inherited insomnia from my mother… like I inherited her brown, curly hair and blue eyes." – Kari Zabel
"It's what you do in your daily life that's so much more important than the [genetic] cards you're dealt." – Brodie Welch
"It's the melatonin-killing blue light that's been your enemy!" – Brodie Welch
"The realignment to a set [Ayurvedic] schedule… I get so much more done." – Kari Zabel
Guest's BIO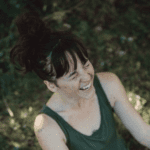 Carly Banks offers a light at the end of the parenting tunnel with her programs at Nourished Living. Through the birth of two children, postpartum difficulties, being a working mom, and struggling to find common ground with her partner, Carly learned the hard way that routines and self care are the path to family thrive. Now she's shattering old patterns and false beliefs about herself to become the person she and her family deserve.
Suitable for pregnant women and mothers of all ages, Nourished Living offers programs that help us love ourselves fully, so we may love and foster the positive growth of our families.
Carly lives in British Columbia Canada with her family of four. Connect with her to hear more about how Carly shares her skills with the Mamas of the world. Carly's website.Carly's Facebook.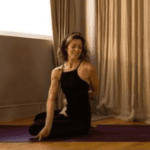 Kari Zabel has been teaching yoga since 2003, and is an Advanced Certified Jivamukti teacher who studied with founders Sharon Gannon and David Life. She teaches classes, workshops, retreats and immersions and has co-lead teacher training programs across the U.S., Asia, Latin America, and Europe. Kari is currently a Senior Teacher at the Jivamukti Yoga Centers in Munich and is regularly featured in Yoga Journal Germany as the model for the 108 Asana Finder. She is known for her light spirit, heartfelt teachings, creative sequencing and ability to inspire her students to live full, happy, and healthy lives.
Kari also studies Ayurveda and habit change and is one of Europe's few Yoga Health Coaches. She helps clients improve their diet, sleep, energy, and mental clarity so they can feel kick-ass and ready to take on the world. Kari's website.Kari's Facebook.

Brodie Welch is a Licensed Acupuncturist, board-certified herbalist, Chinese Medicine expert, group coach, and self-care strategist. She's the founder of Life in Balance Acupuncture in Corvallis, Oregon, where she has been treating patients since 2003. In addition to her clinical practice, Brodie helps caring, high-achieving, women put themselves on their own to-do lists so they can trade stress and burnout for energy, joy, and vibrant health. She has helped thousands of clients improve their digestion, sleep, and mood, dial in a regular bodymind practice, and step into the next version of themselves. She's also the creator and host of A Healthy Curiosity: the podcast that explores what it takes to be well in a busy world.