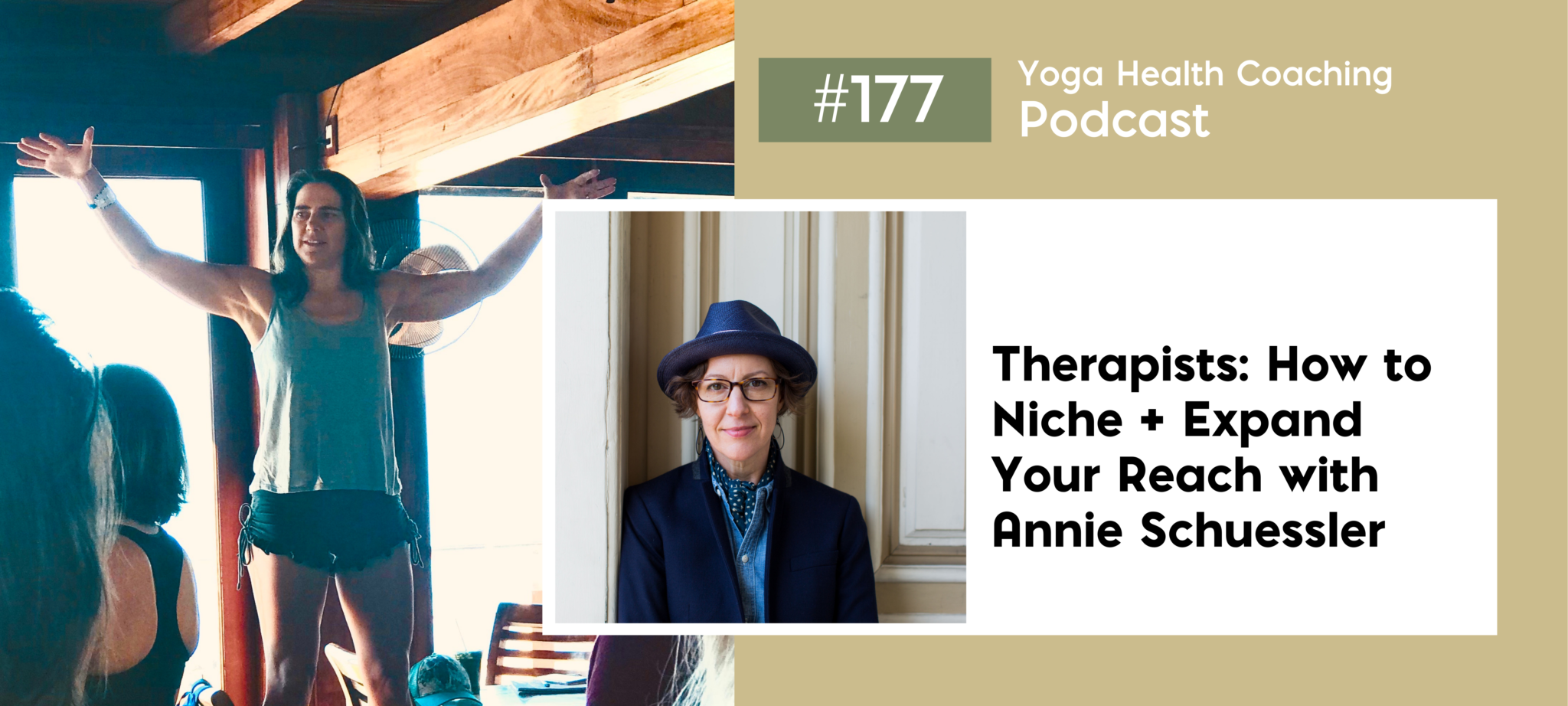 Therapists: How to Niche + Expand Your Reach with Annie Schuessler

In the Yogahealer community, we learn to find and embrace our dharma, continually evolve, and invite others to join us along the way. As many of us strive to continually reach more people, it is common to hit a plateau and not know where to turn to find more people we can help.

In this podcast, Cate gives us an in-depth conversation with Annie Schuessler about niching and networking to expand our reach. Annie, being a business coach and podcast host that helps therapists, healers, and coaches make an impact beyond a traditional private practice, shares her perspective on what has been working best for her.

Listen more as Cate and Annie discuss niching as both serving in a local community as well as going Global! With Annie coming outside of the Yogahealer community, the conversation in and of itself is a prime example of mesh networking and ideal collaborative partners.
What you'll get out of tuning in:
How to develop the next phase to grow professionally.
How to figure out your niche – local, global, both?
Discovering your ideal deliverables/outcomes for your avatars.
How to build your list from those you already know.
Reflection on the right size for your course.
The importance of experimentation over perfection.
How to network overlap into your niche.
What it means to find Collaborative Partners.
Links/CTA:
Highlights:
Cate and Annie talk about when and why to go beyond the 1-on-1 model of coaching.
Annie stresses the importance of discovering our avatar and what about them gives us energy.
Cate talks about Naomi Dunford, creator of izzybiz, and her wisdom in finding the sweet spot in the number of contacts to reach.
Annie and Cate talk about how to find approach potential collaborative partners.
Timestamps:
1:20 min – Issues with the 1-on-1 model and why to expand.
5:45 min – Going global as a way to reach those who don't have access to wellness.
8:45 min – Hybrid business model in both local and global communities.
10:30 min – Creating avatars.
13:10 min – Figuring out common themes in our avatars.
15:48 min – Niching into the transformation to offer avatars.
19:21 min – Audience building strategies.
24:18 min – Creating added value for mesh networks and collaborative partners.
33:20 min – What to say when you reach out to collaborative partners.
Quotes:
"When you decide who you are going to build something for, you become aware that you are not building it for everyone, and I think we as healers have really huge hearts and intentions and absolutely want to serve everyone"
"To the point of the niche, when you localize, you're niched because you are pinning it to a location."
"If you could clone those people who you feel like you help through such amazing transformations and who get your work really well, who would you clone?"
"Offering your expertise unfortunately isn't enough. It's like if you want exposure, you better be able to offer exposure."
"Is it more about me or is it more about you? You always want it to be more about them."

Cate Stillman founded Yogahealer.com in 2001 to guide Yoga people into Ayurveda and Ayurveda people into yoga. Built on the value of both personal and planetary thrive and a deep connect to one's ecosystem, community and body, Yogahealer grew into a team, 2 podcasts a week, regular blogging, an arsenal of courses to guide people into their potential, an a professional community + certification program Yoga Health Coaching. Cate wrote and self-published Body Thrive: Uplevel Your Body and Your Life with 10 Habits from Ayurveda and Yoga, an Amazon #1 Bestseller in Ayurveda, which helps people who dig yoga take a giant leap forward in their wellness trajectory with Ayurveda.