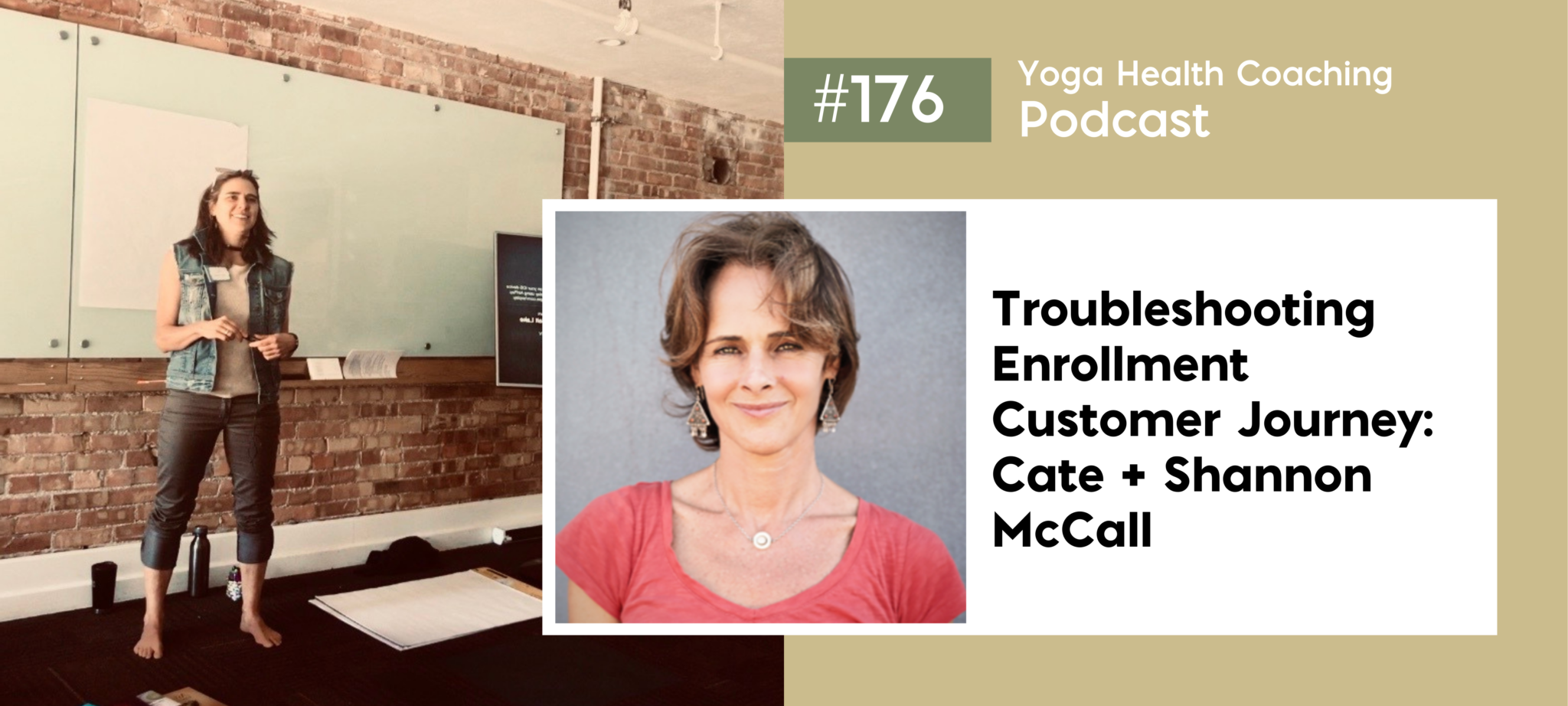 Troubleshooting Enrollment Customer Journey

Shannon McCall, seasoned Yoga Health Coach, is doing all of the right things-  free talks, email campaigns, follow up, etc., yet still hits an enrollment lull every September, and isn't creating her community-size dreams.

In this podcast, we get a backstage pass to a coaching gym as Cate guides Shannon to process shadow issues, look to her community for answers, and access her intuition on what is needed for growth in her community.

While playing the marketing and enrollment game is a super important skill, sometimes we have to dig deeper. As Cate puts it, "You can then just get the bow and arrow out. They call it spear hunting vs. net." With spear hunting, we get more specific with our focus on our communities needs. We hit the target on the individual issues that grow our community and offer what is needed for deeper evolution.
What you'll get out of tuning in:
Attracting and Enrolling tips
Ways to reach out to people already in your ecosystem
Getting referrals and having strategy for growth
Going beyond basic marketing and enrollment
How to get people out of the "waiting room"
Links/CTA:
Highlights:
Cate troubleshoots lack of readiness as a common objection.
Cate helps process shadow issues in sales.
Cate explains how to create content from your own intuitive wisdom.
Timestamps:
6:25 minutes- Sales, marketing, content, and engagement
8:55 minutes- Shadow issues in Sales/Agni
12:25 minutes- Getting referrals – 5 names/day
15:20 minutes- Reaching out to others beyond your small pool
18:20 minutes- Tapping into community needs to see how it wants to grow next
20:40 minutes- Setting up exclusivity for customer journey and creating urgency.
23:30 minutes- Getting out of a scarcity mindset.
25:35 minutes- Creating a wellness incubator
26.45 minutes- Using intuitive decisions as messages to group.
Quotes:
"We never hear, 'I'm so happy that I waited two years to take the course I wanted to take two years ago.'."
"We have to help people invest in the future that they actually want now. Like, that is our job as sales people."
"You've got to desire to be interconnected with what's going on and people- whose that?"
"If you ask your community, 'how do you want to grow next?' and help that happen, what would it say?"

Cate Stillman founded Yogahealer.com in 2001 to guide Yoga people into Ayurveda and Ayurveda people into yoga. Built on the value of both personal and planetary thrive and a deep connect to one's ecosystem, community and body, Yogahealer grew into a team, 2 podcasts a week, regular blogging, an arsenal of courses to guide people into their potential, an a professional community + certification program Yoga Health Coaching. Cate wrote and self-published Body Thrive: Uplevel Your Body and Your Life with 10 Habits from Ayurveda and Yoga, an Amazon #1 Bestseller in Ayurveda, which helps people who dig yoga take a giant leap forward in their wellness trajectory with Ayurveda.