YHC Coach of the Month Mercedez Calleros

Mercedez Calleros is this Month's Yoga Health Coaching Coach of the Month! Learn more about her journey and how she overcame the challenges in her way.
What you'll get out of tuning in:
How did massage come into Mercedez life
How did Yoga Health Coaching get into Mercedez life
How to get through the fear and the laziness
Links Mentioned in Episode:

Show Highlights:
Mercedez explains how a community makes a difference
Mercedez shares how the habits changed her
Mercedez explains how important it is to get out of your way
Timestamps:
02:00 The beginning of Mercedez journey
08:40 A journey through coaching
26:25 Continuing to grow
36:53 Getting out of your own way
Guest BIO: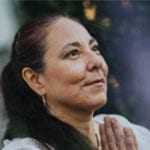 Mercedez Calleros has been a licensed massage therapist for 26 years. She has rounded out her work as a manual therapist to also include certifications as an Integrative Life Coach and a Yoga Health Coach. She comes to her work via an intuitive sense of knowing what others need to feel better and a passion to help them get there. As a child she watched as her maternal grandmother would treat people who were sent to her for healing of physical or emotional maladies. Mercedez was fascinated with the work and knew from a young age that she wanted to and could help others. She currently offers massage, talks, workshops and retreats on Cape Cod Massachusetts.

Cece LaCena is a humanist, writer, Yoga Health Coach, yoga teacher and holistic practitioner living in the UK She's passionate about the intersection of systems and personal growth through feminine perspective. She offers her workshops, programs and individual support for personal and planetary thrive online. Her tiny dog Daisy often graces those with her endearing presence (and frequently with very loud snoring).