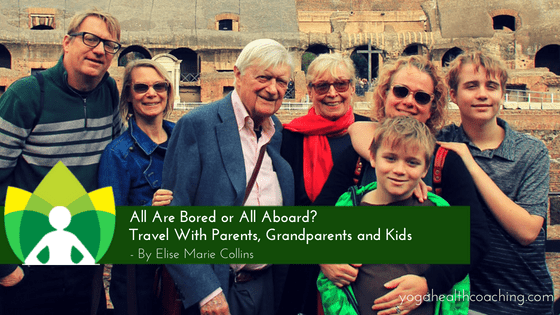 All Are Bored or All Aboard? Travel With Parents, Grandparents and Kids

Traveling or going on a family vacation with multiple generations can be fun or a pain.

The success of your trip depends on how you prepare and execute your trip. It takes advance planning to travel together with parents, grandparents, nieces, nephews, cousins, brothers, aunts and uncles.

It requires syncing up multiple calendars and getting everyone on the same page for your journey. And then when you arrive at your destination, everything could go so right or so wrong! Not everyone wants this type of family reunion but if you are all in, a multi-generational family trip can be a once in a lifetime event.

Last fall, I traveled to Italy with my parents, my adult brother, sister in law and my two nephews, ages 10 and 14. We traveled during American Thanksgiving. Our trip lasted about two weeks and was remarkable in many ways. We got to know each other, had adventures, learned many new things, and gained new appreciation of our family. There were pitfalls, moments of boredom, illness, exasperation and confusion, but all in all we worked through it and ended up having a blast.

Take Advantage of the Opportunity
As a Yoga Health Coach, as well as someone invested in intergenerational relationships, I want you to know that traveling with parents, grandparents, kids and teens will require work. I assure you it will be worth the effort and I am here to help you plan your trip.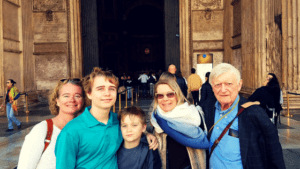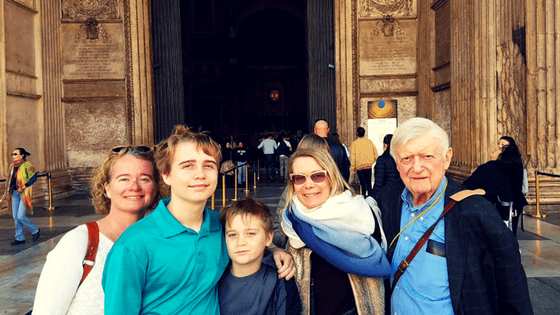 Technology, modern modes of transportation as well as a wealth of information make planning an intergenerational trip easier than ever before. As a student of Gerontology, I have learned that never before have so many older adults been alive on the planet. The opportunity to travel with two or three generations has never been as-as possible as it is today. I hope that my tips and tricks can help you to envision packing your bags and buying your tickets to enjoy a unique experience with multiple generations of family and extended family.
In advance of our family voyage, I wondered how things would go. We had so many different personalities and travel styles, not to mention the various generations that would be joining our tour. In Ayurveda and Yoga Health Coaching we learn to balance the elements of our own constitution. Traveling with multiple generations means lots of different elements of age and personality.
Balancing the Generational Doshas
In Ayurveda there are three distinct stages of life. All three stages would be present on our trip. The Kapha or earth stage of childhood was represented by my nephew Tucker, the fiery stage of life or Pitta which includes my teenage nephew Spencer and my sister in law, Joann. My brother, my parents and I are all over age 50 and would be considered in our wise years of Vata or air and ether.
All of these different stages of life have different needs and considerations. And then add to that mix that each one of us has our own personality blueprint and elemental makeup. Some of family members might be considered space cadets, forgetful, or running late. Other family members are slow, headstrong or determined to do their thing. How do you find balance with a diverse group?
Just as you balance your own constitution holistically, look to find balance in seeking what is missing or what will bring cohesion to the group.
All Aboard?
We started with a schedule.
My sister in law and I were informally nominated to come up with our plans. We were lucky to have the help of a travel company who helped us to book some tours with guides that catered to families and had experience helping us to explore Florence and Rome while not boring either the kids or the adults. We had a list of possible excursions and itineraries.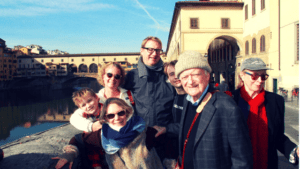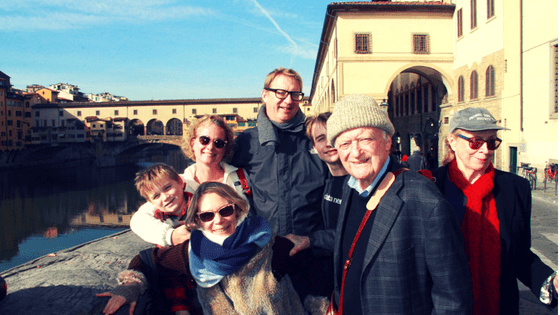 Wherever you are going whether it is wild nature or an historic destination, you can use guidebooks to come up with your own plan or use a professional tour or nature guide. The advantage of having someone outside your family as a guide will be that they will have a natural authority that hopefully all family members will defer to. If you can't get a guide or want to spare the expense, allow a family member to take on the roll of tour guide or leader. Whoever you choose, they will need to use their pitta energy. Make sure whoever directs your family group is up for the task of getting everyone all aboard.
I've compiled the tips and tricks of for intergenerational travel and adventures. I hope this list will help you to plan for your next trip whether it is a foray into wild nature, a tour in a foreign country or an adventure in your own homeland. Below are some ideas for you to feel confident that you will have fun the moment you say the words, Bon Voyage!
5 Tips for Fun Intergenerational Travel
1. Balance Each Day.
Know that all family members have competing interests yet seek a fulfilling shared experience. Split time between focused, intentional activities and plenty of UNPLANNED TIME. If you ask people to come together, whether it is for a crafting activity, a tour of local museum, or a hike to a local river, understand the need to follow that structured time with very unstructured time. Some will want to shop, others will want to sit by the pool. Some will want to go scuba diving, rock climbing or play video games indoors. These days when families get together the range of interests can be infinite.
Try to give everyone the mornings off and then schedule afternoon activities. Or schedule morning activities followed by the afternoon free. This way family members arrive fresh and ready to spend quality time together. There will be less of a need to skip out on any of the important plans that you have made and maybe even paid for if you give your family free time. No one feels trapped when there is plenty of down time. When all travelers know they have a day off to do whatever the heck they want it, intentional activities so much easier to do.
2. Appeal to All Appetites.
Find family friendly tour guides or activities that will satisfy the appetites of all generations. When we were in Italy, we had a wonderful tour guide in Florence who came up with several winning ideas to occupy the kids and tweens on our tour. When we went to see the statue of the David. Carlo brought along a sketch pads for my 10 year old nephew and his older brother so they could do their own rendition of the iconic marble figure. While both of my nephews don't consider themselves artists, Carlo gave them instructions for how to look at the sculpture and bring their own observations to pencil and paper. Amazingly, boredom was not an issue at that museum.
When we spent time in Tuscany my sister-in-law and nephews and me all took an Italian cooking class. There may be opportunities for breakout groups and enjoy certain particular activities such as cooking as a biking tour, a zip line adventure or taking in a local dance performance. Airbnb local experiences have an incredible selection of all kinds of mind boggling family and intergenerational activities, even if you don't book a guide through Airbnb look at the offerings. Just looking at the options can expand your creativity in terms of what activities might be possible. You will find family or kid friendly will be tagged as such.
3. Make sure that everyone has food, water and snacks.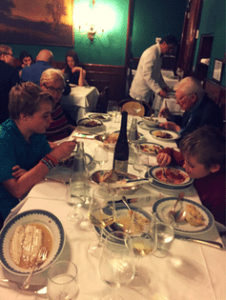 Keep all generations of travelers happy in the body, minds and spirit. is absolutely critical to the success of your adventures, especially if you are moving around in the world or in a foreign country. If you are at an all expense covered resort, this won't be an issue. If you are on a budget and or in a foreign country or walking around a place you don't know too well, be prepared.
If your 7 year old forgot to eat breakfast, he may not last through lunch on a long museum tour. If a grandparent goes on a long hike to a remote lake  becomes hot and becomes dehydrated things can go south for the whole group. When you are near chairs, have people sit. When you are near a bathroom, remind all generations to use the 'loo,' as they say in England.
You may want to put a person in charge of water, snacks, bathroom breaks and rest breaks daily. If you are on an outdoor adventure. Choose an adult for the daily checklist. At the start of your tour, adventure or hike, have that one adult can check in with group members, did everyone bring water, go to the bathroom, eat or bring a snack? Check, check and check.
Rotate the role of "camp counselor," so no one family member gets labeled as a nag. Everyone shares the burden of remembering to take care of simple body needs that become a bigger deal with large groups moving in the world.
4. Meals can be a boon or a bust.
Chances are you'll have at least one vegan and several serious carnivores. Make your own adjustments according to your trip. Does your grandma follow a Keto diet while your cousin prefers pasta at every meal? Check menus online in advance when possible and make compromises so everyone feels well fed and taken care of.
Some family members may like to eat an earlier, lighter, dinner while others prefer to dine late. In Italy some restaurants actually believe it or not did not open until 8PM. I ended up changing my own meal schedule on our trip. I skipped breakfast because if I eat a late dinner and then a big breakfast, I just don't feel good. Even though we always had an amazing complimentary breakfast served at our hotels, I stayed away, drinking only water, tea and juice until noon. I ate only lunch and dinner only and it totally worked for that trip. I never remember being hungry and of course it was Italy.
5. Use Boredom Buffers Wisely.
With modern kids and teens you may need to help them out with special boredom buffers to help them make it through a long dinner, lunch or other long drawn out activities.
I remember my nephews getting really fed up at some of the long drawn out meals,  multi-course meals in Italy, I think it was a double whammy of the length of the meals and that we went out every single night. My brother and sister in law allowed them to bring along electronic devices or books to keep them entertained, but not all the time and every night. You may have to compromise some rules to get compliance on others. Make sure to speak your terms clearly on electronic gadgets, especially with teens.
All Aboard for Fun and Adventure
The multigenerational train is leaving the station, all will be aboard for fun and adventure when you create the structure and balance the elements in yourself and your family.
Sharing experiences with multiple generations has never been easier to accomplish and I hope you will choose to give it a GO! If you have already planned or gone on a similar trip, leave your comments below. I would love it if you would share your favorite family travel tips or mis-adventures so we can all learn and enjoy the amazing opportunity of traveling with young, old and in between.