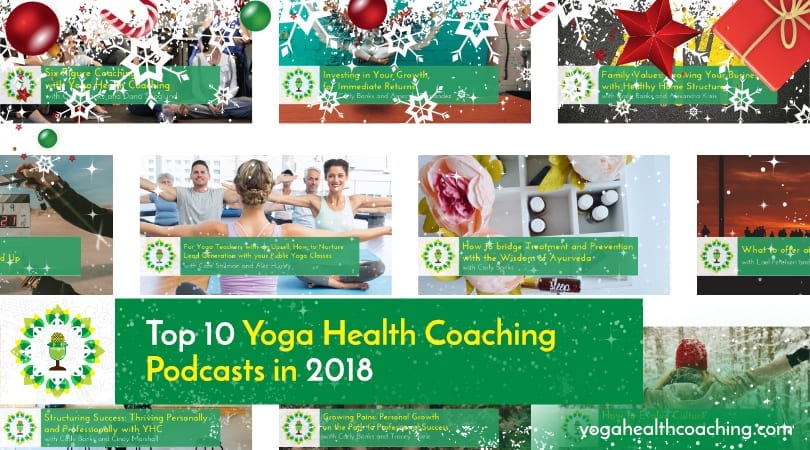 Top 10 Yoga Health Coaching Podcasts from 2018

In its first months, more than 57,000 people have listened to the YHC Podcast! We've recorded more than 80 shows in 2018, covering topics from Yoga Health coaching transformation stories to useful business coaching skills that support our Pro-Thrivers in their professional evolution.

We have learned a lot about creating better shows, and have had great exchange and support among the YHC Podcaster community. We would like to give a big thanks to all YHC Podcast show-hosts: Rosie Tait, Annie Barrett, Carly Banks, Neve Fletcher, Brooke Bailey, Gin Burchfield, Suzanne Lynch and Grace Edison.

If you are part of the Yoga Health Coaching community, and especially if you are in YHC Mastery, feel free to apply here for our new YHC Podcast season.

Here's to a prosperous 2019 behind the mic!

In order to celebrate our successes from the last year, here are our most successful shows in 2018:

Cate and Grace discuss the ways the doshas affect our self-limiting behaviors and how we can use our natural tendencies as assets. Vatas are very sensitive and naturally self-isolate in their own insecurity. They get excited about things but often change direction. Pittas are fiery. They're mentally sharp but can be critical and irritable know-it-alls. They struggle with "beginner's mind." Kaphas are stable and compassionate. They're loyal, bonded, and loving, but can be stuck in their comfort zone. They resist change and can be complacent. We all have one of these tendencies. No one is exempt. Get to know what your tendency is; flip it, and it becomes an asset.

Cate and Grace discuss the mindsets and habits of highly successful wellness pros. In her enrollment conversations for Yogahealer, Grace sometimes gets the sense that mindset problems are "squashing" the urgency to evolve, to be successful. Mindsets are mental habits. Highly successful people possess a strong belief in what they're doing and they're willing to do the "hard stuff" to reach their goals. They've refined the mental habit focusing on what they can accomplish right now that will get them to the future they so clearly vision. To help them with their mindset, successful wellness pros practice habits that include investing in themselves, uncompromising self care, and meditation.

Getting in our own way happens to everyone. But it doesn't have to. We can take the time to step back and observe our patterns, be open to changing how we converse with others and develop practices for becoming more clear on noticing it happening and taking steps to let go of those beliefs and habits. When we observe, open to change, and implement practical steps towards those changes, we get out of our own way. A career in wellness means deep self-investigation. Grace Edison and Carly Banks discuss their experiences with investigating how they get in their own way, why it happens, and what has worked for them to get rid of that habit and build in better ones.

Yoga teaches us how critical our patterns are, not only in shaping our bodies, but also in shaping our destinies. Through the work of habit evolution we can prepare our minds and bodies to do the deeper work of self-understanding. There is a yogic process for personal development, written about in the ancient texts of the Vedas and made actionable for modern life through the process known as The Four Desires, developed by Yogarupa Rod Stryker. In this episode of the Yoga Health Coaching podcast, Annie Barrett has a conversation with Four Desires Trainer Brooke Bailey about how the habits of dinacharya prepare us to go to new depths of self-understanding and do the work of our unique dharma.

Over 20 million people in the USA are affected by thyroid disease, and in the UK 15 in 1000 women are affected. Hormone replacement is routinely prescribed without any reference or regard to underlying cause. But there is good news! For those who are prepared to look outside the traditional medical model, functional medicine has an enormous amount to offer. But much of what is offered is based around dietary advice. Ayurveda has something unique to offer, and it's particularly helpful for the those who suffer from a Pitta imbalance (you may know this as a Type A personality). In this episode, two members of the Yoga Health Coaching community who suffer from Hashimoto's Thyroiditis share their root causes, their pre-diagnosis lifestyles, and how they each came to realize that dietary changes alone were just scratching the surface for recovery and maintaining health.

Often, we tell ourselves that it takes a certain type of person to achieve the things we want in life, and that we just don't have what it takes. We come up with all kinds of reasons that we can't do what we want, or be who we want to be. We get stuck in old mental patterns, or samskaras, and believe that this is just the way life is. In today's episode, Cate and Grace talk about all the ways we disqualify ourselves, and how we can break out of these limiting beliefs and outdated patterns to design the person we want to be, the business we want to create, and the life we want to live.

All too often, potential pro healers fall into lives and patterns that society deems "normal" only to find themselves years later unhappy, burnt out, and unfulfilled. Such was the case with Amarylis Fernandez. She thought she was doing everything "right." She had a husband, education, a home and career, yet felt lost in her life. She set the bar low for herself, accepting low paying work and settling in her marriage. The life she was leading wasn't bringing her joy, and she felt like she was just wandering through it. After the birth of her daughter, Amarylis came to her breaking point. Taking small steps toward health, Amarylis found Yogahealer. No longer pressing the "snooze" button, Amarylis has transitioned out of her old life. She is experiencing joy, and she is waking up to the possibilities this new way of life holds for her.

Yoga health coach Luisa Doerstel is a yoga teacher who was running around with a full schedule, trying to make ends meet. She felt ungrounded, unstable, and frustrated, especially because she knew that she was out of integrity with what she was teaching. She came to a point where she knew she needed to either quit or shift. So she shifted. She brought her struggles into her classes and integrated what she was learning with what she was teaching. By revealing herself, she deepened her connection with her students. She now leaves her classes feeling energized rather than depleted.

Yoga health coaches Neve Grace Fletcher and Suzanne Lynch chat about what they have learned about creating fun, authentic, in-person experiences for their course members. When Neve posted pictures of her course members having fun together in person, it inspired Suzanne to start organizing meet-ups for her course members as well. Suzanne coaches a large local contingent with whom she organizes monthly meet ups that revolve around her own strengths and interests. She also hosts open houses on Friday evenings that are open to anyone: friends, neighbors, local public figures. As a yoga health coach, when you're having fun, you'll naturally attract new members and elevate the entire experience for everyone!

Cate and Grace dive into the spicy and edgy topic on how to move from a place of feeling pissed to a place of empowerment. Our egos have a tendency to bring us down with the 4 D's of defense, distraction, discounting, and denial.  What we need is to take action and stand up to ourselves by making connections with our peers and forming strong and honest bonds. By forming peer groups we have a better ability to overcome our negative thoughts and habits. We gently nudge our egos out of the way in order to stay on our true paths towards connection and growth. In listening to the feedback our peers give us, we are able to build trust and gain confidence in ourselves and grow at a rapid rate, breaking through our glass ceilings.