Two Hashimoto's Thrivers Talk Answers Beyond Diet

Over 20 million people in the USA are affected by thyroid disease, and in the UK 15 in 1000 women are affected. Hormone replacement is routinely prescribed without any reference or regard to underlying cause. But there is good news! For those who are prepared to look outside the traditional medical model, functional medicine has an enormous amount to offer. But much of what is offered is based around dietary advice. Ayurveda has something unique to offer, and it's particularly helpful for the those who suffer from a Pitta imbalance (you may know this as a Type A personality). Of course, this group, by its very nature, is predisposed to development of autoimmunity. If that's you, listen up! In this episode, two members of the Yoga Health Coaching community who suffer from Hashimoto's Thyroiditis share their root causes, their pre-diagnosis lifestyles, and how they each came to realize that dietary changes alone were just scratching the surface for recovery and maintaining health.
What you'll get out of tuning in:
Why it's important to look beyond diet for answers to Hashimoto's
Why it's important to look for early signs of Hashimoto's
Why being gentle with yourself is key to Hashimoto's recovery
Links Mentioned in Episode:

Show Highlights:
4:00 – The western medical model is very limited in terms of autoimmune issues. Functional and holistic medicine look at the entire body as a system, rather than a set of separate systems, and focuses on holistic wellness rather than medication.
8:20 – The daily habits of Ayurveda form the foundation for wellness. They are so much more than just diet, and they are hugely important for Hashimoto's recovery.
11:30 – Ignoring our body's needs and signs of degeneration will only worsen our conditions. It is important to address early patterns of disease in your life in order to prevent more severe disease later.
17:30 – Often, we are rewarded for behavior that gets the job done now but will ultimately lead to our burnout. It is important to be aware of this and instead of becoming addicted to high intensity and forced drive, to get into flow.
28:00 – Sunlight and connection with nature is critical not only for people with Hashimoto's, but for all of us!
Favorite Quotes:
"The medical model is extremely limited." – Rosie Tait
"Now that we've found dinacharya, it's safe to say that the habits just form the foundation." – Rosie Tait
"With autoimmune disease in general, it is important that we are as soft with ourselves as possible." – Gin Burchfield
"Can we be forgiving with ourselves? Can we be gentle with the way that we express those habits?" – Gin Burchfield
"What if easeful living is the way?" – Gin Burchfield
Guest BIO: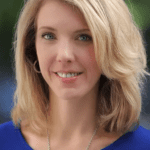 Gin began her career in massage, Ayurveda, yoga, and wellness in 2001, and has been in private practice in Raleigh and Cary, NC since 2008. She now specializes in Medical Massage Therapy and Ayurveda. Gin has also served as faculty in the Therapeutic Massage program at Wake Technical Community College since 2009 and enjoys her work as a Montessori Yoga and Anatomy Instructor through her self-developed "My Body is Science" program. She is currently studying to become a Certified Yoga Health Coach and is offering her new group-coaching formatted, 10-week program PURE HEALTH four times per year. Prior to this, she had the distinction of working at the Chopra Center for Wellbeing, founded by renowned physician and author Deepak Chopra. Here she learned Ayurvedic Massage Therapy and Panchakarma (detoxification) administration. She served as Assistant Supervisor in the Chopra Center Spa before being recruited to work as Therapeutic Bodywork Team Lead at Wellspace, a large integrative healthcare center formerly located in Boston, MA. Check her website and facebook page.

Rosie Tait is a former lawyer, raw food chef, autoimmune thriver and member of the YHC community. Having 'dropped out" of the mainstream corporate life to maintain her own health Rosie is committed to sharing the simple habits message in support women who are courageous enough to remain. Women are the change makers.