East Meets West: Rosie Tait and the Health Heroine on Mainstream Support for Ayurvedic Traditions

This episode of the Yoga Health Coaching podcast is brought to you by Rosie Tait, who is speaking with her friend Aileen Smith, also known as the Health Heroine.

Aileen and Rosie lived and breathed the corporate lifestyle until each found there was very little breath left. Aileen founded and ran a successful contract catering company, and Rosie was a partner in a law firm: each threw in the towel to change direction into health and wellness.

In this episode, the friends discuss how their journeys began with exploration of a plant-based diet as a healing tool, and how their food story has changed to become a story about holistic healing.

Rosie turned to the East, while Aileen stayed with a Western perspective, but the pair discuss how much common ground there actually is between the two, and how much mainstream support there is for Ayurvedic rituals of self-care.
What you'll get out of tuning in:
Why getting the basics right is so important
How stress influences health
Why health is about much more than just food
Links: 
Show Highlights:
6:00 – While in the past, plant-based diets were hard to accommodate, both in the mindset of our culture and in access to healthy foods, healthy foods are now much more mainstream, which is really a win for everyone!
8:30 – It's not just about the type and quality of food you're eating: rather, it is about how your body systems are processing them and performing. If your body systems aren't working together effectively, you can't get the results you desire.
14:20 – It is important to meet people where they are in their nutritional knowledge: starting with the easiest possible steps is the best way to get people to create lasting, sustainable change.
18:30 – One way to improve eating habits is to create ritual around meal time: taking time and space for your meal, and sitting to appreciate it without distractions, makes your meal more enjoyable and your eating experience healthier.
24:00 – Stressful lifestyles not only keep people from giving themselves the time to make healthy changes in their lives, but actually also have negative effects on their hormones and health directly.
28:00 – Sleep is incredibly important for overall health: establishing a bedtime routine that focuses on getting to bed and waking early is hugely important, not only from an Ayurvedic perspective, but also a Functional Nutrition one.
Favorite Quotes:
"It became about more than just the food." – Rosie Tait
"It's not just the fuel that you put into your body, but how your body systems are working." – Aileen Smith
"Like a car…, you put in the fuel, but you also have to maintain the engine." – Aileen Smith
"It occurs to me that the modern world is trying to produce the science to support what the Eastern/Ayurvedic theories world has been doing for years." – Aileen Smith
"Stress stops people putting into place what they need… to support themselves." – Aileen Smith
Guest Bio: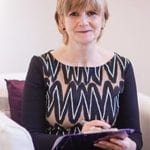 Aileen Smith is The Health Heroine, and is a former owner/director of The Catering People, Ltd., a hugely successful food and hospitality company in the United Kingdom.
When Aileen sold her contract catering company, she made a conscious decision to change direction and began to explore the role of food as a transformative tool in both a personal and professional capacity.
Now a nutritional therapist, she shares a rage of other therapeutic tools to keep her busy corporate clients firing on all cy

Rosie Tait is a former lawyer, raw food chef, autoimmune thriver and member of the YHC community. Having 'dropped out" of the mainstream corporate life to maintain her own health Rosie is committed to sharing the simple habits message in support women who are courageous enough to remain. Women are the change makers.