When Our Ego Keeps Us From Connection + Growth

Grace Edison and I dive into today's spicy and edgy topic on how to move from a place of feeling pissed to a place of empowerment. We discuss our egos and how they have a tendency to bring us down with the 4 D's of defense, distraction, discounting, and denial.  We discuss taking action and standing up to ourselves by making connections with our peers and forming strong and honest bonds.

By forming peer groups we have a better ability to overcome our negative thoughts and habits. We gently nudge our egos out of the way in order to stay on our true paths towards connection and growth. In listening to the feedback our peers give us, we are able to build trust and gain confidence in ourselves and grow at a rapid rate, breaking through our glass ceilings. When we take the time to pause, listen, and reflect on feedback we are given, we are able to see the habits we've created that we need to change in order to move onto our next level of self-growth.
What you'll get out of tuning in:
Where do our egos get in the way?
How do peer groups help us to grow?
How do we receive feedback well?
Links Mentioned in Episode:
Show Highlights:
1:10- From pissed to empowered! How our ego keeps us from connection and growth. We talk about working with our ego in order to own your actions and thoughts and realize your recurring patterns and change them.
9:50- We discuss how to use feedback from your peers or in peer groups. How to get to the point where you are super honest with yourself and with others and how to take feedback and use it to grow.

Favorite Quotes:
"She thought she could, so she did." – Grace Edison
"A very strong accountability group will generate an entire energy where they can see the key strengths that every member can bring, and they leverage those strengths." – Grace Edison
"We open our hearts, we collaborate rather than compete, we take action." – Grace Edison
"Stop being pissed and be empowered." – Cate Stillman
Guest BIO: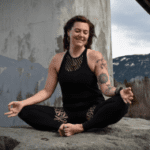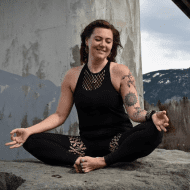 Grace Edison lives in British Columbia, Canada. She's a mom of twin 8 year olds, a Yoga teacher, studio owner, and Yoga Health Coach — and she also works for Cate Stillman in Admissions at Yogahealer! More than anything, she loves to make people laugh and has a not-so-secret dream of doing stand-up comedy. Grace has a strong passion for empowering others to take their health and wellness into their own hands. She loves building authentic relationships, making people laugh, and creating supportive communities. After a long-standing relationship with severe depression, Grace has found deep relief through the habits of Ayurveda — and much credit is due to Cate and her Body Thrive program. After taking Body Thrive several times and jumping into Yoga Health Coaching, Grace came aboard the Yogahealer team.

Cate Stillman founded Yogahealer.com in 2001 to guide Yoga people into Ayurveda and Ayurveda people into yoga. Built on the value of both personal and planetary thrive and a deep connect to one's ecosystem, community and body, Yogahealer grew into a team, 2 podcasts a week, regular blogging, an arsenal of courses to guide people into their potential, an a professional community + certification program Yoga Health Coaching. Cate wrote and self-published Body Thrive: Uplevel Your Body and Your Life with 10 Habits from Ayurveda and Yoga, an Amazon #1 Bestseller in Ayurveda, which helps people who dig yoga take a giant leap forward in their wellness trajectory with Ayurveda.