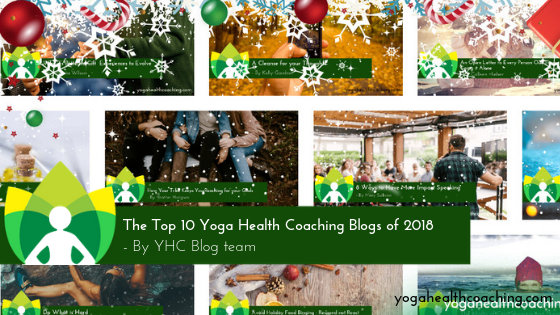 Announcing The Top 10 Yoga Health Coaching Blogs of 2018

The numbers are in…cue the drum roll…Here are the top 10 Yoga Health Coaching blogs of 2018.
Top 10 Yoga Health Coaching Posts This Year
Intermittent fasting has been a trendy subject lately.. What is it? Why would you want to do it? And what should you be fasting on are the central questions.

Back pain is a common problem. Blogger Paige Pearman offers solutions that helped her heal her own debilitating back pain.
There's a new coffee craze sweeping the globe, especially among those who call themselves healthy.
I don't know about you, but I am always looking for a good soup recipe. Alec Hurley delivers value with straightforward tips on Ayurveda, spices, as well as a savory soup recipe that is well worth spending some time in the kitchen preparing.
Overweight Vata was #1
Hey wait a minute, wasn't that blog on last year's list? Yes, Overweight Vata by Cate Stillman was the #2 blog last year. And by the way, most of this year's top posts were repeats from last year. What can we learn from this? When you write, pick a good topic. A blog that has staying power will tap into something deeper. Top blogs typically solve a common problem or explain an innovative solution.
In the case of Overweight Vata, Cate Stillman created a video response to a question on the Living Ayurveda Forum. Capitalizing on a growing interest in Ayurveda, Cate's blog also illustrates the power of paradox, Vatas are usually rail thin. If you are a blogger, listen to the questions people ask you, your answers could very well become a number one blog in 2019.
Classic Blogs Remain in the Top Ten
Alexandra Epple's popular posts continued to hold places in the top ten. Besides being a Yoga Health Coach, she's a community health educator and instructor at the California College of Ayurveda. A down to earth pro, her revered knowledge is often shared in the Yoga Health Coaching community and beyond. Her posts, such as How to Treat a Problem with Peristalsis are always chock full of valuable information.

Trendy Topics Create A Buzz
CCF TEA-New Age Fad or THE Ultimate Ayurveda Digestive Aid? by Alexandra Epple shows up on the first page of a google search for "CCF tea." Another way to produce a blog to be remembered-tap into trends. Type the words "Bulletproof coffee Aurveda" into google and you will find Krista Strayer's 2017 Blog, Bulletproof Coffee, Rocket Fuel Lattes, Ayurveda and Me at the top of the page.
A Winning Blog is a Collaboration
As an editor, I enjoy watching bloggers hone their skills. I remember reading the first draft of The Ayurvedic Clock – Are You at War with Time? by Yolanda de Cuevas. I didn't know what it was about. Often as writers, we assume everyone understands what we are writing about. Working with an editor or with writing buddy, feedback can be critical to a polished final piece. Bloggers who work in community to can craft powerful messages. Yolanda de Cuevas came up with a brilliant workshop idea in her blog that is destined to be a classic.
Looking Back
It's always fun to look back and see what progress you made in your career and your life in a year. The YHC blogging team has grown from two editors to four. We have more bloggers than ever before creating inovative content at the intersection of Ayurveda and health coaching.
New Bloggers Paige Pearman and Alec Hurley both made it into the top blog list. And if history repeats itself their blogs will climb the charts in 2019. Paige Pearman's blog on how to treat Vata back pain offered relief to many who suffer from debilitating physical pain. Alec Hurley, a professional chef, demonstrates how to turn a delicious recipe and Ayurveda tips into a classic blog that was shared 61 times on social media.
Pass the Popcorn
As editors, we get a front row seat in the creative process. We get to watch Yoga Health Coaches gain confidence and skill in expressing their opinions and ideas. And we grow and learn along the way. Here are some quotes from our team.
"I love editing blog posts that are both practical and educational!" Marcia Wilson

"When writers get out of the way, amazing content comes through with ease. The paradox is that it's a challenge to get out of your own way when you blog." Elise Collins

"I learn more about Ayurveda and health habits AND I'm part of a process of sharing out wisdom in a simple way. Posts like Alec's blog on seasonal soups give us quick ways to nourish ourselves and our families." Marcia Wilson
"What I learned as an editor was the importance of reading out loud for editing. Any sentence or paragraph that I have to read out loud several times indicates a lack of flow. Simplicity of words is almost always best!." Kari Zabel
How Far Have You Come?
Take a moment as you reflect back on the year and look over the top ten posts.
What can you learn from these blogs as a Yoga Health Coach? As someone on an evolutionary journey? Do you have similar lessons and insights in your life? As a coach are some of your messages may be like the repeat blogs. You keep teaching the same thing, YEAR AFTER YEAR. As someone on a spiritual journey, we often circle back to the same lessons again and again. It may be tragically boring, or terribly exciting. A lot of life is rinse and repeat. Keep on Keeping on Yoga Health Coaches.
What new lessons did you learn this year?
What are ideas and insights that you use over and over again. Comment below.