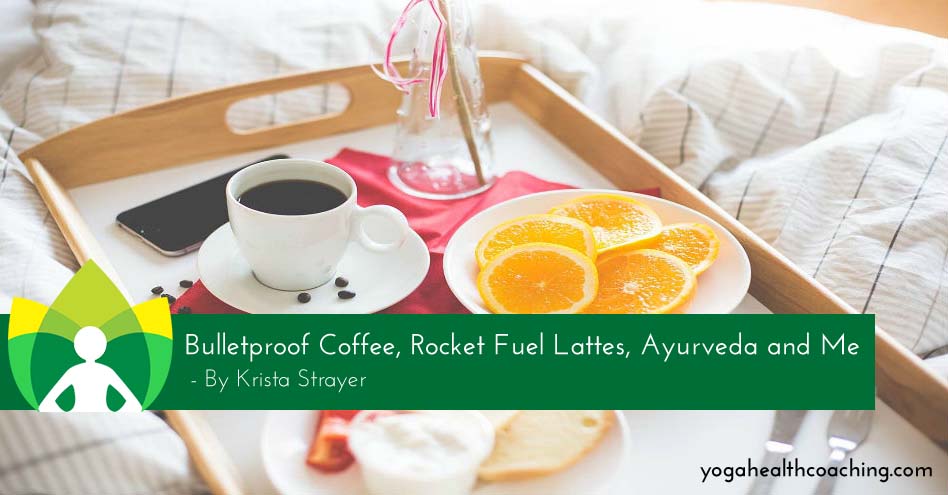 Bulletproof Coffee, Rocket Fuel Lattes, Ayurveda and Me

There's a new coffee craze sweeping the globe, especially among those who call themselves healthy. I would call myself healthy but at the same time I'm always coming up with a new justification for indulging in what I know is not good for me.

And before you think I'm judging – oh no! I freely admit to being addicted to my morning cup of brew. Ok, maybe not freely – admitting to drinking coffee is like coming out of the closet in Ayurvedic circles. I love the way it fulfills my need for a bitter taste and I love it even more for all the productivity I get from drinking it.

Plus this high octane brew often contains Ghee – the Ayurvedic superfood. It can't be bad for us if it has ghee! The health benefits of Ghee include; lowering cholesterol and high blood pressure, reducing inflammation in the body, improving colon health, stabilizing metabolism, weight loss, improves bone density and bone development, removes toxins and balances your hormones… Whew!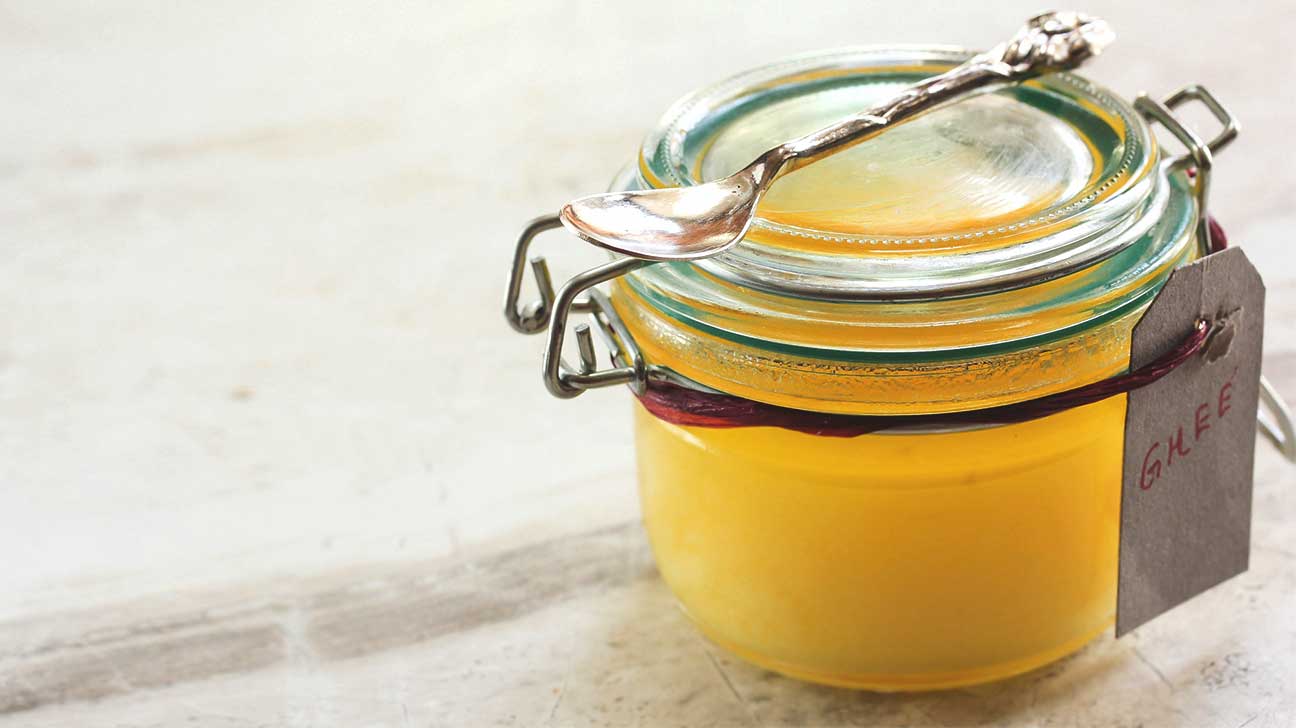 Coffee Detox Rollercoaster
I have been on the coffee detox roller coaster more times than I can count in the past few years and always keep coming back to my favourite indulgence so when I heard there's a way to even out the caffeine high so my body doesn't crash and get the junkie shakes, I was all over that!
Maybe this Bulletproof trend of adding a stabilizing fat to coffee is the way I can drink it, love it, and not get the shakes and crash afterwards.  Definitely worth checking out in my book.
Not long after I first heard about this new form of "buzz" from a friend who is opening up a hip new "buddha bowl – Bulletproof coffee" shop, it became a hot topic on the Yoga Health Coaches forum. In wellness circles, there is often confusion over having "fat" in the morning. My clients and yoga students wonder if this is a good thing – especially in coffee? Since the question comes up again and again as my clients look to up-level their health and productivity, I thought I would dive in, or take a "bullet" so to speak and try it out.
The Ayurvedic Take on "Bullet Proof Coffee"

One of the best resources shared on the Yoga Health Coaches forum was from Dr. Svoboda, one of my favourite Ayurvedic gurus. Dr Svoboda supports the practice of adding high fat to coffee as a way to prolong your daily fast until mid-morning. He uses his ghee and coffee blend to even out the caffeine high and boost productivity. He cautions though that "caffeine itself can be either a food, medicine or toxin depending on your dosha and your individual situation."
The bitter taste can be a hard one to get in our diet. However, the bitter taste supports the detoxification process within the body and leads to clearer focused thinking. Sources of bitter taste besides coffee are chocolate, dark leafy greens, eggplant and spices such as turmeric, cumin and saffron.
Your Dosha on Caffeine..
For those of a Kapha constitution coffee can be an excellent way to kickstart movement and energy. Those with Pitta constitutions receive balancing effects from the bitter taste of coffee. However,  Pitta types need to be aware that the acidic nature of coffee can add too much fuel to their fiery natures. Vatas are typically on the move too much already. The extra stimulus of coffee can result in unfocused thoughts, as well as energy depletion. Vatas need to guard deep energy reserves from unnecessary drains.
Again – telling me what I know but would rather not know! My little Vata body gets a little too excited from my bitter indulgences. For those with a high Vata nature or Vata imbalance, it's really easy to overdo it. Too much bitter taste, caffeine in particular, can start to deplete our deep energy reserves. This tonic we take to perk us up, can actually cause long term energy depletion.
Having heard all this about coffee before, deep down, I know it's likely not the best choice for me, and yet I'm still hopeful that maybe this added fat will even out the "buzz" and allow me my one little morning indulgence.
What is Bulletproof Coffee?

The official "Bulletproof" coffee uses XCT-Oil, a coconut oil derivative that is processed using steam and water. Bullet proof claims the components of the coconut oil that are derived with this process are similar to the natural ketones your body creates when converting fat to energy. Thereby providing you with a longer lasting energy high.
Other variations of the brew also referred to as Rocket Fuel Coffee use coconut oil instead of ghee, hemp hearts, protein powders and include mocha variations.
Two Reasons to Drink Bulletproof Coffee
There are two supportive camps for the high octane brew with added fat. One group of fans chose the drink for more productivity. The other group of supporters use Bulletproof coffee as a meal replacement for breakfast and ketonic drink to help lose weight.
The productivity group wants to even out the caffeine "high" so there is less of a crash later which results in lower productivity and increased snacking on carbs. Adding fat to our energy source (even our green smoothies) slows down the metabolization of the energy giving us a smaller, longer lasting peak.
The weight loss crowd uses the fat content as a meal replacement and the caffeine as an appetite suppressant. Bulletproof coffee follows the paleo-no carb protocol.The problem, according to the Healthy Home Economist, is that not having protein in the morning suppresses our production of serotonin throughout the whole day. This also affects melatonin levels and at night and this can lead to restless sleep patterns. Low serotonin is also linked to depression, poor bowel function, low bone density, slower blood clotting abilities, and low libido. Not fun side effects!
Taking One for the Team

Just writing this blog is making me question my coffee habit again. Do I really want to fasten my seatbelt and get on that detox roller coaster again or maybe… it will be a different ride altogether?
For the sake of the experiment and the YHC blog I went ahead and sampled a cup of Bulletproof Coffee this week at a local coffee shop. I ordered the traditional ghee and XCT oil coffee blend. Unfortunately I can't say I was impressed. The layer of golden fat on the top was less than appetizing especially after it cooled while I was chatting away with one of my Nourish coaching clients about the wonders of the 10 Body Thrive habits. Just get me started and I can talk all day… I'll give Bulletproof one more try at my girlfriend's new hip cafe. But I think I might be better off by jumping on the roller coaster again and blending up a smoothie with a bit of added fat for longer lasting energy.
What do you Think?
What are your thoughts and experiences on Bulletproof coffee? Do you think it's the bomb? Or is it a shot? What am I missing? And how did it affect your productivity, weight loss and sleep patterns? Share in the comments below!