How to Boost Your Self-Care Habits Applying The Four Tendencies
What is Self-Care?
"In dealing with those who are undergoing great suffering, if you feel "burnout" settling in, if you feel demoralized and exhausted, it is best, for the sake of everyone, to withdraw and restore yourself. The point is to have a long-term perspective."

Dalai Lama
Do you feel burnout settling in? Disheartened? Exhausted? Who doesn't? Your feelings and aches and pains are clues. Something is off. You need care. Self-care is knocking at your door. So withdraw and restore yourself. You deserve to care for your physical, mental and emotional wellbeing.
"I'd love to! But…"
Do I have time for it? Do I deserve it? I'm not sure how woo woo I am. What does self-care look really like? Google "self-care" and you'll find hundreds of ideas. Some lists will tell you to "go to a farmers market", "buy a new candle" or "drive with the windows down." Other lists are more productivity oriented, "ditch the to do list", "learn to say no", "declutter". So where do you start? Before you define WHAT you want to do, it's worth exploring what might be getting in your way. What are your "buts" to self-care? What stops you from sticking to a self-care habit and enjoying the ride of your life? Step inside. Let's find out. I know I should but…
"There is only one corner of the universe you can be certain of improving, and that is your own self"

Aldous Huxley
You know that self-care is good for you, don't you?
Still, self-care is a blind spot for all of us, we catch a glimpse of it here and there. A bi-monthly massage, a weekly yoga class or a bath at the end of a long week are not enough. Self-care needs to become a daily priority in order for us to enjoy physical, mental, emotional and spiritual wellbeing. But changing habits is hard! Yes, and that's an excuse you need to confront head on. So what's your excuse sign?
Time: "I just can't add one more thing to my to do list."
Self-Worth:  "It seems so selfish to spend all this time alone."
Knowledge: "I just don't know where to start."
Conformity: "Self-care is silly. It's so not me!"
Which one of those "excuses" do you relate to most?  You'll likely relate to all of them. But the one that seems most familiar is a signal of how you respond to expectations. Your tendency.
How do you meet expectations for Self-Care?
In her eye-opening book, "The Four Tendencies", Gretchen Rubin reveals four ways, or tendencies of how we typically respond to internal and external expectations.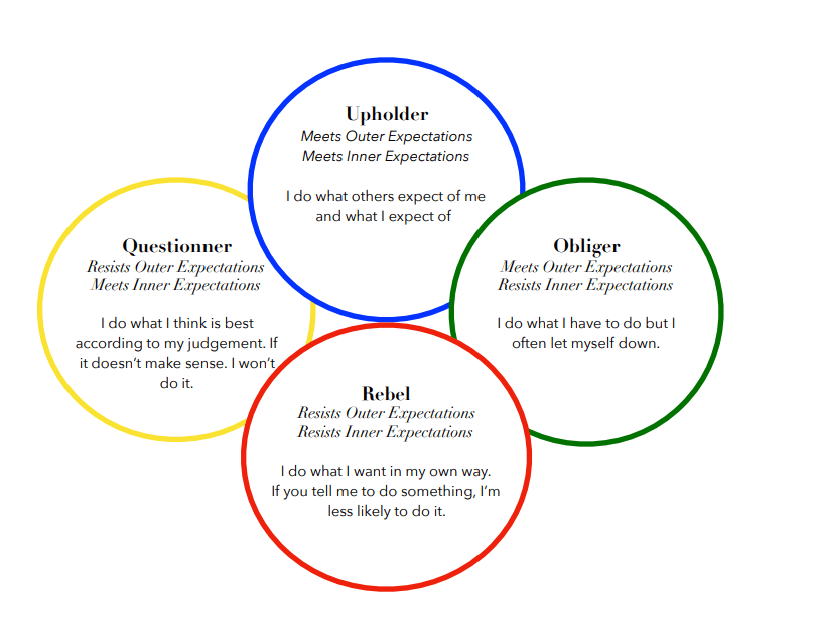 Know thyself, Care for thyself. Which tendency sounds most like you? If you need a little help, take Four Tendencies quiz here. Don't be surprised or disappointed by your reaction. We often don't like to shine the light on our excuses or limitations. You may think, "Well if my tendency is to be an obliger or a rebel then won't I always favor caring for others or laugh off my attempts?".
"This self-knowledge is crucial because we can build a happy life only on the foundation of our own nature, our own interests, and our own values."

Gretchen Rubin
Knowing your tendency is not another excuse for giving up on self-care, rather, awareness of how you respond to expectations can be a valuable asset on your self-care journey.

Customize your Self-Care to Match Your Tendency
Developing self-care habits takes skillful practice. If you want to boost your self-care habits, experiment with one or more of the habit changing strategies that sync with your tendency. Let's get specific In Body Thrive, we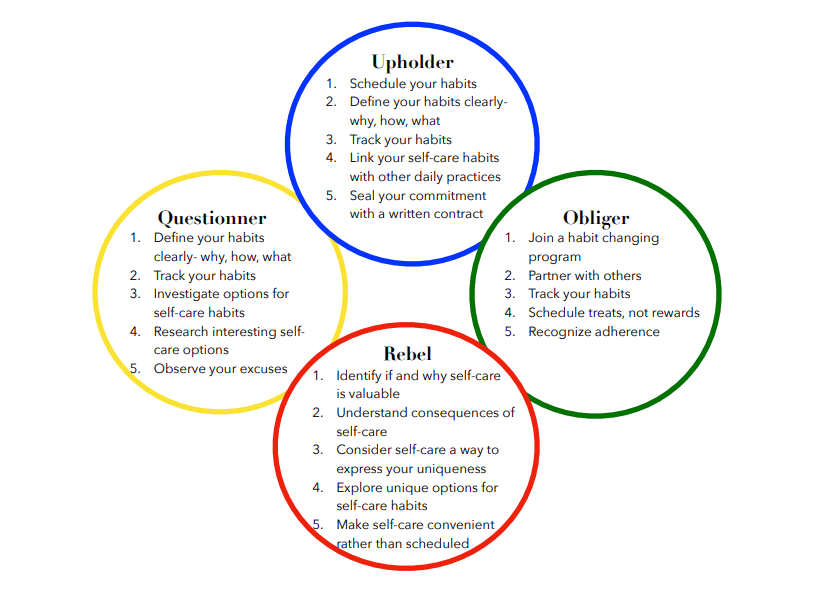 promote 10 daily self-care habits. You will nourish, move, rest, sooth and connect your body, mind and spirit. Easeful Living. That's our orientation. But you will confront many objections on your self-care journey. Resistance. Fear. Doubt. Disbelief. Want to overcome those objections? Boost your success by apply specific strategies that sync with your tendency. For instance, the first habit (often the most challenging) is Early Lighter Dinner (ELD). The "expectation" here is to eat a simple (one-pot dish, soup or salad) meal and finish eating before 6pm. Let's look at how you could apply your tendency to boost your ELD success.
Obligers:
Set up a self-care partnership with a friend or family member.

Start simple. Agree to wind your dinner time back 10 minutes each week. Lighten your usual meal (reduce protein and fat, increase veggies).

Share with your partner. Each day, call, text or email and report how you did and how you feel.
Warning! According to Rubin, obligers are the most common tendency. You tend to put others first and skip out on your own needs. When you don't care for yourself, your body, mind and spirit will rebel. This could look like an acute injury or illness or a chronic condition like anxiety, depression, autoimmune disease, arthritis. No thank you! Put yourself first for once.
Questioners:
Do your research. Know why you would want to eat and earlier lighter dinner (Hint: To lighten the load on your digestive system before you go to bed).

Be curious. Experiment with different meal options (steamed veggies and rice, carrot ginger soup, roasted beets and greens).

Run the numbers. Note how you feel the next morning when you eat heavier and later vs. earlier and lighter. (1: snooze! I can't get out of bed – 10: Yes! I feel awesome!).
Warning! When your questioning nature spirals out of control, your head explodes and you'll be overwhelmed before you start. Keep your self-care experiments small, simple, pleasurable.
Upholders:
Set up your weekly meal plan and do your grocery shopping on the weekend.

Track your daily meal time and morning energy level.

Prep your dinner when you make your breakfast.
I'm 99.99% an upholder! I need a schedule and a method for sticking to it!
Warning! All work and no play, makes me a restless and bitter soul. If I get too strict about my scheduled habits, my jaw tightens, heart races and breath shortens. All signals point to anxiety, the upholders nemesis! I choose to care for myself, so that I am open and available to enjoy life and the people in it! Are you with me?
Rebels:
Ask yourself a few questions:

Why on earth would you want to eat and early lighter dinner?

Stellar physique, crystal clear thoughts, radiant spirit. Want those? The consequences are shocking!

Who do you want to be: someone who's stiff as a board or flows like water?

Call yourself out as the "cool one" among your friends who eat later and heavier and can't seem to shed the extra 5-10 pounds or complain about feeling lousy and unfocused.

Be curious. Experiment with different meal options. Follow your own call. You've got choices. Which one feels like it will help you the most?
Warning! While you love dancing to your own rhythm, you need others for support too. Make your dance more engaging, enchanting, fulfilling. Surround yourself with the other people and their wellbeing vibration. You'll find your unique way there.
"It's been freeing to focus on what works for me rather than what's wrong with me."

Gretchen Rubin
Take care: Self-Care
All of us could benefit from more self-care, no matter if you're an obliger, upholder, questioner or rebel. Embrace your tendency. Discover what you need to thrive at your best! If you want to maximize your self-care benefits, join a group, like Body Thrive or find a coach that works in a community near you. Being in a group of self-care seekers will be one of the most rewarding adventures of your life.
"The happiest, healthiest, most productive people aren't those from a particular Tendency, but rather they're the people who have figured out how to harness the strengths of their Tendency, counteract the weaknesses, and build the lives that work for them."

Gretchen Rubin
What tendency are you? Share below if this helps you stay on track to build the life that works for you.