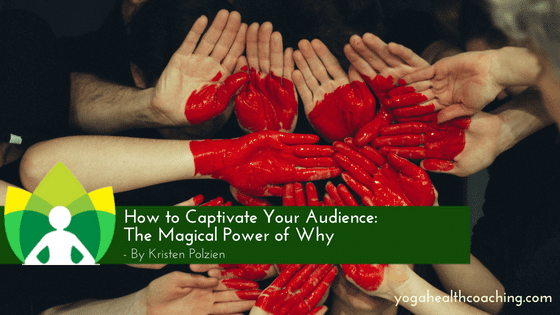 How to Captivate Your Audience: The Magical Power of Why

Showtime. Are you nervous?

You've been invited to a party with a bunch of health-conscious people. A potent stage to practice your magical marketing tricks.

"What do you do?"

The moment arises to captivate with the supernatural powers of self-care. And…

Poof. Your mojo vanishes in midair.

You succumb to the spell of sameness and spit out, "I'm a yoga health coach and I help people get healthy."

Yes, that is what you do. And what you do is amazing, but there's a more powerful way to captivate your audience and win new members.

Do you want to know what it is?

Put on your magician's hat and get ready to charm.
What do you do? – Take 1:
You arrive at the party early, eager to connect. The host and her friend are scrambling to prepare the final dishes.
The host introduces you. This is my friend, Kristen. She's the one I told you about. She's marvelous.
"What do you do?" her friend asks.
"I am a yoga health coach; I help people change their habits and get healthy." She smiles. "Interesting," she mumbles with a guilty expression as she takes a sip of wine to wash down cheese and crackers.
You upgraded your pitch, fusing in the habit element. You help people get healthy (what they want) by changing your habits (how they get what they want). But if you want to fascinate, you've got to dig deeper.
Shake it off. Center yourself. Look for another opportunity to practice your magic.
What do you do? – Take 2:
You overhear two women bemoaning weight loss drama.
"I went in for my annual exam and my doctor told me my blood work shows that I'm prediabetic. She said I've got to lose some weight or go on meds. She told me to come back in 6 months to follow up. So I decided to go on the keto diet. I heard it's great for blood sugar. I've been following the rules for about a week. I'm down a pound but I miss my carbs. I'm not sure how long I'll be able to go without bread."
The women invite you in with a smile. You douse the doctors "advice" to cultivate connection, "Doctors frustrate. They tell you what to do but not how to do it." They nod and you continue. "I coach groups of people to change their habits so that they can get healthy. You'll get more support and direction for how to follow through with diet and lifestyle changes. One of my members is a diabetic, and he's lost 30 pounds. Now his A1C is better than ever."
Their eyes soften. A silent invitation to continue. "In my year long program, I guide people through 10 habits of Ayurveda, nature's science. We meet every week and troubleshoot around how to make these transformational habits a part of our life."
"Oh I've heard of Ayurveda. I love the natural idea! What kind of habits? Tell me more."
Shazam!
You dazzle with a few habits and "how tos." "You'll eat an earlier lighter dinner, go to bed early and poop every morning, move your body and meditate. We do fun stuff like make smoothies, and soups, give ourselves foot massages and practice Qi Gong."
Eyes roll instead of sparkle. "That sounds like fun but I know I don't have time for all that. I'm not a morning person. I work late and my partner loves a big meal at night. I can sit still, and I hate any kind of slow movement. I've got to get a good sweat on."
Curses. Another failed trick.
Before you go on to Take 3, let's pause and consider a different approach. Instead of starting your pitch with what you do and how you do it, you need to captivate your audience from the inside out.
Why do you do what you do?
The Magical Power of Why
"People don't buy WHAT you do, they buy WHY you do it." Simon Sinek
As a health coach, we are operate on three levels: what we do, how we do it and why we do it. All three levels, what, how and why, are vital to cultivate know, like and trust with potential members. But when you start with why, you reveal your supernatural powers.
Your why has more influential value than your what. Why is this? To answer this question we need to look inside your brain.
Simon Sinek, inspirational thought leader, exposes the profound power of why in his book Start with Why: How Great Leaders Inspire Everyone to Take Action. He proposes a model deemed "The Golden Circle" to explain how we can effectively attract and inspire people to work with us.
The Golden Circle reveals that your why corresponds to the limbic system of the brain. "This the part of the brain responsible for all our behavior and decision making. It's also responsible for all our feelings, like trust and loyalty." Simon Sinek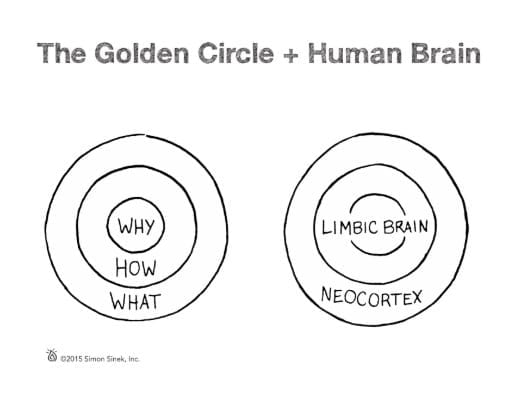 Be inspired by Simon Sinek's brilliant Ted Talk here.
When you start with why, you are touching the emotional brain center.
When you simply focus on what you do (the features and benefits), you're literally only scratching the surface. This is how you approached Take 1: "I am a yoga health coach and I help people change their habits and get healthy."
Your what addresses the part of the brain responsible for rational and analytical thought, and language. The neocortex is also crucial for verbally expressing our desires. But if we are relying solely on the neocortex to make decisions we'll often get sucked into an analytical thought hurricane. Analysis paralysis looks like resistance. You'll need call in disaster relief ASAP to recover from the "what first" pitch approach. Recall how the woman responded in Take 2: "I'm not a morning person, I work late and my partner loves a big meal at night. I can sit still and I hate any kind of slow movement. I've got to get a good sweat on."
"We all know what we do: the products we sell, the services we offer or the jobs we do. Some of us know how we do it: the things that we think make us different or stand out from the crowd. But very few of us can clearly articulate why we do what we do." Simon Sinek
How to Find Your Why
"At its core, the WHY is an origin story. Who we are is the sum total of all the experiences we've had growing up—the lessons we learned, the teachers we had and the things we did." Simon Sinek
To find your why you need to apply several magical elements, a hefty dose of patience, a willing partner and a TON of practice. The most magical element may be compassion. You must have compassion for yourself. You must tap into your own limbic system and conjure up the emotional language that will captivate your audience. Good news: you can train yourself to craft and express your why.
In Simon Sinek's follow up book: Find Your Why: A Practical Guide for Discovering Purpose for You and Your Team, you will discover a step by step process to uncovering your magical gifts.
You will gather and share stories, identify common themes, and work with your partner to draft your why statement. The adventure takes time (3 + hours with your partner). And you will continue to refine as your why evolve your business. 
My working why is: To inspire people to become the brightest expression of themselves so that they are free to enjoy vibrant wellbeing. I've practiced my why in a few different contexts and it resonates with me and my audience. Over time, I know I'll refine it if I want it to captivate and attract members who share my values and beliefs.
"When we align emotionally with our customers and clients, our connection is much stronger and more meaningful than any affiliation based on features and benefits. That's what starting with WHY is all about." Simon Sinek
Time to take your new magic show on the road. Third time's a charm.
What do you do? – Take 3
You find a group of 3 fit folks talking. One tired looking woman bemoans, "I just can't seem to shake this cough. Our 10K is coming up, I got this massive deadline at work, and my kid is struggling with her econ class at State. I've been tutoring her every night for 2 hours after dinner. I'm lucky if I get to bed by midnight. I can barely drag myself out of bed for 6am trail runs."
Perfect setup for your Why Magic Show. First, take a deep belly breath. Ground your excitement.
You're invited into the circle. Empathize and start with why.
Your magic trick: Why – How – What – from the inside out. Dare to captivate your audience.
"Hi I'm Kristen. I couldn't help but overhear your struggle. The energy battle is so frustrating. I was working out every day and eating pretty healthy, but I would hit a lull after lunch and I could barely focus after 2. The battle magnified after I hit 40. (Pause for connection) Then I took a deep dive into how to source my energy. And I've never felt better. Now, I wake up every day to inspire people like you to enjoy vibrant wellbeing. You love being outside, right? Nature's your best ally. When you sync your internal clock with the natural rhythm of the day, you'll conquer your boundless energy quest. I guide people to practice self-care habits that give them that PR feeling every day."
A little ambitious? Over the top? To woo woo? Maybe. But you'll know your trick is a success when you hear "Yes, that's what I need! Tell me more."
Some people may look at you like you have three heads. But that is a reflection that you are tapping into an unspoken realm being. Underneath the perceived doubt lies an emotional desire for change. You want to connect with people who want to unearth their emotional desires.
Your Why is an undying belief, purpose or cause that's bigger than you. When you express your why, you will connect with people who share your beliefs and values. These are the people you want to work with. These are the people who will follow your lead. These are the people you can guide through your transformational program.
Sure. Context matters. You may not deliver your pitch with the same opening when you make a cold call to a potential partner or community. But the essence of your why (your contribution and your impact) needs to hold up in every show.
Work Your Magic
You are a gifted magician. You possess a unique elixir that can help people transform stress into vitality.
Where do you start?
You start with WHY.
It's not deception. It's powerful.
Will it be hard? Yes. But do you think David Copperfield made the Empire State Building disappear overnight?
Abracadabra. Alakazam. Presto-Changeo.
On with your show.
"Once you understand your WHY, you'll be able to clearly articulate what makes you feel fulfilled and to better understand what drives your behavior when you're at your natural best. When you can do that, you'll have a point of reference for everything you do going forward. You'll be able to make more intentional choices for your business, your career and your life. You'll be able to inspire others to buy from you, work with you and join your cause. Never again should you have to play the lottery and act on gut decisions that are made for reasons you don't really understand. From now on, you will work with purpose, on purpose." Simon Sinek
So tell me – what's your why?