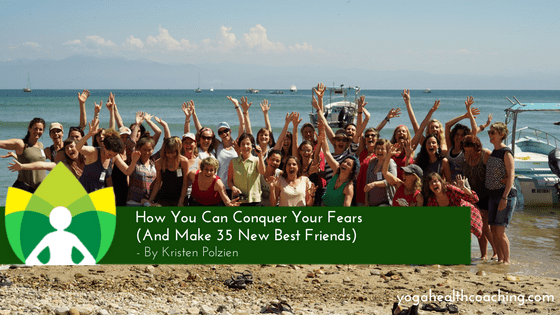 The Transformative Power of Retreats: How You Can Conquer Your Fears (And Make 35 New Best Friends)

Deep Inquiry Uproots Fear: "How will you show up?"

Cate Stillman, our innovative, inspiring, Yoga Healer leader, raised that unearthing question at the opening of the Fall 2017 Yoga Healer retreat in Rapid City, South Dakota.

Cate's question hit me (and I'm sure many others) like a bulldozer plowing down a community of trees, vigorously clearing space for retail development. Have you ever witnessed such ground shaking heartbreak?

Sometimes expansion hurts, tugging at your roots, exposing your heart space, leaving tears in your eyes.
Deep Inquiry Uproots Fear: "How will you show up?"
Have you ever been uprooted by such a question? What did you do? Did you fall down, freak out, cry, or question your beliefs? Yeah…I thought so.
"How will you show up?" sparks deep inquiry, leading to more questions, provoking self-doubt and fear.
What do you mean how will I show up? I will show up as me, isn't that enough? Do I have to be someone else? Who am I if I'm not me? I can't do this alone. And the mind spins madly on.
Never having been to a Yoga Healer retreat before, I had no expectations and many hidden reservations. My surface-level response to Cate's question was 'I'm all in. I'm ready for action, I'm will engage my edge' (3 potent Yoga Healer Ground Rules for Dynamic Groups).
Transformation, collaboration…bring it! You can't resist the mobilizing vibe that Cate emits.
Discover New Roots: Yoga Healer Forest is Calling You Home
Instead of being carried away by fear, you can use deep inquiry to explore new mental, physical, emotional, spiritual roots, ones that will nourish you not suck the life force out of you. Your evolution depends on the network you tap into. 
Similar to a deciduous forest, the Yoga Healer community is ready to support your evolutionary growth, through every season. We will not leave you flailing alone, like Charlie Brown's Christmas tree, because we need your roots too!
"The reason trees share food and communicate is that they need each other. It takes a forest to create a microclimate suitable for tree growth and sustenance. So it's not surprising that isolated trees have far shorter lives than those living connected together in forests…rendered deaf and dumb.",

Tim Flannery
(Inspired? Add The Hidden Life of Trees to your reading list)
The Transformative Power of Retreats
Before the RCSD (our YH tribe speak) retreat, I was hanging out at the edges of the YH community. I got on as many calls as I could, jumped in the Facebook forum a few times per week, worked the habits and started leading my own habits course, building roots in my local community.
But something was missing. My roots needed a different kind of energy. I was confident about what was slowly growing underneath me but I wanted to extend my branches and physically connect with other trees who were on the same growth path and a few seasons ahead of me. 
I was jealous of the vibrant connections I sensed between more "mature" members. I wanted in. So I took the monumental (pun intended) leap to Rapid City. The retreat theme (all retreats have a connecting theme) was "Breaking Glass Ceilings". Oh ouch! I'm in!
After a few days at the retreat, some of my old gnarly roots surfaced. I know I wasn't alone. Self-doubt and fear were palpable. My self-saboging tendencies – isolation and judgment – scraped at my insides. I began to compare my personal and professional progress to other tribe members. I didn't have all the 10 Body Thrive habits dialed in. Does anyone? 
My business was in it's seedling phase. I wanted to slip off in a corner, shivering alone in the wind. But guess what? The tribe and our vibrant leader drew me back in. My natural lively spirit lit up as we goofed around at nightly improv and prioritized connectivity, listening deeply in small circles.
"It appears that nutrient exchange and helping neighbors in times of need is the rule, and this leads to the conclusion that forests are superorganisms with interconnections much like ant colonies.",

Peter Wohlleben
I started to feel like these people (superorganisms) really cared about me and I cared deeply for them. I had a new home, a new family. 
A forest of friends I could trust.

We Never Stop Growing
After the retreat, a small group of us stayed connected through weekly support calls. The energy from the retreat and our weekly calls nurtured our continual growth.
I was now growing in all directions, down, out and up. I guided my first coaching group through 12 weeks of their own habit transformations and I was on to my next group.
Yet, I sensed I was playing it safe. I burrowed in the comfort of my small community (kind of nice in winter). But I knew I was stunting my growth. I needed nurturing energy sap again. Thank Goddess another retreat was around the corner!
Next Stop…Mexico!
This time there were more of us (35). SUPping, surfing, whale-watching, thai massage, fresh fruit and seafood, Cate's famous balls… Yum!
Being Fed

Oh… and then there was the stuff that really fed us. The Collective Leadership theme wove it's way through all of our group and partner activities. We tapped into who, what, why, how and how many we are leading.
We all wanted to know how we can show up and serve each other and our communities from rooted, connected and authentic ground. It was clear by the end of the retreat that we got what we wanted and more. 
Thank you to all the amazing women who supported me as some deep scars emerged. Your love was a sweet sap that has been missing from my life for a long time.
Rotting Roots Need to be Pruned.
We left the retreat with many vital strategies but on the top of the list was pruning. You must cut back things that are stealing energy from your dharmic core. You must own up to and align yourself with your strengths. You will feel liberated as you prune away old habits, mental patterns, emotional ties, and physical barriers.
All Members are Welcome!
No matter what Yoga Healer course you are thriving in, you are welcome! Cate is a master of making everyone feel welcome. If your goal is deeper integrity with the habits, your business, your relationships, you'll be well fed. 
We leave no one out.
"Every tree, therefore, is valuable to the community and worth keeping around for as long as possible. And that is why even sick individuals are supported and nourished until they recover."

Peter Wohlleben
See you in Salt Lake City! 
Are you ready for your next phase of growth? Me neither. A little scared. Me too. If you truly want to evolve, you need a community. Rumor has it we're gonna be doing some shadow boxing.
Be all in.
I'll leave you with one of our Ground Rules for Dynamic Groups. This one is top on our list:
"Dynamic groups gain traction when every member is fully engaged. Being "all in" turns on our ability to listen deeply for the truth or essence behind the words. Being "all in" means being equally interested in our personal growth and the group's growth. Each member takes responsibility for the group's experience. In a group, being "all in" means speaking up to step into more growth for oneself or for another member. When a dynamic group is "all in" for each member, they have each other's backs. This creates a safe space for growth. Those who are shy or "lurking' call themselves forward to participate with the group in a more interconnected way. Those who "dominate" call themselves back to build the support container for the group. Everyone can then show up more fully, attentively and vulnerably."
Conquer your Fears.
Be all in. 
The Yoga Healer Forest Awaits You. 
Join us at the next retreat in Salt Lake City, Utah!