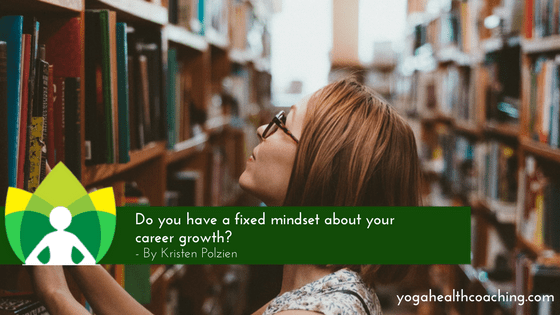 Do you have a fixed mindset about your career growth?

I'll do it myself. I don't need any help.These were my childhood mantras. Embracing life's challenges solo was my MO. Oh the challenges of a 6-year old… tying shoes, picking out clothes, doing math homework..I chuckle and secretly long for those challenges. What's strange though is I'm not an introvert. I'm a Supporter, Star, Deal Maker, according to my Wealth Dynamics Entrepreneur Profile. This means I'm relationship oriented. I shine in the spotlight. I am good at negotiating.I readily offer support to others. But as my childhood mantras suggest, apparently I'm not so good at asking for support. I have a tendency to contract and isolate when I enter unfamiliar territory. Does this happen to you? As an aspiring solopreneur, I'm adventuring into foreign territory all the time. Every direction points towards growth. Do I want to forge ahead in a contracted, isolated state or would I benefit by expanding and reaching out for support?
I've run the experiment.
The results: Trying to launch my wellness career alone sucks! In business, going at it solo is a dead-end path.You're a wellness leader. You care about helping others. Are you having the impact you desire? If so, great, forge ahead. If you want to enjoy exponential growth, read on. You'll see why going at it alone is a fixed, dead-end approach and be inspired to transform your mindset and nurture your potential in a dynamic group of growth-minded wellness leaders. 
The key to growth is the introduction of higher dimensions of consciousness into our awareness.

– Lau Tzu.
While growth is one of my highest values, I have a tremendous fear of failure. I don't want to expose myself in the early stages of development. I don't have enough information yet. I can't possibly have an impact if I'm not an expert. People will see me as a fraud. Instead of asking others to support my growth, I contract, isolate, and drown my desires in fear. I shut down the growth path from the get go. Sound familiar? What I realize now is that although I value growth, my mindset around growth has been fixed. There was only one way to grow and it was on my own. After all isn't that what solopreneur means?
Which Mindset are you operating from?
"Your mindset is the view you adopt about yourself." Psychologist Carol Dweck's book Mindset: The New Psychology of Success cracked open my mind about how I had been viewing myself as I contemplated my dreams. 
Your mindset profoundly affects the way you lead your life. It can determine whether you become the person you want to be and whether you accomplish the things you value.

– Carol Dweck.
Dweck describes 2 mindsets fixed and growth: "The fixed mindset makes you concerned with how you'll be judged; the growth mindset makes you concerned with improving." I was approaching my business dreams armored with fear of judgement and failure.
According to Dweck, we can have different mindsets about different parts of ourselves. You may have a growth mindset when it comes to your intelligence, believing that your intelligence is malleable, while you may believe your personality traits are fixed. My stubborn, "I'll do it alone" approach is a fixed mindset that I've clung to for too long.
Isolation is a self-sabotaging behavior that feels like a contraction around the heart. Growth is not possible in a contracted, isolated state. Not only was my fixed mindset closing off my heart, my head hurt. Trying to build a website, blog, learn about marketing, do my own accounting, were all foreign to me. I may have looked at a few websites trying to figure out how to assemble these pieces on my own. But did I ask for help? Heck no!

Is fear of failure holding you back?
I didn't want to risk being judged. I would see feedback as criticism rather than support. Intolerance to criticism, mistakes and setbacks is classic fixed mindset according to Dweck. In my contracted state, I couldn't see that the work I desired to do, pursuing my passion, required a group. Late in 2016, my mind cracked open. I couldn't take the mind-numbing pain any longer. One day after many years of following Cate Stillman on Yoga Healer podcasts and blogs, I decided….ENOUGH! I reached out. I was ready to admit I needed help. I became a member of the Yoga Health Coaching community. Joining the YHC community has been the smartest decision I've ever made. Why did I wait so long? Before joining the Yoga Health Coaching community, I had a fixed mindset about growth. I was going to grow my business on my own. I was going to do it my way. I didn't want to seek out help for fear of failure and judgement. I needed to shift my mindset. If I wanted to inspire others to grow, I needed to adopt a growth mindset. And I needed a community to shift my mindset from my isolated fixed way of doing things to a dynamic, growth-oriented approach. 
This growth mindset is based on the belief that your basic qualities are things you can cultivate through your efforts, your strategies, and help from others.

– Carol Dweck.
The last part of that quote is life enhancing…help from others.
Our community has a growth mindset.
How do we support a growth mindset? We have rules. No, these rules aren't about right and wrong. The Ground Rules for Dynamic Groups of Yoga Health Coaching are about cultivating our unique abilities to inspire growth through dynamic group engagement. The intro to our "rules" reads: All members of your dynamic group are on a growth path and their pace on this path accelerates in an engaging and supportive environment. As each member "pays forward" their attention and commitment to the group, the group gives back exponential value to each member. Higher levels of growth and development only happen when we surrender to and commit within a dynamic group and stop trying to evolve alone. BAM! That's a growth mindset! Together we Engage our Edges and Nurture Identity Evolution and we Reach Out When We Tweak Out (3 of my favorite rules). We connect through private Facebook forums, weekly coaching calls, mentorship, bi-annual retreats, mastermind groups and more. "Why look for friends or partners who will just shore up your self-esteem instead of ones who will also challenge you to grow? People in a growth mindset don't just seek challenge, they thrive on it. The bigger the challenge, the more they stretch.", Carol Dweck. So again, I ask you: Are you having the impact you desire? If not you may want to check your fixed mindset at the door and try on something new…a growth mindset. Stop wandering aimlessly. You can change your mindset and it's much more adaptable in community. Nurture your passion in community. You need a community to thrive. Welcome to our Tribe! Open arms, hearts and minds await you. Check out Yoga Health Coaching and accelerate your growth. "
We have all known the long loneliness, and we have found that the answer is community.

– Dorothy Day