Coach of the Month: Alexandra Kreis

Alexandra Kreis comes from a traditional yoga background where the guru doesn't 'advertise'. When she moved back home to Germany from Ireland, her struggle against burn out ended up worsening. Searching for a way to create community for her long-term clients, she stumbled across the Body Thrive book club program. With that success under her belt, she started the Yoga Health Coaching program.

Alexandra and Cate discuss how the program created ease for her and her students. Having a guru curriculum, or "gur-icula" actually hearkens back to the old model of mentoring, rather than the burn-out-guaranteed model in the West today.

Along with celebrating the structure and Alexandra's new life of easeful career, Cate and Alexandra discuss the profound power of the habits on family and community.

For those in the health and wellness biz, the discussion on value and profound impact offers insights into connecting with potential clients and helping them better realize what investing in their health can do to their lives, families, and communities.
What you'll get out of tuning in:
Why you want to balance focus between the business and coaching side of the YHC program
How to tune more deeply in to the value of the habits for the benefit of your clients and potential clients
Why you want to focus your wellness programs on community support and encouraging members to speak openly with each other
Links Mentioned Episode:


Show Highlights:
2:13 – Alexandra's initial training in her wellness career taught her 'not to sell', which led to burn-out and struggle to create a sense of community for her peeps.
6:28 – Out of her love of community and desire to create that for her students, Alexandra discovered the Body Thrive book club, which evolved into enrollment in the YHC program.
9:21 – Old guru communities, "guru-iculas" were community based…when the West adopted new wellness paradigms, they lost that value of community when they integrated those wellness paradigms.
15:17 – Cate and Alexandra discuss the differences between YHC 1.0 & YHC 2.0.
18:13 – There is no one-size-fits-all model for moving through YHC. Part of fully engaging with the program is deeply listening to how others are incorporating the YHC structure into their process, and being willing to listen to the data over our assumptions and biases.
27:19 – When our core people get pulled into the habits, we gain support and traction and culture is transformed.
29:57 – As wellness practitioners, a critical part of lead generation is understanding the profound impact of the rippling, life-positive effects of the habits of body thrive.
Favorite Quotes:
"if you think to the guru communities of your past, they were built around long-term member sustainability. Get to know us, acculturate, become part of it. So the more we can mimic that, but have a financial structure to it that's sustainable, and gives us career thrive, gives us financial thrive." – Cate Stillman
"Those who feel like they need a little bit more time for themselves in the whole thing, don't be shy to take that time, because the model works and it doesn't matter how quickly it works for you, it's the confidence you want to have with it." – Alexandra Kreis
Guest BIO: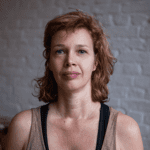 Since childhood, I have always felt happiest participating in the community in my external life and engaging in spiritual discovery in my private time. In the community, I experience myself through the reflection of others, whilst ensuring that I make time to connect inwards and maintain my roots.
It is, therefore, no coincidence that my professional career has brought me into the deeper layers of self-awareness and discovery, whilst assisting others on their own path.
Connect with Alexandra on her Website and on Facebook page.

Cate Stillman founded Yogahealer.com in 2001 to guide Yoga people into Ayurveda and Ayurveda people into yoga. Built on the value of both personal and planetary thrive and a deep connect to one's ecosystem, community and body, Yogahealer grew into a team, 2 podcasts a week, regular blogging, an arsenal of courses to guide people into their potential, an a professional community + certification program Yoga Health Coaching. Cate wrote and self-published Body Thrive: Uplevel Your Body and Your Life with 10 Habits from Ayurveda and Yoga, an Amazon #1 Bestseller in Ayurveda, which helps people who dig yoga take a giant leap forward in their wellness trajectory with Ayurveda.