Coach of the Month Adair Finucane

When Adair Finucane started YHC, she went all-in. And the results are there, for everyone to see. Learn more about Coach of the Month, Adair Finucane, and her experience coaching.
What you'll get out of tuning in:
How to fast track and enroll successfully
How to make a bigger impact and more money
How to help people's soul journey
Links Mentioned in Episode:

Show Highlights:
Adair shares her YHC experience
Adair talks about her experience with wellness diversity
Adair explains how she uses her intuition to help her members
Timestamps:
1:55 The beginning of the YHC experience
6:12 Connecting with the community
11:22 Stimulating intuition in others
Guest Bio: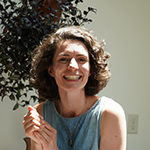 Adair Finucane is a yoga educator, Ayurvedic wellness facilitator, and social worker with a background in trauma research. Her mission is to help healers of all kinds to fill their own cups, so the work they do in the world can be amplified.

Cate Stillman founded Yogahealer.com in 2001 to guide Yoga people into Ayurveda and Ayurveda people into yoga. Built on the value of both personal and planetary thrive and a deep connect to one's ecosystem, community and body, Yogahealer grew into a team, 2 podcasts a week, regular blogging, an arsenal of courses to guide people into their potential, an a professional community + certification program Yoga Health Coaching. Cate wrote and self-published Body Thrive: Uplevel Your Body and Your Life with 10 Habits from Ayurveda and Yoga, an Amazon #1 Bestseller in Ayurveda, which helps people who dig yoga take a giant leap forward in their wellness trajectory with Ayurveda.