Everyday Ayurveda Cookbook: Simple. Empowering

Kate O'Donnell shares the story of developing her cookbook, Everyday Ayurveda Cookbook, and how it's simplicity and beauty has made it such a success. Listen for tips to use in your home kitchen, everyday. She gives Yoga Health Coaches insight into helping their clients build healthy cooking habits. And shares about her next book, Everyday Ayurvedic Cooking for a Calm, Clear Mind. Overall, Kate's approach to sharing the wisdom of Ayurvedic cooking is simple, accessible, and empowering.

Years of experience as an Ayurvedic practitioner have laid the groundwork for her communicating clear and easy ways to nourish yourself in the kitchen. The priority of her visually calming cookbook is practicality. The tips in this episode are nothing but simple and practical, too. You're sure to walk away with something tasty to try in your kitchen as soon as possible!
What you'll get out of tuning in
Why you don't need to know anything about Ayurveda to cook from Kate's Everyday Ayurveda Cookbook
How to simplify your cooking regimen so it's easy for you and delicious for your entire household
What to drink to stay cool on a hot summer day. Hint: it's not just water!
Show Highlights
02:00 Kate talks about what make her book unique, simple, and accessible.
07:10 Recipe and discussion about learning basic tools to cook from scratch
16:45 Tips for how Yoga Health Coaches can help clients get over the hurdle of cooking by preparing simple, nourishing foods for themselves
18:39 Kate discusses her new book, Everyday Ayurvedic Cooking for a Calm, Clear Mind, and why she needed to write it
Favorite Quotes
02:04 "There is really no use trying to tell someone to modify their diet if they don't know how or don't believe they have the time to prepare the foods you're teaching them about." –Kate O
03:34 "I wanted [readers] to feel…inspired, excited, hungry, just feel legitimate hunger for real food, just simple food." –Kate O
05:30 "I do think that if people eat a seasonal diet, they're like 60 percent ahead of the game already."  — Kate O
07:10 "Do you know you can saute zucchinis in ghee for 5 minutes, stick it in the blender with broth, salt and pepper, and you're good to go?" –Kate O
09:20 "What's in the fridge, what's in season, what's at the farm, what's at the farmers market, what's in my garden?  [Allow] that connection with your intuition, and the little bit of knowledge that you have, and also the desire that you have for something, and then just [use] your hands, and that is very simple and empowering."  — Andrea
12:01 "There's a basic thing going on here that's called making kitchari. It doesn't change. You soak it, you boil it, you put some spices in it. But maybe the spices changes, maybe the oil that you use changes, and then certain vegetables change…You don't have to reinvent the wheel. You soak it, you boil it, and add a few different things." — Kate O.
12:39 "I adore cooking and I tend to use cookbooks as a reference point, more than a follow along. There are definitely times when I really need to follow along with something and I can feel overwhelmed or daunted, and the simplification of your book is beautiful in a way because it's empowering, [the cookbook is] like: 'yea I have something to share with you that can help you, but really you have all the tools you need. If you can get this down pat –soak, boil, add…. Then [you] can get more comfortable with subbing something in…and it can still be really nourishing for you. And that the point is really about taking care of ourselves, the practice of self-nourishing and self-love." — Andrea
16:45 "If we as coaches send them in our own words, a recipe, just a real simple little thing, like oatmeal, I think the client, because of their connection with you, is more likely to make it….Having a couple of things in your own words, I think that's really going to hit home." — Kate O
18:39 "Within a year or two of practicing, I noticed that, more than half the time, disharmony was the mind, not in the body. Even if it was presenting in the body, it was coming from the mind…. There would be this one thing that keeps recurring, and it would be totally related to stress."
20:45 "Spring comes around, when it's dark and cloudy out, I feel really down. So I start using pepper and ginger and green vegetables." — Kate O
22:50 [Kate's next book is] "out in mid-March [2018]. It's Everyday Ayurvedic Cooking for a Calm, Clear Mind." — Kate O
24:25 "To make an herbal water with fresh herbs is a great idea. Cook the water until it reduces to half with a sprig of mint in it. The other thing that's awesome is to make fennel tea, and drink it at room temperature. I think it helps the body to deal with the excess water and oily qualities if it's humid out or to manage heat. It makes everything a little less puffy." — Kate O
Guest BIO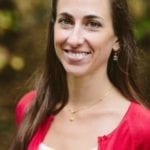 Kate O'Donnell is the author of The Everyday Ayurveda Cookbook: A Seasonal Guide to Eating and Living Well. She is a nationally certified Ayurvedic Practitioner and Ashtanga yoga teacher based in Boston, and still travels to India annually for study. Kate began yoga by accident in South India at age 20. More than a dozen extended trips to India and nearly twenty years studying the wisdom traditions of the sub-continent support Kate's understanding of Ayurveda and Yoga.  She specializes in Ayurvedic education, cooking skills, and cleansing programs, offering on-line programs, residential immersions and trainings, and individual consultations. Her Ayurveda and yoga offerings aim to help others come closer to their true nature.

Andrea Catherine's passion is cultivating communities of fearless self-love and self-care. As a Hatha Yoga Instructor and an Ayurvedic Health Counselor, her ever-evolving work is sparked and sustained by people eager to transform their lives to flourish as grounded, joyful, and at ease people at home in their health. Listen to Andrea Catherine's podcast, Grounded Here. or check out her website grounded here.  Follow along as Andrea and her pup, Porter, get lost on Montana roads and find themselves swimming in reservoirs, hearing live music, and smiling at the mountains.