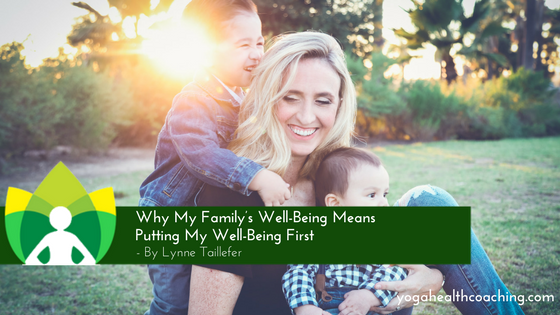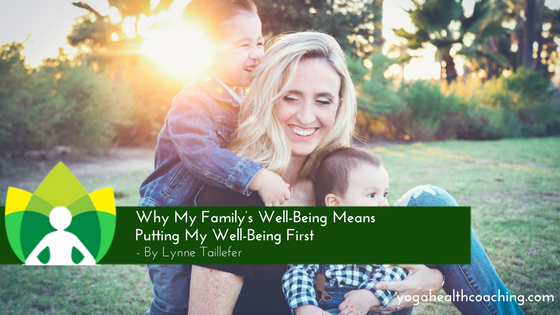 Why My Family's Well-Being Means Putting My Well-Being First

Society has been dressed with the idea that a mother cares for the well-being of her family first. Only when she's burnt the candle at both ends and completely burn out, will she urgently cry out for help from her surrounding peeps and do it all over again.

But what if we would dress this idea by reversing them? What a concept! 

This is my mission as a Yoga Health Coach:

And I was put on the spot in the last month.
When Your World Falls Apart
6 weeks ago I picked up the phone and got the news that my man's brother died of heart problems. My heart started pumping. I could feel the blood flow fast through my veins and my feet leaving the ground. I gripped hard into this conscious awakening of feeling this news settling in, including both my hands on the kitchen counter. Right then I made myself two promises and focused all my energy on two foundational habits that I would stick to no matter what; eating earlier and lighter and exercising every morning.
Why?  Because I knew my man would need all the support he could get. A sick run down partner, mother for him and our children, was not going to be of any help. Being a Yoga Health Coach I knew by experience and coaching my clients through hard times these two habits would be of core help during this difficult grieving time.  
The Earlier Lighter Dinner
An earlier lighter dinner created a domino effect for me to feel into my fatigued body and mind.  This offered me permission to be in bed earlier for a deep and resourceful sleep. The more shut eye we get we build a strong immune system for the long term and short term of our well being.
A study by Janet Mulligan on sleep loss and inflammation proves the relationship between deep sleep and our immune system. Reading this article helps to understand why eating earlier and lighter optimizes sleep. With this simple practice, I knew my body would be armed and rested to defend against any immune challenges that would arise in my surrounding and changing environment.  Explaining my need for sleep to my family was now easier than ever.
Get Moving in the Morning
Have you ever noticed that when you exercise you get more energized? This is an increase in endorphin levels in the body. In effect we kind of get high.  Our cardiovascular system gets boosted which allows you to have greater endurance throughout the day.
Exercising in the morning became documented ritual for me. To help me track this daily habit beside my light switch in my room I posted Mastery Habit Tracking sheet. Every day I would check off a box when I completed this one habit. 
Each movement became so precious and became my lifeline to this divine source of energy that energized my whole being on all levels.  Movement sharpened and focused my mind to digest my own emotions and able to hold space for my family during this sad time in our lives.  During this crisis setting up my day with exercise was crucial.

Living in Crisis
NEXT: to break the news to my man. Off he went to be with his family to begin the grieving process. The full responsibility of our two children fell naturally onto me. 
I scaled down my agenda to the necessary;  teaching my yoga classes, my YHC exam, keeping up with my free talks. Canceled everything else.
One of my strengths as a mother is asking for help. It's a community that raises a child. Right?  As one of my main family values, it's important that I be a role model for other families to reach out in the time of need and not get burnt out. And in turn, I reached out to my community to help with babysitting and to fill my freezer with healthy foods which freed up more time for me to be where I was most needed. 
Two funerals and three weeks of traveling, my entire family fell ill with a nasty virus and was bedridden for 7 days each, one after the other, Mom to the rescue for another 2 weeks. Ouff!
Effortless and Automated
As time passed I noticed the two fundamental habits I chose were effortless and automated. Allowing me to be fully present to respond to my family's needs and I noticed that they held the fort for the rest of my habits to fall into place.
And guess what? I haven't been sick. Investing my time and energy towards my well-being held true, in my eyes, to my family's actual need: to fully be present to meet their needs for their well-being.  
Have you ever caught yourself in a habit that didn't align with your desired intention and influenced the rest of your daily routine?  
sleep earlier but eat a big meal that keeps you awake all night

exercise in the morning but go to bed too late the night before so you sleep in

___________(add your own) but don't do it
These essential habits are also known as keystone habits. Which is in reference to stone masonry when constructing an arch way, it's the last stone place in the middle of the arch way to hold every other stone in place.
Our habits are our daily building stones of our daily routine and are actioned out one after the other, but which one holds the fort?
I stuck with two of them and proved to me that they were strategically placed for a strong integral foundation as a mother. Which habit(s) are your Keystone habits? And WHY? Comment below I'd love to hear what keeps you strong when you need it.