How to Generate Abundance Doing What you Love with Amy McDonald

I rap with spiritual business coach and yoga teacher, Amy McDonald, about growing your business, making money, yoga, and spirituality and how to make a living doing what you truly love. We discuss the yoga instructor business model and what it looks like to make money with ease versus struggling to make a living as a full time teacher. We tackle questions such as, how do you know if it is time to leave your current job and jump into a wellness career and how do you go about doing it with confidence and clarity?  We discuss where money and spirituality intersect and if it is possible to have both with integrity. And guess what? It is possible! You can be in a happy place where you are doing what you love, teaching others about health, wellness, yoga, and spirituality AND make money while doing it! We also talk about the concept of finding a 'space' to teach and realizing that a space can be an online forum instead of a room or studio.

Listen in on today's Yogahealer Real Life show and learn more about welcoming prosperity into your business and making money teaching others about your passion!

What you'll get out of tuning in:
How to welcome prosperity in your healing business.
How can money and spirituality work together?
What does having your own business space look like?
Links Mentioned in Episode:

Show Highlights:
1:30 – Amy and I chat about how did we made the transition from our previous jobs to our current health coaching lifestyles? Our friends asked us for advice and moved us towards this path of wellness and helping people be heal and grow.
7:30 – How can you make a living teaching yoga without getting burned out on doing what you love? The business model that Amy works with to help people succeed teaching yoga to prevent burnout and low ojas and the difficulties of owning your own yoga studio.
15:00- What does it mean to have your own space to grow your business? Are yoga and spirituality mutually exclusive? What would you do with a ton more money?! Amy and I dive into these big questions in the second half of today's podcast.
Favorite Quotes:
"If you don't root, it's tough to rise." – Cate Stillman
"Any time I up my earning game I'm going to up my impact game." – Cate Stillman
"The more money we make is directly proportional to the more we're serving people and the more people are being healed and transformed." – Amy McDonald
Guest BIO: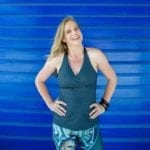 Amy McDonald is a business coach for Yoga teachers. When she's not travelling the world sipping chai and nerding out about Yoga she lives in a historic town in Australia's goldfields with her terrier Stephen and a garden full of kangaroos and lizards. Find her online at amymcdonald.com.au or on her Abundant Yoga Teacher Podcast on iTunes. Connect Amy on her Facebook page and website.

Cate Stillman founded Yogahealer.com in 2001 to guide Yoga people into Ayurveda and Ayurveda people into yoga. Built on the value of both personal and planetary thrive and a deep connect to one's ecosystem, community and body, Yogahealer grew into a team, 2 podcasts a week, regular blogging, an arsenal of courses to guide people into their potential, an a professional community + certification program Yoga Health Coaching. Cate wrote and self-published Body Thrive: Uplevel Your Body and Your Life with 10 Habits from Ayurveda and Yoga, an Amazon #1 Bestseller in Ayurveda, which helps people who dig yoga take a giant leap forward in their wellness trajectory with Ayurveda.