Intuition and Herbal Wisdom: Gin Burchfield Asks Cate About Plant Medicine

How do I get to know my ecosystem?
How do practitioners select herbal remedies for their clients?
Ayurvedic practitioner and founder of Yoga Health Coaching, Cate Stillman, explains her his herbs as an Ayurvedic Practitioner. Learn how Cate mixes herb formulas + harvests from her ecosystem.

Herbal remedies are not a one-size-fits all.
Good medicine is good for your outer ecosystem as well as your inner ecosystem. Find out how to tune up your intuition and intuitive plant wisdom.
What you'll get out of tuning in:
How to use intuition and your native ecosystem to create the best herbal formulas for you or your patients
Why it's important to use herbs to support lifestyle changes when battling autoimmune diseases
How do I get to know my ecosystem? Find out.
Links:
Show Highlights:
2:05 Gin and Cate discuss how and why Yogahealer began selling Ayurvedic herb formulations
7:05 Cate describes the benefits of participating in work-study programs as well as implementing them in your business
8:55 Gin and Cate discuss the importance of intuition, rather than a standard formula, when mixing herbs for people or yourself
10:20 Cate explains why she believes taking herbs should relate to a person's internal and external ecosystem, and that the use of herbs should be in conjunction with lifestyle habits
Favorite Quotes:
"I knew that I was in it for the relationships. And it still is that way in the work study program… it's really about what you get out of the relationships." – Cate Stillman
"It's such an unusual experience for people in this day and age to be able to be in a close relationship with plants." – Cate Stillman
"The commercialization of plant medicine — I'm not a fan." – Cate Stillman
"…understand that we're collaborators with the plants." – Cate Stillman
"Weeds are a problem. These edible, invasive weeds are a problem. When we start to understand that these plants are trying to feed us and nurture us and wake us the heck up! " – Cate Stillman
"Ayurveda at the core is Svadhyaya — it's Self-study.. It's being seated in the Self. Part of Self-study — Self with a capital S — is 'you are your ecosystem.' You start to understand how who you are expands into all the stuff that feeds your body, that you are not separated from your food sources or your medicine sources; that all of that is now under the definition of Self. " – Cate Stillman
"Our thrive is definitely not found in a plastic bottle or gel capsules…." – Cate Stillman
"If you're putting it in a bottle and selling it and not really educating along the way about the native ecosystem the person's living in and their connection to the water, and to the air, and to the earth, and to the nutrients, and you're not helping that person actually heal their environment as they're healing themselves, it is my belief that you're doing a disservice and that you haven't gone deep enough into your own Self study." – Cate Stillman
"I don't care if you live in Manhattan or Tokyo, or wherever you live, you walk outside and just notice: What plants are trying to connect with you? Are you available?" – Cate Stillman
Guest BIO: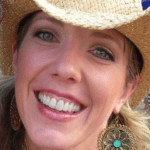 Gin Burchfield is a yoga health coach, a certified yoga teacher, and has been a medical massage coach for fifteen years.
She has also owned her own company for over ten years and is a wife and mother with a daughter who is six and two stepchildren who are eighteen and fourteen.

Cate Stillman founded Yogahealer.com in 2001 to guide Yoga people into Ayurveda and Ayurveda people into yoga. Built on the value of both personal and planetary thrive and a deep connect to one's ecosystem, community and body, Yogahealer grew into a team, 2 podcasts a week, regular blogging, an arsenal of courses to guide people into their potential, an a professional community + certification program Yoga Health Coaching. Cate wrote and self-published Body Thrive: Uplevel Your Body and Your Life with 10 Habits from Ayurveda and Yoga, an Amazon #1 Bestseller in Ayurveda, which helps people who dig yoga take a giant leap forward in their wellness trajectory with Ayurveda.