How to Collaborate with your Colleagues as a Health Coach with Cate Stillman, Suzanne Perrine, and Aileen McGinnis
Podcast Intro:
Aileen McGinnis and Suzanne McCahill Perrine
Yoga Health Coaches, Aileen McGinnis, and Suzanne McCahill Perrine have been Accountability Partners since 2019. At this point, it's so much more than an Accountability Partnership. It's a strong friendship as well as a great business partnership, so much that they are leading a retreat together!
Listen in on this joyous conversation between the Accountability Partners and Cate as she detects what makes their connection so successful, the power of live events, as well as details on their upcoming Sacred Living Women's Eco Retreat in Ireland!
While there's lots of work and love that goes into their lasting partnership, they both agree that "bringing on the fun" and "saying yes to what you want" is a driving force of their success.
What you'll get out of tuning in:
How Live Events excel your growth
Why Accountability Partnerships are so important
How to find Accountability Partnerships
What steps to take to have a successful Accountability Partnership
How to work with others and lateral mesh network
Links/CTA:
Check out our ONGOING FREE Masterclasses at Yogahealer.com
Check out activities and retreats below:
Highlights:
Cate talks about an article she read about how to smell inflammation.
Aileen and Suzanne talk about their Ireland retreat details.
Cate talks about Dan Sullivan's 100x Club where 10xers get together.
Timestamps:
1:00- Their backstories
3:15- What works as accountability partners
6:11- Community benefits from live events
7:15- Continuing growth in an Accountability Partnership
9:52 – Investing into a network experience
12:45- Synergy of communities collaborating together
15:46- Retreat details
18:05- Advice for a successful Accountability Partnership
21:55- Summarized steps for Accountability Partners
25:25- Vulnerability and perfection as a Yoga Health Coach
29:27- Acting on "yes's"
32:00- The intimacy and acceleration of live events.
Quotes:
"The more people do live events and interact with other members, the more trust they have in the community, and the more strength they put into their accountability partnerships." -Cate
"Your network is your net worth." – Cate
"When we invest, then that investment can go up and down of course, but it can grow exponentially…. in Yoga Health Coaching you sign up and think you are going to be doing this one thing, and certainly we are, we become Yoga Health Coaches and we change our business and our business model, but the growth we couldn't have seen ahead of time are these kinds of connections." – Suzanne
"Like any relationship…. Those times when you start to feel separate from each other, the number one thing that is going to get you back on track is communicating again, showing up, and prioritizing time together." – Suzanne
"When you collaborate with someone, the sky's the limit. You can do so much more than on your own." -Aileen
Guest BIO: Aileen McGinnis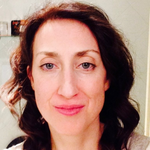 Born in Ireland and based in Tuscany with her family, Aileen has been practicing yoga for over 20 years, completing her first YTT with Marie Quail in 2002 after having a deeply inspiring and transformative experience in 'The Expanding Light Retreat Center' (California) This Retreat Center /Ashram shares the teachings of Paramahansa Yogananda to uplift world consciousness). Her rich training experience hails from Ireland, Italy, India, the UK, Spain, and Bali with various inspired teachers, most notably Cate Stillman, Uma Dinsmore Tuli (Yoni Shakti, Mother's Breath, etc), and Leyolah Antara (Kundalini Dance). Aileen is, a good-humored, big-hearted, enthusiastic teacher offering nurturing yoga classes, sacred, ecstatic dance experiences, and down-to-earth Ayurveda lifestyle coaching in her transformational group program; 'AWAKEN TO THRIVE'.
Aileen's message is about LOVE & UNITY Consciousness. You can find out more about her at aileenmcginnis.com Join her Facebook group: Embrace Natural Health and Immunity.
Guest BIO: Suzanne McCahill Perrine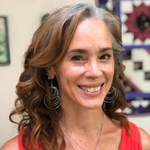 is the founder/director of The Center, Harrisonburg's first dedicated yoga and Pilates studio.
Suzanne, E-RYT 500, YACEP, Certified Health Coach, and Pilates teacher, began teaching Yoga in 2005. Inspired to connect to others in her community and spread the joy and healing potential of yoga, she opened The Center Yoga studio. After years of study in the Anusara tradition with teachers, Desiree Rumbaugh, Christina Sell, Elena Browner, Amy Ippoliti, Moses Brown, Bita Jenkins, Suzie Hurley, John Friend, and Douglas Brooks, she eventually started teaching others to teach, starting the Center School of Yoga.
Suzanne encourages her students to have fun, relax, and enjoy the splendid journey that yoga offers them both on their mats and in their lives. More recently, Suzanne has studied under Cate Stillman offering yoga & Ayurveda health coaching as a way to collaborate with clients who wish to feel more connected to life, honor their true nature, and reclaim their health. She continues to find more joy in her life since discovering Yoga, meditation, and Ayurveda and sharing it with others.

Cate Stillman founded Yogahealer.com in 2001 to guide Yoga people into Ayurveda and Ayurveda people into yoga. Built on the value of both personal and planetary thrive and a deep connect to one's ecosystem, community and body, Yogahealer grew into a team, 2 podcasts a week, regular blogging, an arsenal of courses to guide people into their potential, an a professional community + certification program Yoga Health Coaching. Cate wrote and self-published Body Thrive: Uplevel Your Body and Your Life with 10 Habits from Ayurveda and Yoga, an Amazon #1 Bestseller in Ayurveda, which helps people who dig yoga take a giant leap forward in their wellness trajectory with Ayurveda.