How to Do Your Event with Makeda Mutema-Newton

Planning an event is hard work, but Makeda makes it sound so easy. Learn how to decide on what type of event you want to plan, how much to charge and how to keep it diverse.
What you'll get out of tuning in:
How to adjust your event to the pandemic
How to price your event
How to be more inclusive in your events
Links Mentioned in Episode:

Show Highlights:
Cate shares her experience with events
Cate talks about HealerCon
Cate talks about diversity in the wellness world
Timestamps:
6:06 Differences between meetups, workshops, retreats, and conferences
14:38 Deciding the event price
19:58 Finding the right collaborations
24:01 The problems with inclusive events
30:39 Bringing diversity into your event
Guest BIO: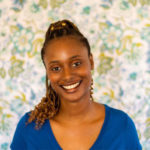 I'm Makeda Mutema-Newton, Event Strategist at Events Unlocked where I help entrepreneurs plan a profitable live event with attendee experience at its core. I simplify the planning process so that you brainstorm, plan and launch with ease.

Cate Stillman founded Yogahealer.com in 2001 to guide Yoga people into Ayurveda and Ayurveda people into yoga. Built on the value of both personal and planetary thrive and a deep connect to one's ecosystem, community and body, Yogahealer grew into a team, 2 podcasts a week, regular blogging, an arsenal of courses to guide people into their potential, an a professional community + certification program Yoga Health Coaching. Cate wrote and self-published Body Thrive: Uplevel Your Body and Your Life with 10 Habits from Ayurveda and Yoga, an Amazon #1 Bestseller in Ayurveda, which helps people who dig yoga take a giant leap forward in their wellness trajectory with Ayurveda.